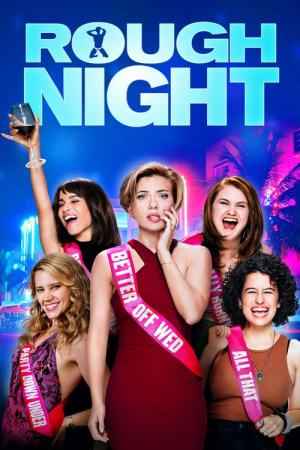 14 Best Movies Like Rough Night ...
If you liked 'Rough Night', you will love these movies! In this selection we highlight some of the best films that share a very similar premise to 'Rough Night', and are worth checking out.
Gabriela, a Columbian immigrant, is obsessed with understanding violent crime. The current string of murders by "The Blue Blood Killer" of affluent Miami socialites provides her with fodder for her scrapbook of death. She lands a job with a post-murder cleaning service and during a Blue-Blood clean-up job, discovers evidence that police have overlooked.
1h 28m
Director, Writer: Reb Braddock
Writer: John Maass
Comedy Crime Thriller
A group of former Encyclopedia Brown-style child-detectives struggle to solve an adult mystery.
1h 37m
Director, Story: Dan Eckman
Screenplay, Story: Donald Glover
Screenplay, Story: D.C. Pierson
Screenplay, Story: Dominic Dierkes
Story: Meggie McFadden
Comedy Crime Mystery Thriller
3.
The Ladykillers (2004)
A private eye investigates the apparent suicide of a fading porn star in 1970s Los Angeles and uncovers a conspiracy.
1h 56m
Director, Writer: Shane Black
Writer: Anthony Bagarozzi
Comedy Crime Action
Chili Palmer is a Miami mobster who gets sent by his boss, the psychopathic "Bones" Barboni, to collect a bad debt from Harry Zimm, a Hollywood producer who specializes in cheesy horror films. When Chili meets Harry's leading lady, the romantic sparks fly. After pitching his own life story as a movie idea, Chili learns that being a mobster and being a Hollywood producer really aren't all that different.
1h 45m
Director: Barry Sonnenfeld
Novel: Elmore Leonard
Screenplay: Scott Frank
Comedy Thriller Crime
6.
A Bad Moms Christmas (2017)
Amy, Kiki and Carla – three under-appreciated and over-burdened women – rebel against the challenges and expectations of the Super Bowl for mothers: Christmas. And if creating a more perfect holiday for their families wasn't hard enough, they have to do all of that while hosting and entertaining their own mothers.
1h 44m
Director, Writer: Scott Moore
Director, Writer: Jon Lucas
Comedy
7.
Beverly Hills Cop (1984)
The heat is on in this fast paced action-comedy starring Eddie Murphy as Axel Foley, a street smart Detroit cop tracking down his best friend's killer in Beverly Hills. Axel quickly learns that his wild style doesn't fit in with the Beverly Hills Police Department, which assigns two officers (Judge Reinhold & John Ashton) to make sure things don't get out of hand. Dragging the stuffy detectives along for the ride, Axel smashes through a huge culture clash in his hilarious, high-speed pursuit of justice. Featuring cameos by Paul Reiser, Bronson Pinchot and Damon Wayans, Beverly Hills Cop is an exhilarating, sidesplitting adventure.
1h 45m
Screenplay, Story: Daniel Petrie Jr.
Director: Martin Brest
Story: Danilo Bach
Action Comedy Crime
After serving 28 years in prison for accidentally killing the son of a crime boss, newly paroled gangster Val reunites with his former partners in crime, Doc and Hirsch, for a night on the town. As the three men revisit old haunts, reflect on their glory days and try to make up for lost time, one wrestles with a terrible quandary: Doc has orders to kill Val, and time is running out for him to figure out a way out of his dilemma.
1h 35m
Director: Fisher Stevens
Screenplay: Noah Haidle
Thriller Comedy Action
Bounced from her job, Erin Grant needs money if she's to have any chance of winning back custody of her child. But, eventually, she must confront the naked truth: to take on the system, she'll have to take it all off. Erin strips to conquer, but she faces unintended circumstances when a hound dog of a Congressman zeroes in on her and sharpens the shady tools at his fingertips, including blackmail and murder.
1h 55m
Director, Screenplay: Andrew Bergman
Novel: Carl Hiaasen
Drama Thriller Crime
Three of Reagan High School's most popular girls pretend to kidnap their friend by shoving a jawbreaker into the victim's mouth to keep her from screaming. Their plan goes awry when the girl swallows the jawbreaker, choking to death. Now the leader of the pack will do anything to keep the accident a secret.
1h 27m
Director, Writer: Darren Stein
Comedy
When three overworked and under-appreciated moms are pushed beyond their limits, they ditch their conventional responsibilities for a jolt of long overdue freedom, fun, and comedic self-indulgence.
1h 40m
Director, Writer: Scott Moore
Director, Writer: Jon Lucas
Comedy
Three female employees of the Federal Reserve plot to steal money that is about to be destroyed.
1h 44m
Director: Callie Khouri
Screenplay: Glenn Gers
Action Comedy Crime
14.
The Ice Harvest (2005)
A shady lawyer attempts a Christmas Eve crime, hoping to swindle the local mob out of some money. But his partner, a strip club owner, might have different plans for the cash.
1h 28m
Director: Harold Ramis
Novel: Scott Phillips
Screenplay: Richard Russo
Screenplay: Robert Benton
Action Adventure Comedy Crime Drama Thriller
explore
Check out more list from our community