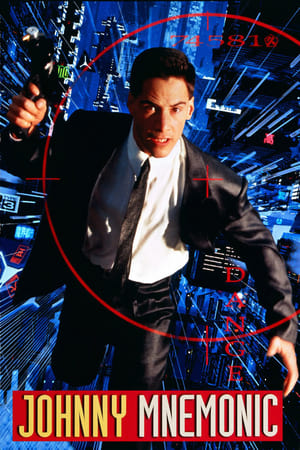 12 Best Movies Like Johnny Mnemonic ...
If you liked this movie , you will for sure love these too! In this selection we highlight some of the best films that share a very similar mood to 'Johnny Mnemonic', and are worth checking out.
1.
The Running Man (1987)
1h 41m Science Fiction Action Thriller
By 2017, the global economy has collapsed and U.S. society has become a totalitarian police state, censoring all cultural activity. The government pacifies the populace by broadcasting a number of game shows in which convicted criminals fight for their lives, including the gladiator-style The Running Man, hosted by the ruthless Damon Killian, where "runners" attempt to evade "stalkers" and certain death for a chance to be pardoned and set free.
2.
Blade Runner 2049 (2017)
2h 44m Science Fiction Drama
Thirty years after the events of the first film, a new blade runner, LAPD Officer K, unearths a long-buried secret that has the potential to plunge what's left of society into chaos. K's discovery leads him on a quest to find Rick Deckard, a former LAPD blade runner who has been missing for 30 years.
1h 32m Science Fiction
High-concept Sci-Fi adventure about an island that actually is a computer called Kyron 5, itself created to design and manufacture super-advanced robots to be used as slaves for the rest of the world. One day Kyron decides that human beings are unnecessary, so it declares war on the world. But Kyron cannot be tamed, and after many lives are lost in the attempt, mankind decides to leave Kyron to its own devices.
1h 50m Thriller Science Fiction
Jacq Vaucan, an insurance agent of ROC robotics corporation, routinely investigates the case of manipulating a robot. What he discovers will have profound consequences for the future of humanity.
2h 16m Action Science Fiction
Set in the 22nd century, The Matrix tells the story of a computer hacker who joins a group of underground insurgents fighting the vast and powerful computers who now rule the earth.
6.
Lawnmower Man 2: Beyond Cyberspace (1996)
1h 32m Science Fiction
Jobe is resuscitated by Jonathan Walker. He wants Jobe to create a special computer chip that would connect all the computers in the world into one network, which Walker would control and use. But what Walker doesn't realize is a group of teenage hackers are on to him and out to stop his plan.
7.
The Matrix Reloaded (2003)
2h 18m Adventure Action Thriller Science Fiction
Six months after the events depicted in The Matrix, Neo has proved to be a good omen for the free humans, as more and more humans are being freed from the matrix and brought to Zion, the one and only stronghold of the Resistance. Neo himself has discovered his superpowers including super speed, ability to see the codes of the things inside the matrix and a certain degree of pre-cognition. But a nasty piece of news hits the human resistance: 250,000 machine sentinels are digging to Zion and would reach them in 72 hours. As Zion prepares for the ultimate war, Neo, Morpheus and Trinity are advised by the Oracle to find the Keymaker who would help them reach the Source. Meanwhile Neo's recurrent dreams depicting Trinity's death have got him worried and as if it was not enough, Agent Smith has somehow escaped deletion, has become more powerful than before and has fixed Neo as his next target.
1h 54m Science Fiction Action Drama Thriller
Two cops, R and Noma, hunt down renegade cyborgs. Cyborgs are used as commandos by the military, as lust objects and for companionship. Normaly they have a limited lifespan of three years but black market technology is being developed to be able to transfer a cyborg's artificial intelligence into human host. This drives R to find a suitable host for his expiring cyborg Ria.
1h 59m Action Adventure Mystery Science Fiction Thriller
Michael Jennings is a genius who's hired – and paid handsomely – by high-tech firms to work on highly sensitive projects, after which his short-term memory is erased so he's incapable of breaching security. But at the end of a three-year job, he's told he isn't getting a paycheck and instead receives a mysterious envelope. In it are clues he must piece together to find out why he wasn't paid – and why he's now in hot water.
10.
Ghost in the Shell (2017)
1h 47m Science Fiction Action
In the near future, Major is the first of her kind: a human saved from a terrible crash, then cyber-enhanced to be a perfect soldier devoted to stopping the world's most dangerous criminals.
1h 36m Thriller Science Fiction Action Adventure
Julian Michaels has designed the ultimate resort: VICE, where anything goes and the customers can play out their wildest fantasies with artificial inhabitants who look, think and feel like humans. When an artificial becomes self-aware and escapes, she finds herself caught in the crossfire between Julian's mercenaries and a cop who is hell-bent on shutting down Vice, and stopping the violence once and for all.
1h 29m Science Fiction Action Thriller
Set in a futuristic world where humans live in isolation and interact through surrogate robots, a cop is forced to leave his home for the first time in years in order to investigate the murders of others' surrogates.
explore
Check out more list from our community