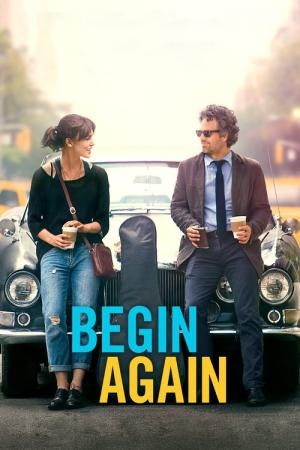 29 Best Movies Like Begin Again ...
If you liked this one , you will probably love these too! In this selection we highlight some of the best films that share a very similar mood to '', and are worth checking out.
1h 25m Drama Music Romance
A vacuum repairman moonlights as a street musician and hopes for his big break. One day a Czech immigrant, who earns a living selling flowers, approaches him with the news that she is also an aspiring singer-songwriter. The pair decide to collaborate, and the songs that they compose reflect the story of their blossoming love.
1h 46m Comedy Romance Drama Music
A boy growing up in Dublin during the 1980s escapes his strained family life by starting a band to impress the mysterious girl he likes.
1h 52m Drama Music Romance
When reporter Jean Craddock interviews Bad Blake—an alcoholic, seen-better-days country music legend—they connect, and the hard-living crooner sees a possible saving grace in a life with Jean and her young son.
1h 29m Drama Romance Comedy
A woman who is robbed on her way to catch the 1:30 train to Boston is left stranded in New York City. She meets a man who helps her during the course of the night and the two form a romance.
1h 40m Comedy Drama Music Romance
Graced with a velvet voice, 21-year-old Violet Sanford heads to New York to pursue her dream of becoming a songwriter only to find her aspirations sidelined by the accolades and notoriety she receives at her "day" job as a barmaid at Coyote Ugly. The "Coyotes" as they are affectionately called tantalize customers and the media alike with their outrageous antics, making Coyote Ugly the watering hole for guys on the prowl.
2h 9m Comedy Drama Romance Music
Mia, an aspiring actress, serves lattes to movie stars in between auditions and Sebastian, a jazz musician, scrapes by playing cocktail party gigs in dingy bars, but as success mounts they are faced with decisions that begin to fray the fragile fabric of their love affair, and the dreams they worked so hard to maintain in each other threaten to rip them apart.
1h 53m Romance Comedy Music Drama
Set in the dazzling world of the LA music scene comes the story of Grace Davis, a superstar whose talent, and ego, have reached unbelievable heights. Maggie is Grace's overworked personal assistant who's stuck running errands, but still aspires to her childhood dream of becoming a music producer. When Grace's manager presents her with a choice that could alter the course of her career, Maggie and Grace come up with a plan that could change their lives forever.
8.
The Legend of 1900 (1998)
2h Drama Music Romance
The story of a virtuoso piano player who lives his entire life aboard an ocean liner. Born and raised on the ship, 1900 (Tim Roth) learned about the outside world through interactions with passengers, never setting foot on land, even for the love of his life. Years later, the ship may be destroyed, and a former band member fears that 1900 may still be aboard, willing to go down with the ship.
9.
Music and Lyrics (2007)
1h 44m Comedy Music Romance
A washed up singer is given a couple days to compose a chart-topping hit for an aspiring teen sensation. Though he's never written a decent lyric in his life, he sparks with an offbeat younger woman with a flair for words.
1h 47m Music Comedy Drama Romance
An updated version of the 1980 musical, which centered on the students of the New York Academy of Performing Arts.
1h 43m Comedy Music
Two former backup soul singers, Louis and Floyd, have not spoken to each other in 20 years, and reluctantly agree to travel across the country together to a reunion concert to honor their recently-deceased lead singer. Cleo, a beautiful young woman who is believed to be Floyd's daughter, accompanies them as a new singer.
1h 45m Music Drama Comedy
A grieving father in a downward spiral stumbles across a box of his recently deceased son's demo tapes and lyrics. Shocked by the discovery of this unknown talent, he forms a band in the hope of finding some catharsis.
13.
Grace of My Heart (1996)
1h 56m Drama Comedy Music
An aspiring singer, Denise Waverly/Edna Buxton, sacrifices her own singing career to write hit songs that launch the careers of other singers. The film follows her life from her first break, through the pain of rejection from the recording industry and a bad marriage, to her final triumph in realizing her dream to record her own hit album.
14.
That Thing You Do! (1996)
1h 48m Comedy Drama Romance Music
A Pennsylvania band scores a hit in 1964 and rides the star-making machinery as long as it can, with lots of help from its manager.
15.
Happythankyoumoreplease (2010)
1h 49m Comedy Romance
Friends since childhood, a magazine editor and a hip-hop record executive stumble into romantic territory.
17.
The Thing Called Love (1993)
1h 56m Drama Romance
Miranda Presley moves from New York to Nashville to become a songwriter. At an unsuccessful audition she meets James Wright, a promising newcomer. After only a few days they marry but start to quickly regret it.
18.
Inside Llewyn Davis (2013)
1h 44m Drama
In Greenwich Village in the early 1960s, gifted but volatile folk musician Llewyn Davis struggles with money, relationships, and his uncertain future following the suicide of his singing partner.
19.
I Am Not a Hipster (2012)
1h 58m Drama Romance Comedy Music
A fish-out-of-water comedy about a talented street drummer from Harlem who enrolls in a Southern university, expecting to lead its marching band's drumline to victory. He initially flounders in his new world, before realizing that it takes more than talent to reach the top.
21.
Sweet and Lowdown (1999)
1h 35m Comedy Drama Music
A comedic biopic focused on the life of fictional jazz guitarist Emmett Ray. Ray was an irresponsible, free-spending, arrogant, obnoxious, alcohol-abusing, miserable human being, who was also arguably the best guitarist in the world.
22.
A Late Quartet (2012)
1h 45m Music Drama
When the beloved cellist of a world-renowned string quartet is diagnosed with a life threatening illness, the group's future suddenly hangs in the balance as suppressed emotions, competing egos and uncontrollable passions threaten to derail years of friendship and collaboration. As they are about to play their 25th anniversary concert — quite possibly their last — only their intimate bond and the power of music can preserve their legacy.
23.
A Prairie Home Companion (2006)
1h 45m Drama Comedy Music
A look at what goes on backstage during the last broadcast of America's most celebrated radio show, where singing cowboys Dusty and Lefty, a country music siren, and a host of others hold court
24.
Mo' Better Blues (1990)
2h 9m Drama Romance Music Comedy
Opens with Bleek as a child learning to play the trumpet, his friends want him to come out and play but mother insists he finish his lessons. Bleek grows into adulthood and forms his own band - The Bleek Gilliam Quartet. The story of Bleek's and Shadow's friendly rivalry on stage which spills into their professional relationship and threatens to tear apart the quartet.
25.
Ricki and the Flash (2015)
1h 52m Comedy Drama Music
Duets is a road-trip comedy which revolves around the little known world of karaoke and the whimsical characters who inhabit it. All roads lead to Omaha, site of a national karaoke competition where this motley group of singers and stars come together for a blow-out sing-off.
27.
The Fighting Temptations (2003)
2h 2m Comedy Music Romance
Darrin Hill, a slick-talking but down-on- his-luck NYC advertising exec, returns to his hometown in Georgia to claim the inheritance his aunt left him. But before Darrin can collect the money, he must fulfill his aunt's final wish -- to create a local choir.
28.
Swim Little Fish Swim (2013)
explore
Check out more list from our community