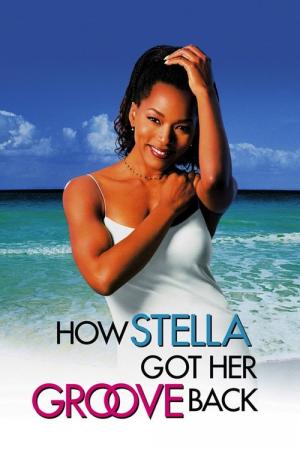 28 Best Movies Like How Stella Got Her Groove Back ...
If you liked this movie , you will probably love these too! In this list we highlight some of the best films that share a very similar premise to '', and are worth checking out.
1.
Flirting with Forty (2008)
1h 27m Comedy Romance Drama
A divorcee has a passionate affair with a much younger surfing instructor in Hawaii.
2.
How to Be Single (2016)
1h 50m Comedy Romance
New York City is full of lonely hearts seeking the right match, and what Alice, Robin, Lucy, Meg, Tom and David all have in common is the need to learn how to be single in a world filled with ever-evolving definitions of love.
3.
Waiting to Exhale (1995)
2h 7m Comedy Drama Romance
Cheated on, mistreated and stepped on, the women are holding their breath, waiting for the elusive "good man" to break a string of less-than-stellar lovers. Friends and confidants Vannah, Bernie, Glo and Robin talk it all out, determined to find a better way to breathe.
1h 47m Drama Romance
Angie lives in the Bensonhurst section of Brooklyn, N.Y. and dreams of a better life than everyone she knows. When she finds that she is pregnant by her boyfriend Vinnie, she decides that she will have the baby, but not Vinnie as a husband. This turns the entire neighborhood upside down and starts her on a journey of self discovery. This journey includes her family, a new lover and her life. Even her best friend Tina has trouble understanding Angie. Written by Tony Fontana
5.
Crossing Delancey (1988)
1h 37m Comedy Romance
Isabelle's life revolves around the New York bookshop she works in and the intellectual friends of both sexes she meets there. Her grandmother remains less than impressed and decides to hire a good old-fashioned Jewish matchmaker to help Isabelle's love-life along. Enter pickle-maker Sam who immediately takes to Isabelle. She however is irritated by the whole business, at least to start with.
2h Drama Comedy
Harper, a writer who's about to explode into the mainstream leaves behind his girlfriend Robin and heads to New York City to serve as best man for his friend Lance's wedding. Once there, he reunites with the rest of his college circle.
1h 38m Comedy Romance
Electrician Gus gets the chance to fulfil a childhood dream by buying an old bowling-alley with some of his friends, but first he must find his ex-wife a new husband so he can stop paying alimony.
8.
Moonlight and Valentino (1995)
1h 40m Comedy Drama Romance
Four women who discover untapped strength within themselves when they finally let go of what divides them
1h 30m Drama Romance
An aloof, struggling food photographer thinks he has found true love with a fiery grade-school teacher. At first, the relationship is all wine and roses, but as they realize they have little in common besides great sex, the romance wanes, and they struggle through a succession of break-ups and reunions as they try to work things out.
10.
How to Make an American Quilt (1995)
1h 56m Drama Romance
Soon-to-be-wed graduate student Finn Dodd develops cold feet when she suspects her fiancé is cheating on her. In order to clear her head, Finn visits her grandmother, Hy, and great aunt, Glady Joe Cleary, in Grasse, Calif. There, Finn learns that Hy and Glady Joe are members of a group of passionate quilters, and over the course of her visit she is regaled with tales of love and life by women who have collected rich experiences and much wisdom.
1h 23m Drama Romance
Max is a trendy, pretty, young lesbian, who is having trouble finding love. A friend sets her up with Ely, whom Max likes, but Ely is frumpy, homely, and older. Nor do they have much in common. Can Max learn to look past the packaging?
1h 49m Comedy Romance
Friends since childhood, a magazine editor and a hip-hop record executive stumble into romantic territory.
1h 39m Drama Comedy Romance
Halley is convinced true love doesn't exist based on the crazy relationships around her. Her mother is divorcing her father who is dating a younger woman Halley can't stand. Her crazed sister is planning a wedding but has second thoughts and her best friend has fallen madly in love for the first time leaving Halley to feel even more alone.
1h 49m Drama Comedy Romance
After a one night stand with Alex, Isabel realizes that she is pregnant and they decide to get married. However, along with the marriage comes compromise of one's own cultural traditions.
15.
Something to Talk About (1995)
1h 46m Comedy Drama
Grace Bichon, who is managing her father's riding-stable, discovers that her husband Eddie is deceiving her with another woman. After confronting him in the middle of the night on the streets of their small home town, she decides to stay at her sister Emma Rae's house for a while to make up her mind. Breaking out of her everyday life, she starts to question the authority of everyone.
1h 47m Comedy Drama Romance
The film revolves around Claire, a kind soul who resents having to enforce the law at all times, and Jay, an angry Traffic Officer who loves his job, being the perfect outlet for his anger and frustrations. Coming both from a place of despair and loneliness, Jay and Claire meet and engage in a tumultuous relationship which will eventually teach them that love can spread redemption.
17.
A Smile Like Yours (1997)
1h 38m Comedy Romance
A comedy about a couple who cannot conceive a baby
1h 44m Comedy Drama Romance
Darius Lovehall is a young black poet in Chicago who starts dating Nina Moseley, a beautiful and talented photographer. While trying to figure out if they've got a "love thing" or are just "kicking it," they hang out with their friends, talking about love and sex. Then Nina tests the strength of Darius' feelings and sets a chain of romantic complications into motion.
1h 48m Comedy Romance
Melanie Parker, an architect and mother of Sammy, and Jack Taylor, a newspaper columnist and father of Maggie, are both divorced. They meet one morning when overwhelmed Jack is left unexpectedly with Maggie and forgets that Melanie was to take her to school. As a result, both children miss their school field trip and are stuck with the parents. The two adults project their negative stereotypes of ex-spouses on each other, but end up needing to rely on each other to watch the children as each must save his job. Humor is added by Sammy's propensity for lodging objects in his nose and Maggie's tendency to wander.
1h 52m Romance Comedy Drama
Three 40-something women in a small English town meet weekly for a ritual of gin, cigarettes, and sweets -- and swapped stories arguing which of them has the most pathetic love life. Kate is headmistress at the local school; her best friends are the town's police chief and a cynical, thrice-divorced doctor.
1h 35m Romance Comedy
A 29-year-old lawyer and her lesbian best friend experience a dramatic shift in their longtime bond after one enters a serious relationship.
1h 44m Comedy Drama Romance
Three teenage girls come of age while working at a pizza parlor in Mystic, Connecticut.
1h 35m Drama Comedy Romance
A travel writer improves her love life when she becomes an editor for her father's wedding magazine.
24.
She's Having a Baby (1988)
1h 31m Comedy Drama Romance
College coeds in New York City, Al, the son of a celebrity chef, and Imogen, a talented artist, become smitten the second they lay eyes on one another at a bar. However, the road to happiness is not a smooth one. Outside forces, including a predatory porn star who wants to lure Al into her bed, threaten to pull apart the young lovers before their romance has a chance to really flourish.
26.
Something Borrowed (2011)
1h 52m Comedy Drama Romance
Though Rachel is a successful attorney and a loyal, generous friend, she is still single. After one drink too many at her 30th-birthday celebration, Rachel unexpectedly falls into bed with her longtime crush, Dex -- who happens to be engaged to her best friend, Darcy. Ramifications of the liaison threaten to destroy the women's lifelong friendship, while Ethan, Rachel's confidant, harbors a potentially explosive secret of his own.
27.
The Other Sister (1999)
2h 10m Comedy Drama Romance
A mentally challenged girl proves herself to be every bit as capable as her "perfect" sister when she moves into an apartment and begins going to college.
explore
Check out more list from our community