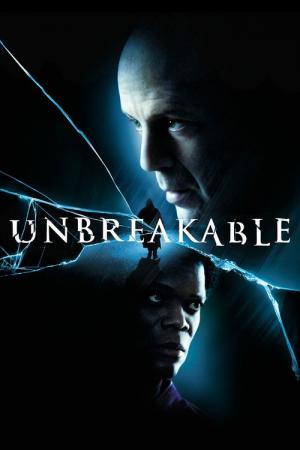 31 Best Movies Like Unbreakable ...
If you liked this film , you will probably love these too! In this list we highlight some of the best films that share a very similar mood to '', and are worth checking out.
2h 9m Thriller Drama Science Fiction
In a series of escalating encounters, former security guard David Dunn uses his supernatural abilities to track Kevin Wendell Crumb, a disturbed man who has twenty-four personalities. Meanwhile, the shadowy presence of Elijah Price emerges as an orchestrator who holds secrets critical to both men.
2.
The Sixth Sense (1999)
1h 47m Mystery Thriller Drama
Following an unexpected tragedy, a child psychologist named Malcolm Crowe meets an eight year old boy named Cole Sear, who is hiding a dark secret.
2h 29m Mystery Thriller Drama
With his wife's disappearance having become the focus of an intense media circus, a man sees the spotlight turned on him when it's suspected that he may not be innocent.
2h 9m Science Fiction Thriller Mystery
In the year 2035, convict James Cole reluctantly volunteers to be sent back in time to discover the origin of a deadly virus that wiped out nearly all of the earth's population and forced the survivors into underground communities. But when Cole is mistakenly sent to 1990 instead of 1996, he's arrested and locked up in a mental hospital. There he meets psychiatrist Dr. Kathryn Railly, and patient Jeffrey Goines, the son of a famous virus expert, who may hold the key to the mysterious rogue group, the Army of the 12 Monkeys, thought to be responsible for unleashing the killer disease.
1h 36m Thriller Drama Mystery
A depressed housewife who learns her husband was killed in a car accident the day previously, awakens the next morning to find him alive and well at home, and then awakens the day after to a world in which he is still dead.
2h 9m Drama Thriller Mystery
In honor of his birthday, San Francisco banker Nicholas Van Orton, a financial genius and a cold-hearted loner, receives an unusual present from his younger brother, Conrad: a gift certificate to play a unique kind of game. In nary a nanosecond, Nicholas finds himself consumed by a dangerous set of ever-changing rules, unable to distinguish where the charade ends and reality begins.
1h 34m Horror Thriller Mystery
A brother and sister are sent to their grandparents' remote Pennsylvania farm for a week, where they discover that the elderly couple is involved in something deeply disturbing.
1h 46m Drama Thriller Science Fiction Mystery
A family living on a farm finds mysterious crop circles in their fields which suggests something more frightening to come.
1h 24m Science Fiction Drama Thriller
Three high school students make an incredible discovery, leading to their developing uncanny powers beyond their understanding. As they learn to control their abilities and use them to their advantage, their lives start to spin out of control, and their darker sides begin to take over.
10.
The Conversation (1974)
1h 53m Crime Drama Mystery
Surveillance expert Harry Caul is hired by a mysterious client's brusque aide to tail a young couple. Tracking the pair through San Francisco's Union Square, Caul and his associate Stan manage to record a cryptic conversation between them. Tormented by memories of a previous case that ended badly, Caul becomes obsessed with the resulting tape, trying to determine if the couple are in danger.
2h 10m Drama Mystery Thriller
A mysterious story of two magicians whose intense rivalry leads them on a life-long battle for supremacy -- full of obsession, deceit and jealousy with dangerous and deadly consequences.
1h 43m Thriller Crime Science Fiction Mystery
S. Darko follows Samantha Darko, the younger sister of Donnie, the protagonist of Donnie Darko, and her friend Corey. On their way to California, their car breaks down, forcing them to wait in a small town until it is fixed. While there, Samantha begins to have dreams that warn her of the end of the universe.
2h Science Fiction Drama
Prot is a patient at a mental hospital who claims to be from a far away planet. His psychiatrist tries to help him, only to begin to doubt his own explanations.
1h 43m Thriller Mystery Drama
A military veteran goes on a journey into the future, where he can foresee his death and is left with questions that could save his life and those he loves.
1h 24m Drama Thriller Mystery
Publisher Will Atenton quits a lucrative job in New York to relocate his wife, Libby, and their daughters to a quaint town in New England. However, as they settle into their home the Atentons discover that a woman and her children were murdered there, and the surviving husband is the town's prime suspect. With help from a neighbor who was close to the murdered family, Will pieces together a horrifying chain of events.
1h 55m Thriller Science Fiction
Norma and Arthur Lewis, a suburban couple with a young child, receive a simple wooden box as a gift, which bears fatal and irrevocable consequences. A mysterious stranger delivers the message that the box promises to bestow upon its owner $1 million with the press of a button. However pressing this button will simultaneously cause the death of another human being somewhere in the world; someone they don't know. With just 24 hours to have the box in their possession, Norma and Arthur find themselves in the cross-hairs of a startling moral dilemma and must face the true nature of their humanity.
17.
Lady in the Water (2006)
1h 50m Drama Thriller Fantasy Mystery
Apartment building superintendent Cleveland Heep rescues what he thinks is a young woman from the pool he maintains. When he discovers that she is actually a character from a bedtime story who is trying to make the journey back to her home, he works with his tenants to protect his new friend from the creatures that are determined to keep her in our world.
1h 44m Drama Horror Mystery Thriller
Following a terrible car crash, a woman awakes to find an enigmatic mortician preparing her for burial.
1h 38m Action Drama Mystery Thriller Crime
A DEA agent investigates the disappearance of a legendary Army ranger drill sergeant and several of his cadets during a training exercise gone severely awry.
20.
Don't Look Now (1973)
1h 25m Drama
Jeanne lives in Paris and believes she is the reincarnation of Don Juan. She visits a priest and tells him she has killed a man. He comes to her elegant flat - her father has died leaving her rich - and she tells the priest stories about men she has seduced. The seduction is easy, she tells him, it's destruction that takes planning. We watch her with an upright elected official, a wealthy boor, and a folk singer. She describes herself as a spider. Her friend Léporella tries to be Jeanne's conscience. What does Jeanne want?
1h 53m Mystery Thriller
Leonard Shelby is tracking down the man who raped and murdered his wife. The difficulty of locating his wife's killer, however, is compounded by the fact that he suffers from a rare, untreatable form of short-term memory loss. Although he can recall details of life before his accident, Leonard cannot remember what happened fifteen minutes ago, where he's going, or why.
1h 39m Thriller Drama
A man with the ability to enter peoples' memories takes on the case of a brilliant, troubled sixteen-year-old girl to determine whether she is a sociopath or a victim of trauma.
1h 36m Mystery Thriller
Mort Rainey, a writer just emerging from a painful divorce with his ex-wife, is stalked at his remote lake house by a psychotic stranger and would-be scribe who claims Rainey swiped his best story idea. But as Rainey endeavors to prove his innocence, he begins to question his own sanity.
24.
Mortal Thoughts (1991)
1h 44m Mystery Thriller Drama
A loathsome man ends up dead, but it's not clear who's to blame. If ever a person got what he deserved, it's James Urbanksi, an abusive drunk who steals from his wife, Joyce, and promises her close friend Cynthia Kellogg that she'll be the next target of his rage. At a group outing, James bleeds to death after someone cuts his throat. But because he's such a terrible human being, police aren't sure which of his acquaintances decided to kill him.
1h 41m Thriller Crime Mystery
A psychic doctor, John Clancy, works with an FBI special agent in search of a serial killer.
1h 44m Drama Thriller Mystery Action
An everyday man has only three and a half days and limited resources to discover why he was imprisoned in a nondescript room for 20 years without any explanation.
2h 4m Crime Drama Action Thriller
Homicide detective John Hobbes witnesses the execution of serial killer Edgar Reese. Soon after the execution the killings start again, and they are very similar to Reese's style.
1h 48m Drama Mystery Thriller
When a willful young man tries to venture beyond his sequestered Pennsylvania hamlet, his actions set off a chain of chilling incidents that will alter the community forever.
1h 41m Horror Mystery Thriller
David Callaway tries to piece together his life in the wake of his wife's suicide and has been left to raise his nine-year-old daughter, Emily on his own. David is at first amused to discover that Emily has created an imaginary friend named 'Charlie', but it isn't long before 'Charlie' develops a sinister and violent side, and as David struggles with his daughter's growing emotional problems, he comes to the frightening realisation that 'Charlie' isn't just a figment of Emily's imagination.
30.
The Spanish Prisoner (1997)
explore
Check out more list from our community