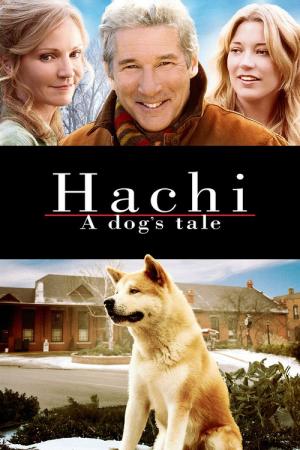 11 Best Movies Like Hachi ...
If you liked this film , you will for sure love these too! In this selection we highlight some of the best films that share a very similar premise to 'Hachi: A Dog's Tale', and are worth checking out.
2.
A Dog's Purpose (2017)
1h 40m Comedy Drama Family Fantasy Adventure
A dog goes on quest to discover his purpose in life over the course of several lifetimes with multiple owners.
3.
Bridge to Terabithia (2007)
1h 36m Adventure Drama Family
Jesse Aarons trained all summer to become the fastest runner in school, so he's very upset when newcomer Leslie Burke outruns him and everyone else. Despite this and other differences, including that she's rich, he's poor, and she's a city girl, he's a country boy, the two become fast friends. Together, they create Terabithia, a land of monsters, trolls, ogres, and giants and rule as king and queen.
4.
The Three Lives of Thomasina (1963)
1h 37m Fantasy Drama Thriller Science Fiction Mystery Family
Thomasina is the pet cat of Mary McDhui, the daughter of Scottish veterinarian Andrew McDhui. When Thomasina falls ill, McDhui declares that the pet should be put down. But when Mary and her father try to bury the cat, Lori MacGregor (Susan Hampshire), who is said to be a witch, shows up and attempts to steal it.
2h Adventure Drama Family
In the Antarctic, after an expedition with Dr. Davis McClaren, the sled dog trainer Jerry Shepherd has to leave the polar base with his colleagues due to the proximity of a heavy snow storm. He ties his dogs to be rescued after, but the mission is called-off and the dogs are left alone at their own fortune. For six months, Jerry tries to find a sponsor for a rescue mission.
1h 43m Comedy Drama
Vada Sultenfuss is obsessed with death. Her mother is dead, and her father runs a funeral parlor. She is also in love with her English teacher, and joins a poetry class over the summer just to impress him. Thomas J., her best friend, is "allergic to everything", and sticks with Vada despite her hangups. When Vada's father hires Shelly, and begins to fall for her, things take a turn to the worse...
7.
Homeward Bound: The Incredible Journey (1993)
1h 24m Adventure Comedy Drama Family
Remake of the popular Disney classic, this time featuring some well known voices as two dogs and a cat trek across America encountering all sorts of adventures in the quest to be reunited with their owners.
8.
The Incredible Journey (1963)
1h 20m Adventure Family
The story of three pets, a cat and two dogs, who lose their owners when they are all on vacation. Can they find their way home?
9.
How It Was with Dooms (2005)
1h 30m Drama Family
This heart warming film is about a dog named Cooper who is the lone survivor of a terrible car accident. Jake, a family patriarch, loses his wife and children in the accident. Not being a dog person, Jake is angry and resentful toward the dog for even surviving. However, eventually Jake bonds with Cooper, and this bond ends up being the one thing that gets him out of bed in the morning, the one thing that helps him to go on living after such a tragic loss.
11.
Finding Neverland (2004)
1h 46m Drama
During a writing slump, playwright J.M. Barrie meets a widow and her three children—who soon become an important part of Barrie's life and the inspiration that lead him to create his masterpiece. Peter Pan'.
explore
Check out more list from our community