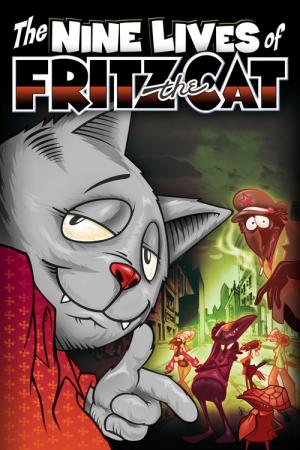 13 Best Movies Like Fritz The Cat ...
If you liked this one , you will definitely love these too! In this selection we highlight some of the best films that share a very similar mood to '', and are worth checking out.
A hypocritical swinging college student cat raises hell in a satiric vision of various elements on the 1960's.
An "underground" cartoonist contends with life in the inner city, where various unsavory characters serve as inspiration for his artwork.
1h 29m Adventure Animation Comedy Fantasy
Frank leads a group of supermarket products on a quest to discover the truth about their existence and what really happens when they become chosen to leave the grocery store.
1h 42m Animation Comedy Fantasy
A bizarre accident lands Frank Harris in Cool World, a realm of cartoons. Years later, cartoonist Jack Deebs, who's been drawing Cool World, crosses over as well. He sets his lustful sights on animated femme fatale Holli Would, but she's got plans of her own to become real, and it's up to Frank can stop her.
5.
Stewie Griffin: The Untold Story (2005)
1h 28m Comedy Animation Adventure Fantasy Crime
The major sub-plot circles around the youngest Griffin, Stewie, who has a near-death experience at a pool when a lifeguard chair falls on him, but he survives. After having a vision of being in Hell, he decides to change his ways, but this doesn't last long. While watching television, he and Brian spot a man that looks like Stewie. Brian is convinced that he is Stewie's real father, until Stewie learns that the man is actually himself as an adult, taking a vacation from his own time period. Baby Stewie visits thirty years later to discover that his adult self, going by the name Stu, is a single blue-collar middle-aged virgin working at a Circuit City-type store. Meanwhile, Peter and Lois are trying to teach their two older kids, Meg and Chris, to date. In the future, Chris, who hasn't changed much, is working as a cop and is married to a foul-mouthed hustler named Vanessa. Meg is now called Ron, since she had a sex-change after college. Written by pepperann210
6.
Cheech & Chong's Animated Movie (2013)
You're not hallucinating (but they are)... It's the legendary toker jokers Cheech & Chong as you've never seen them before -- in their very first Animated Movie. Catch the buzz as their most outrageous routines and laugh-out-loud lines from their Grammy Award-winning albums come to life, including "Dave's not here," "Let's make a dope deal" and more. With help from a bud-lovin' body crab named Buster, Cheech & Chong "the masters of smokin' word" deliver the ultimate comedy high and give you the munchies for more.
A comedy about a nine-year-old pimp, Lil' Pimp, who hustles his ho's around the neighborhood. Along with his Mom, Pop, pimpin' pals Fruitjuice and Nagchampa, as well as superfine ho's, Yam Basket and Honeysak, and his loveable pet gerbil Weathers, who has Tourette's syndrome, Lil' Pimp generates laughs, magic and brutal honesty.
Sick, twisted, politically incorrect and Freakin' Sweet animated series featuring the adventures of the dysfunctional Griffin family. Bumbling Peter and long-suffering Lois have three kids. Stewie (a brilliant but sadistic baby bent on killing his mother and taking over the world), Meg (the oldest, and is the most unpopular girl in town) and Chris (the middle kid, he's not very bright but has a passion for movies). The final member of the family is Brian - a talking dog and much more than a pet, he keeps Stewie in check whilst sipping Martinis and sorting through his own life issues.
Four stoners, five vegans, three mobsters, four hunters and a million reasons to free one junkie elephant.
Willard, a mild mannered insurance adjuster, teams up with a foul-mouthed fowl who takes Willard on a surreal quest to become less uptight - and possibly get laid in the process.
The series centers on the life of Duncan, a spectacularly average 15-year-old boy, his family and friends. Poehler will provide the voice of Duncan and his high-strung mom, Annie, who is constantly trying to prevent her son from ruining his life.
12.
F is for Family (2015)
Follow the Murphy family back to the 1970s, when kids roamed wild, beer flowed freely and nothing came between a man and his TV.
explore
Check out more list from our community