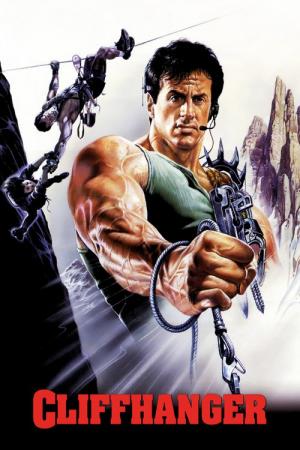 31 Best Movies Like Cliffhanger ...
If you liked this movie , you will probably love these too! In this list we highlight some of the best films that share a very similar mood to '', and are worth checking out.
1.
Executive Decision (1996)
2h 13m Action Adventure Drama Thriller
Terrorists hijack a 747 inbound to Washington D.C., demanding the release of their imprisoned leader. Intelligence expert David Grant (Kurt Russell) suspects another reason and he is soon the reluctant member of a special assault team that is assigned to intercept the plane and hijackers.
1h 56m Action Adventure Crime
Los Angeles SWAT cop Jack Traven is up against bomb expert Howard Payne, who's after major ransom money. First it's a rigged elevator in a very tall building. Then it's a rigged bus--if it slows, it will blow, bad enough any day, but a nightmare in LA traffic. And that's still not the end.
2h 17m Action Adventure Thriller
FBI chemical warfare expert Stanley Goodspeed is sent on an urgent mission with a former British spy, John Patrick Mason, to stop Gen. Francis X. Hummel from launching chemical weapons on Alcatraz Island into San Francisco. Gen. Hummel demands $100 million in war reparations to be paid to the families of slain servicemen who died on covert operations. After their SEAL team is wiped out, Stanley and John deal with the soldiers on their own.
4.
Die Hard with a Vengeance (1995)
2h 8m Action Thriller
New York detective John McClane is back and kicking bad-guy butt in the third installment of this action-packed series, which finds him teaming with civilian Zeus Carver to prevent the loss of innocent lives. McClane thought he'd seen it all, until a genius named Simon engages McClane, his new "partner" -- and his beloved city -- in a deadly game that demands their concentration.
2h 11m Action Thriller
NYPD cop John McClane's plan to reconcile with his estranged wife is thrown for a serious loop when, minutes after he arrives at her office, the entire building is overtaken by a group of terrorists. With little help from the LAPD, wisecracking McClane sets out to single-handedly rescue the hostages and bring the bad guys down.
1h 48m Action
When rogue stealth-fighter pilot Vic Deakins deliberately drops off the radar while on maneuvers, the Air Force ends up with two stolen nuclear warheads -- and Deakins's co-pilot, Riley Hale, is the military's only hope for getting them back. Traversing the deserted canyons of Utah, Hale teams with park ranger Terry Carmichael to put Deakins back in his box.
2h 4m Action Thriller
Off-duty cop John McClane is gripped with a feeling of déjà vu when, on a snowy Christmas Eve in the nation's capital, terrorists seize a major international airport, holding thousands of holiday travelers hostage. Renegade military commandos led by a murderous rogue officer plot to rescue a drug lord from justice and are prepared for every contingency except one: McClane's smart-mouthed heroics.
1h 24m Action Adventure Thriller
An infamous terrorist has evaded capture for a long time by being extremely clever and ruthless. Things get interesting when he hijacks a plane carrying famous security expert John Cutter, who isn't about to stand this sort of thing.
1h 30m Action Adventure Thriller
John Matrix, the former leader of a special commando strike force that always got the toughest jobs done, is forced back into action when his young daughter is kidnapped. To find her, Matrix has to fight his way through an array of punks, killers, one of his former commandos, and a fully equipped private army. With the help of a feisty stewardess and an old friend, Matrix has only a few hours to overcome his greatest challenge: finding his daughter before she's killed.
10.
The Expendables 2 (2012)
1h 43m Action Adventure Thriller
Mr. Church reunites the Expendables for what should be an easy paycheck, but when one of their men is murdered on the job, their quest for revenge puts them deep in enemy territory and up against an unexpected threat.
1h 37m Action Adventure Crime Thriller Drama
When a woman's father goes missing, she enlists a local to aid in her search. The pair soon discover that her father has died at the hands of a wealthy sportsman who hunts homeless men as a form of recreation.
12.
The Expendables 3 (2014)
2h 6m Action Adventure Thriller
Barney, Christmas and the rest of the team comes face-to-face with Conrad Stonebanks, who years ago co-founded The Expendables with Barney. Stonebanks subsequently became a ruthless arms trader and someone who Barney was forced to kill… or so he thought. Stonebanks, who eluded death once before, now is making it his mission to end The Expendables -- but Barney has other plans. Barney decides that he has to fight old blood with new blood, and brings in a new era of Expendables team members, recruiting individuals who are younger, faster and more tech-savvy. The latest mission becomes a clash of classic old-school style versus high-tech expertise in the Expendables' most personal battle yet.
13.
Vertical Limit (2000)
2h 4m Action Thriller Drama Adventure
Trapped near the summit of K2, the world's second-highest mountain, Annie Garrett radios to base camp for help. Brother Peter hears Annie's message and assembles a team to save her and her group before they succumb to K2's unforgiving elements. But, as Annie lays injured in an icy cavern, the rescuers face several terrifying events that could end the rescue attempt -- and their lives.
1h 55m Action Adventure Thriller
A group of armed robbers fleeing the police head for the New Jersey Tunnel and run right into trucks transporting toxic waste. The spectacular explosion that follows results in both ends of the tunnel collapsing and the handful of people who survived the explosion are now in peril. Kit Latura is the only man with the skill and knowledge to lead the band of survivors out of the tunnel before the structure collapses.
1h 33m Action Adventure Drama Thriller
While filming an advertisement, some extreme sports enthusiasts unwittingly stop a group of terrorists.
16.
The Hunt for Eagle One: Crash Point (2006)
17.
The Transporter Refueled (2015)
1h 36m Action Thriller Crime
The fast-paced action movie is again set in the criminal underworld in France, where Frank Martin is known as The Transporter, because he is the best driver and mercenary money can buy. In this installment, he meets Anna and they attempt to take down a group of ruthless Russian human traffickers who also have kidnapped Frank's father.
19.
Mission: Impossible II (2000)
2h 3m Adventure Action Thriller
With computer genius Luther Stickell at his side and a beautiful thief on his mind, agent Ethan Hunt races across Australia and Spain to stop a former IMF agent from unleashing a genetically engineered biological weapon called Chimera. This mission, should Hunt choose to accept it, plunges him into the center of an international crisis of terrifying magnitude.
20.
Live Free or Die Hard (2007)
2h 8m Action Thriller
John McClane is back and badder than ever, and this time he's working for Homeland Security. He calls on the services of a young hacker in his bid to stop a ring of Internet terrorists intent on taking control of America's computer infrastructure.
2h 28m Action Adventure Thriller
A cryptic message from Bond's past sends him on a trail to uncover a sinister organization. While M battles political forces to keep the secret service alive, Bond peels back the layers of deceit to reveal the terrible truth behind SPECTRE.
1h 43m Action Thriller
This action-packed thriller takes place on the soon-to-be-decommissioned USS Missouri. Disgruntled ex-CIA operative Strannix, his assistant Krill and their group of terrorists seize the battleship with nuclear blackmail in mind. They've planned for every contingency but ignore the ship's cook, former Navy SEAL Casey Ryback -- an error that could be fatal.
23.
The Replacement Killers (1998)
1h 27m Action Drama Crime Thriller Mystery
Hired assassin John Lee is asked by Chinatown crime boss Terence Wei to murder the young son of policeman Stan Zedkov. Lee has the boy in his sights, but his conscience gets the better of him, and he spares the child's life. Afraid that Wei will take revenge on his family in China, Lee seeks out expert forger Meg Coburn to obtain the passport he needs to get out of the country, but a band of replacement killers is soon on his trail.
24.
Bullet to the Head (2012)
25.
Olympus Has Fallen (2013)
2h Action Thriller
When the White House (Secret Service Code: "Olympus") is captured by a terrorist mastermind and the President is kidnapped, disgraced former Presidential guard Mike Banning finds himself trapped within the building. As the national security team scrambles to respond, they are forced to rely on Banning's inside knowledge to help retake the White House, save the President and avert an even bigger disaster.
1h 57m Thriller Action Adventure Comedy Crime
A group of Iraq War veterans goes on the run from U.S. military forces while they try to clear their names after being framed for a crime they didn't commit. Along the way, Col. Hannibal Smith, Capt. H.M. 'Howling Mad' Murdock , Sgt. Bosco 'B.A.' Baracus, and Lt. Templeton 'Faceman' Peck help out various people they encounter.
27.
Licence to Kill (1989)
2h 13m Adventure Action Thriller
After capturing the notorious drug lord Franz Sanchez, Bond's close friend and former CIA agent Felix Leiter is left for dead and his wife is murdered. Bond goes rogue and seeks vengeance on those responsible, as he infiltrates Sanchez's organization from the inside.
28.
Ninja Assassin (2009)
1h 39m Action Thriller
Ninja Assassin follows Raizo, one of the deadliest assassins in the world. Taken from the streets as a child, he was transformed into a trained killer by the Ozunu Clan, a secret society whose very existence is considered a myth. But haunted by the merciless execution of his friend by the Clan, Raizo breaks free from them and vanishes. Now he waits, preparing to exact his revenge.
29.
Mission: Impossible - Rogue Nation (2015)
2h 11m Action Adventure
Ethan and team take on their most impossible mission yet—eradicating 'The Syndicate', an International and highly-skilled rogue organisation committed to destroying the IMF.
30.
Speed 2: Cruise Control (1997)
2h 1m Action Adventure Thriller
A computer hacker breaks into the computer system of the Seabourn Legend cruise liner and sets it speeding on a collision course into a gigantic oil tanker.
explore
Check out more list from our community