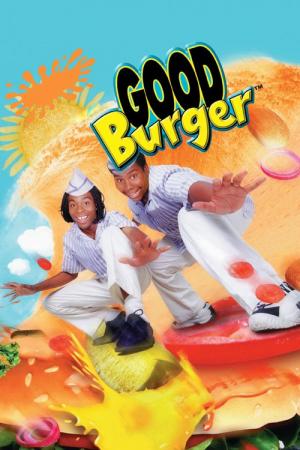 24 Best Movies Like Good Burger ...
If you liked this film , you will for sure love these too! In this selection we highlight some of the best films that share a very similar premise to '', and are worth checking out.
1h 41m Comedy Family
Some say that to be the leader of a country is one of the loneliest jobs in the world. But being the child of a world leader can be doubly so. Constantly surrounded by security officers, restricted in movements and having almost every waking moment carefully monitored makes normalcy an impossibility. No one knows this better than young Luke Davenport, the son of U.S. President Davenport. He vents his loneliness, frustration and feelings of isolation from family and friends by being a brat to his private Secret Service agent. When the agent snaps from the strain in front of the First Lady, a new agent is assigned to Luke. He turns out to be the enormous Sam Simms, a bit of a rogue who managed to rise through the ranks by sheer determination rather than strict adherence to Secret-Service protocol. At first, Luke tries all his old tricks upon Sam. But instead of getting angry, Sam seems to actually understand.
2.
Air Bud: Golden Receiver (1998)
1h 30m Comedy Family
Josh and Buddy move from basketball to American football in this first of several sequels to the original Air Bud.
3.
The Baby-Sitters Club (1995)
1h 34m Comedy Drama Family
It's the story about seven very different best friends, and one summer that will bring them together like never before.
1h 33m Comedy Family Fantasy
Animated character Fat Albert emerges from his TV universe into the real world, accompanied by his friends Rudy, Mushmouth, Old Weird Harold and Dumb Donald. Though the gang is flabbergasted by the modern world, they make new friends, and Albert attempts to help young Doris become popular. But things get complicated when Albert falls for her older sister, Lauri, and must turn to creator Bill Cosby for advice.
5.
Meet the Deedles (1998)
1h 33m Comedy Family
Two surfers end up as Yellowstone park rangers and have to stop a former ranger who is out for revenge.
6.
How to Eat Fried Worms (2006)
1h 38m Comedy Drama Family
During the first day of his new school year, a fifth grade boy squares off against a bully and winds up accepting a dare that could change the balance of power within the class.
1h 37m Comedy Family
A decade has passed in the small town where the original Sandlot gang banded together during the summer of '62 to play baseball and battle the Beast. Now comes the sequel, a campy romp back to the dugout where nine new kids descend on the diamond only to discover that a descendant of the Beast lives in Mr. Mertle's backyard--a monster of mythical proportions known as "The Great Fear."
1h 29m Comedy Family
After his parents decide to move to a retirement home in Florida, professional gamer Quincy "Q"Johnson (Jerry Trainor) must find a way to raise 175,000 dollars to buy his family home. After hearing about a tournament for the game "Black Hole" with a grand prize of 175,500 dollars, Quincy enters the tournament, only to be faced with a new problem. An equally skilled gamer named Chris Saunders "Prodigy" (Jeanette McCurdy) has become the one block in Quincy's plan, defeating him at every turn. So he teams up with his friend Wendell (Amir Talai) to try and find ways to stop Chris from entering the tournament.
9.
Leave It to Beaver (1997)
1h 24m Comedy Family
Cleavers are an all-American family living in Ohio - wise father Ward, loving mother June, teen-age son Wally and 8-year-old "Beaver" Theodore. Beaver hopes to get a bike as a gift from his father and to please him tries out for his school football team and he makes it, only to be embarrassed. The bike he gets is quickly stolen. Meanwhile Wally is trying to help his friend Eddie Haskell to get the heart of pretty classmate Karen, but Karen seems to like Wally more, and that leads to tensions between the friends.
10.
Larger Than Life (1996)
1h 33m Comedy
Motivational Speaker Jack Corcoran is determined to get his career off the ground, but the biggest gigs he can get are the ones nobody wants. Then one day, he receives a telegram that his circus clown father has passed away, and has left a "huge" inheritance. When he gets there, he finds that his inheritance has come in the form of an elephant that was his father's pride and joy in circus acts. His main intention is to sell the pachyderm off. Jack must choose between loud and rude zookeeper Mo or attractive animal show owner Terry. As the two treks through the country Jack and the elephant develop a bond, and it changes his approach on life for the better.
1h Science Fiction Animation Drama
The now 50 year old Scientific Boys Club decides to build a ship with which they plan to sail to Mars on the "Ethereal Current", curious to see if there is life on Mars.
12.
D2: The Mighty Ducks (1994)
1h 46m Action Comedy Drama Family
After Gordon Bombay's hockey comeback is cut short he is named coach of Team USA Hockey for the Junior Goodwill Games. Bombay reunites the Mighty Ducks and introduces a few new players, however, he finds himself distracted by his newfound fame and must regather if the Ducks are to defeat tournament favourites Iceland.
13.
I'll Be Home for Christmas (1998)
45m Action & Adventure Comedy Crime
While attending a Hollywood premiere with a famous action star, a crazed fan pulls a gun—but her movie hunk turns into a coward, and it's Vallery who becomes the hero. Suddenly, she's thrown into a world of action and danger as owner of a Hollywood protection agency, Vallery Irons Protection (V.I.P.), taking risks to protect others at a price few are willing to pay.
14.
Deck the Halls (2006)
1h 33m Comedy Family
Determined to unseat Steve Finch's reign as the town's holiday season king, Buddy Hall plasters his house with so many decorative lights that it'll be visible from space! When their wives bond, and their kids follow suit, the two men only escalate their rivalry - and their decorating.
1h 28m Comedy Family
Charlie and Dan have been best friends and business partners for thirty years; their Manhattan public relations firm is on the verge of a huge business deal with a Japanese company. With two weeks to sew up the contract, Dan gets a surprise: a woman he married on a drunken impulse nearly nine years before (annulled the next day) shows up to tell him he's the father of her twins, now seven, and she'll be in jail for 14 days for a political protest. Dan volunteers to keep the tykes, although he's up tight and clueless. With Charlie's help is there any way they can be dad and uncle, meet the kids' expectations, and still land the account?
16.
Daddy Day Camp (2007)
1h 29m Family Comedy
Seeking to offer his son the satisfying summer camp experience that eluded him as a child, the operator of a neighborhood daycare center opens his own camp, only to face financial hardship and stiff competition from a rival camp.
1h 43m Comedy Family
An acclaimed college hoops coach is demoted to a junior varsity team after a public meltdown.
1h 40m Action Adventure Comedy Family
In a depressed Texas town, British foreign exchange teacher Anna attempts to inject some life into her hopeless kids by introducing them to soccer. They're terrible at first, but Anna and her football-hero assistant whip them into shape. As they work overtime, the pair help kids build their self-esteem and also get involved in solving family squabbles.
1h 21m Comedy
Ben Healy and his social climbing wife Flo adopt fun-loving seven year old Junior. But they soon discover he's a little monster as he turns a camping trip, a birthday party and even a baseball game into comic nightmares.
20.
Life with Mikey (1993)
1h 31m Comedy Family
Michael Chapman was once a child TV star. When he grows up, he can't get work so he and his brother start their own talent agency that specialises in child acts. They can't seem to find the next big thing and they have to deal with another agency who's not above bribery to get the kids to sign with them. One day Michael meets a young girl who's a real spitfire, and thinks she could be who they are looking for.
1h 28m Family Comedy Adventure
Fourteen-year-old Jason Shepherd has a reputation for stretching the truth. So, when big-time Hollywood producer Marty Wolf steals his class paper and turns it into a smash movie, no one believes Jason's latest tall tale! On a cross-country adventure to set the record straight, Jason and best friend Kaylee devise a high-tech plan to squeeze the truth out of Wolf.
22.
The Little Rascals (1994)
1h 22m Romance Comedy Family
When Alfalfa starts to question his devotion to the club's principles after falling for the beautiful nine-year old Darla, the rest of the gang sets out to keep them apart.
23.
3 Ninjas Kick Back (1994)
1h 33m Family Adventure Action Comedy
During a championship baseball match, the three brothers hear that their grandfather in Japan is in trouble, and head out to help him, conceding the match. When they arrive in Japan, they must use all their powers to defend him against his ancient enemy, who has returned to exact revenge.
explore
Check out more list from our community