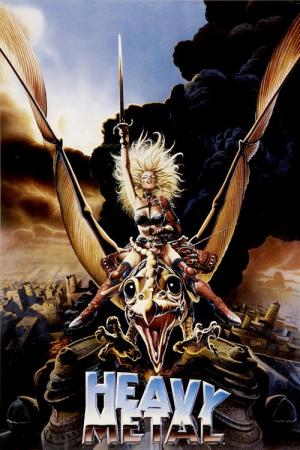 31 Best Movies Like Heavy Metal ...
If you liked this film , you will definitely love these too! In this selection we highlight some of the best films that share a very similar mood to '', and are worth checking out.
1.
Heavy Metal 2000 (2000)
1h 28m Action Adventure Animation Fantasy Science Fiction
Upon discovery of a shard of what could be the Loc-Nar, a miner named Tyler becomes possessed with an insatiable hunger for power and a thirst for immortality. On his way to the planet of youth, Tyler wipes out most of a space colony and kidnaps a beautiful young woman. His only mistake is that he doesn't kill her sister, Julie, who then sets out on a mission of rescue and revenge.
1h 21m Animation Fantasy Science Fiction
In this animated tale, a tiny village is destroyed by a surging glacier, which serves as the deadly domain for the evil Ice Lord, Nekron. The only survivor is a young warrior, Larn, who vows to avenge this act of destruction. The evil continues, however, as Nekron's palace of ice heads straight towards Fire Keep, the great fortress ruled by the good King Jarol. When Jarol's beautiful daughter, Teegra, is abducted by Nekron's sub-human ape-like creatures, Larn begins a daring search for her. What results is a tense battle between good and evil, surrounded by the mystical elements of the ancient past.
1h 23m Animation Science Fiction Fantasy Adventure
On the planet Gandahar where peace reigns and poverty is unknown, this utopian lifestyle is upset by reports of people at the outlying frontiers being turned to stone. Sylvain is sent to investigate this mysterious threat.
1h 20m Animation Fantasy Science Fiction
After the death of his mother, the evil mutant wizard Blackwolf discovers some long-lost military technologies. Full of ego and ambition, Blackwolf claims his mother's throne, assembles an army and sets out to brainwash and conquer Earth. Meanwhile, Blackwolf's gentle twin brother, the bearded and sage Avatar, calls upon his own magical abilities to foil Blackwolf's plans for world domination -- even if it means destroying his own flesh and blood.
52m Animation Comedy Crime Science Fiction
Pandy and Retro awaken naked on Earth with no recollection of their past. They embark on a crime spree in search of food and clothing, but are captured by authorities and sent to the infamous lunar penitentiary named Dead Leaves.
6.
Rock & Rule (1983)
1h 15m Animation Drama Family Science Fiction Mystery
On planet Perdide, an attack of giant hornets leaves Piel – a young boy – alone in a wrecked car with his dying father. A mayday message reaches their friend Jaffar, an adventurer travelling through space. On board Jaffar's shuttle are the renegade Prince Matton, his fiancée, and Silbad who knows the planet Perdide well. Thus begins an incredible race across space to save Piel.
8.
Neon Genesis Evangelion: The End of Evangelion (1997)
1h 27m Drama Science Fiction Animation Action
The second of two theatrically released follow-ups to the Neon Genesis Evangelion series. Comprising of two alternate episodes which were first intended to take the place of episodes 25 and 26, this finale answers many of the questions surrounding the series, while also opening up some new possibilities.
9.
Final Fantasy: The Spirits Within (2001)
1h 46m Adventure Action Animation Fantasy Science Fiction Thriller Romance
Led by a strange dream, scientist Aki Ross struggles to collect the eight spirits in the hope of creating a force powerful enough to protect the planet. With the aid of the Deep Eyes Squadron and her mentor, Dr. Sid, Aki must save the Earth from its darkest hate and unleash the spirits within.
1h 53m Fantasy Animation Science Fiction
In this anime anthology, a salvage ship crew happens upon a haunted vessel in "Magnetic Rose"; a cold tablet turns a lab worker into a biological weapon in "Stink Bomb"; and an urban populace carries on an endless war with an unseen foe in "Cannon Fodder."
1h 34m Animation Action Science Fiction Family Adventure
A young man finds out that he holds the key to restoring hope and ensuring survival for the human race, while an alien species called the Drej are bent on mankind's destruction.
12.
Nausicaa of the Valley of the Wind (1984)
1h 57m Adventure Animation Fantasy
After a global war, the seaside kingdom known as the Valley of the Wind remains one of the last strongholds on Earth untouched by a poisonous jungle and the powerful insects that guard it. Led by the courageous Princess Nausicaä, the people of the Valley engage in an epic struggle to restore the bond between humanity and Earth.
13.
The Lord of the Rings (1978)
2h 12m Adventure Animation Fantasy
The Fellowship of the Ring embark on a journey to destroy the One Ring and end Sauron's reign over Middle-earth.
14.
Digimon: The Movie (2000)
1h 22m Fantasy Animation Science Fiction Family
The first story focused on Tai and Kari Kamiya four years before their adventure in the Digital World. It shows their first encounter with Digimon and what happened to them (as well as the other children). Tai and Kari wake one morning to find a Digi-Egg that came out of their computer the night before and the egg soon hatches, revealing a Botamon. The Digimon then evolves into Koromon and then Agumon (not the same one that became friends with Tai in the series, and yet, somehow, both Koromon and Kari remember each other), who then goes out and unintentionally destroys a good part of the neighborhood with Kari riding on his back. A second Digi-Egg appears in the sky to reveal an evil digimon, Parrotmon. Agumon then Digivolves to Greymon but isn't strong enough to beat Parrotmon and is knocked out. Tai grabs Kari's whistle and wakes up Greymon, who defeats Parrotmon and disappears with him.
15.
Futurama: Bender's Big Score (2007)
16.
Princess Mononoke (1997)
2h 14m Adventure Fantasy Animation
Ashitaka, a prince of the disappearing Emishi people, is cursed by a demonized boar god and must journey to the west to find a cure. Along the way, he encounters San, a young human woman fighting to protect the forest, and Lady Eboshi, who is trying to destroy it. Ashitaka must find a way to bring balance to this conflict.
17.
Teen Titans: Trouble in Tokyo (2006)
1h 15m Action Animation Family Science Fiction TV Movie
America's coolest heroes, the Teen Titans, go to Tokyo to track down the mysterious Japanese criminal Brushogun.
18.
Treasure Planet (2002)
1h 35m Adventure Animation Family Fantasy Science Fiction
When space galleon cabin boy Jim Hawkins discovers a map to an intergalactic "loot of a thousand worlds," a cyborg cook named John Silver teaches him to battle supernovas and space storms. But, soon, Jim realizes Silver is a pirate intent on mutiny!
19.
Pokemon: Jirachi - Wish Maker (2003)
1h 21m Action Animation Adventure Family Fantasy Science Fiction
Ash, May, Brock, and Max come upon the festival of the Wishing Star of Seven Nights. During their enjoyment, the legendary Pokemon--Jirachi, descends from the heavens and befriends Max. Jirachi, with the power to grant any wish, is sought after by many people wanting to claim its power. One man seeks to use its legendary power to revive an ancient Pokemon known as Groudon, unaware of the dangers hidden within Jirachi's powers
20.
Harlock: Space Pirate (2013)
1h 55m Animation Science Fiction
Space Pirate Captain Harlock and his fearless crew face off against the space invaders who seek to conquer the planet Earth.
21.
Dragon Ball Z: Resurrection 'F' (2015)
1h 33m Action Animation Science Fiction
One peaceful day on Earth, two remnants of Frieza's army named Sorbet and Tagoma arrive searching for the Dragon Balls with the aim of reviving Frieza. They succeed, and Frieza subsequently seeks revenge on the Saiyans.
22.
Aqua Teen Hunger Force Colon Movie Film for Theaters (2007)
1h 26m Animation Comedy
An action epic that explores the origins of the Aqua Teen Hunger Force (better known as Master Shake, Frylock, and Meatwad,) who somehow become pitted in a battle over an immortal piece of exercise equipment.
23.
Buzz Lightyear of Star Command: The Adventure Begins (2000)
1h 10m Animation Family Comedy Science Fiction Adventure
Buzz Lightyear must battle Emperor Zurg with the help of three hopefuls who insist on being his partners.
24.
The Transformers: The Movie (1986)
1h 24m Animation Science Fiction Action Adventure Family
The Autobots must stop a colossal planet-consuming robot who goes after the Autobot Matrix of Leadership. At the same time, they must defend themselves against an all-out attack from the Decepticons.
25.
Kaena: The Prophecy (2003)
1h 25m Animation Adventure
Compelled by a mysterious force, Kaena, a rebellious, high-spirited teenage girl will defy the High Priest and her people's ancestral beliefs to take the perilous journey through the Axis and discover what dark secrets lie beyond the clouds.
26.
Dragon Ball Z: The History of Trunks (1993)
48m Animation Action Science Fiction
It has been thirteen years since the Androids began their killing rampage and Son Gohan is the only person fighting back. He takes Bulma's son Trunks as a student and even gives his own life to save Trunks's. Now Trunks must figure out a way to change this apocalyptic future
1h 14m Action Adventure Animation Fantasy Science Fiction
On the mystical island of Themyscira, a proud and fierce warrior race of Amazons have raised a daughter of untold beauty, grace and strength: Princess Diana. When an Army fighter pilot, Steve Trevor, crash-lands on the island, the rebellious and headstrong Diana defies Amazonian law by accompanying Trevor back to civilization.
28.
Gulliver's Travels Beyond the Moon (1965)
1h 20m Animation Science Fiction
The story concerns a homeless boy named Ricky, or Ted in the Japanese version. After seeing a movie about Gulliver he meets Professor Gulliver himself in a forest. Gulliver is now an elderly, space-traveling scientist. With Dr. Gulliver's assistant Sylvester the crow (named Crow in the Japanese edition), and Ricky's companions, a talking dog and a toy soldier, they travel the Milky Way to the Planet of Blue Hope, which has been taken over by the Queen of Purple Planet and her evil group of robots. Armed with water-pistols and water balloons, which melt the villains, Ricky and Gulliver restore Blue Hope to its doll-like owners.
29.
Star Wars: The Clone Wars (2008)
25m Action & Adventure Animation Sci-Fi & Fantasy
Yoda, Obi-Wan Kenobi, Anakin Skywalker, Mace Windu and other Jedi Knights lead the Grand Army of the Republic against the droid army of the Separatists.
1h 45m Animation Fantasy Science Fiction
After receiving a package from his grandfather, Ray, a young inventor who lives in England during the mid-19th century, finds himself caught in the middle of a deadly conflict related to a revolutionary advance in steam power.
explore
Check out more list from our community