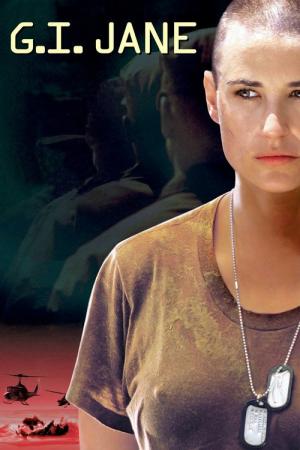 14 Best Movies Like Gi Jane ...
If you liked this film , you will definitely love these too! In this list we highlight some of the best films that share a very similar mood to 'G.I. Jane', and are worth checking out.
1.
Tae Guk Gi: The Brotherhood of War (2004)
2h 29m Action Adventure Drama History War
When two brothers are forced to fight in the Korean War, the elder decides to take the riskiest missions if it will help shield the younger from battle.
2.
Tears of the Sun (2003)
2h 1m Action Drama War
Navy SEAL Lieutenant A.K. Waters and his elite squadron of tactical specialists are forced to choose between their duty and their humanity, between following orders by ignoring the conflict that surrounds them, or finding the courage to follow their conscience and protect a group of innocent refugees. When the democratic government of Nigeria collapses and the country is taken over by a ruthless military dictator, Waters, a fiercely loyal and hardened veteran is dispatched on a routine mission to retrieve a Doctors Without Borders physician.
1h 47m Drama War Action
The "Memphis Belle" is a World War II bomber, piloted by a young crew on dangerous bombing raids into Europe. The crew only have to make one more bombing raid before they have finished their duty and can go home. In the briefing before their last flight, the crew discover that the target for the day is Dresden, a heavily-defended city that invariably causes many Allied casualties
4.
American Sniper (2014)
2h 13m War Action
U.S. Navy SEAL Chris Kyle takes his sole mission—protect his comrades—to heart and becomes one of the most lethal snipers in American history. His pinpoint accuracy not only saves countless lives but also makes him a prime target of insurgents. Despite grave danger and his struggle to be a good husband and father to his family back in the States, Kyle serves four tours of duty in Iraq. However, when he finally returns home, he finds that he cannot leave the war behind.
5.
Jarhead 2: Field of Fire (2014)
1h 43m War Action
Battle-scarred and disillusioned by the war, Corporal Chris Merrimette is put in charge of a unit whose next mission is to resupply a remote outpost on the edge of Taliban-controlled territory. While driving through the hostile Helmand province, a Navy SEAL flags down their convoy and enlists the unit on an operation of international importance: they must help an Afghan woman famous for her defiance of the Taliban escape the country. Without tanks or air support, Merrimette and his team will need all the courage and firepower they can muster to fight their way across the war-torn country and shepherd the woman to safety.
6.
We Were Soldiers (2002)
2h 18m Action History War
The story of the first major battle of the American phase of the Vietnam War and the soldiers on both sides that fought it.
7.
The Lost Battalion (2001)
1h 32m History Drama War TV Movie
Fact-based war drama about an American battalion of over 500 men which gets trapped behind enemy lines in the Argonne Forest in October 1918 France during the closing weeks of World War I.
2h 18m Drama
When cocky military lawyer Lt. Daniel Kaffee and his co-counsel, Lt. Cmdr. JoAnne Galloway, are assigned to a murder case, they uncover a hazing ritual that could implicate high-ranking officials such as shady Col. Nathan Jessep.
9.
Courage Under Fire (1996)
1h 56m Drama Thriller Mystery War
A US Army officer, who made a "friendly fire" mistake that was covered up, has been reassigned to a desk job. He is tasked to investigate a female chopper commander's worthiness to be awarded the Medal of Honor. At first all seems in order. But then he begins to notice inconsistencies between the testimonies of the witnesses...
10.
Special Forces (2011)
1h 49m Action Drama War
Afghanistan. War correspondent Elsa Casanova is taken hostage by the Taliban. Faced with her imminent execution, a Special Forces unit is dispatched to free her. In some of the world's most breathtaking yet hostile landscapes, a relentless pursuit begins between her kidnappers who have no intention of letting their prey escape them and a group of soldiers who risk their lives in pursuit of their single aim – to bring her home alive. This strong, independent woman and these men of duty are thrown together and forced to confront situations of great danger that inextricably bind them – emotionally, violently and intimately.
1h 39m Action Drama
Inspired by actual events: This heroic saga depicts an elite counter-terrorism team's black ops incursion into Iraq four days prior to Operation: Desert Shield and the harrowing consequences its members faced when their covert mission was compromised.
12.
Casualties of War (1989)
1h 53m Drama History War
During the Vietnam War, a soldier finds himself the outsider of his own squad when they unnecessarily kidnap a female villager. Based on the actual events of an incident on Hill 192 in November, 1966.
2h 19m Drama History War Action
The picture opens in Krasnoyarsk, Siberia, in late 1988, when military trainees Petrovsky, Ryaba, Chugun, Stas, Pinochet, Lyutev and Vorobyev are whipped into shape at a training camp by the brutal, sadistic commander, Warrant Officer Dygalo - prior to being sent off to the front lines. After several one-by-one dalliances with the local whore, Snow White, and a cautionary lecture on the history, geography and culture of Afghanistan (which most of the men sleep through), the trainees head off to battle - first to the Bagram air base, then to the Afghani province of Khost to secure supply lines. But nothing can begin to prepare them for the brutal devastation into which they are plunged, or the relentless tide of slaughter that scatters thousands of Soviet victims in its wake.
2h 15m War Drama Action
In the last months of World War II, as the Allies make their final push in the European theatre, a battle-hardened U.S. Army sergeant named 'Wardaddy' commands a Sherman tank called 'Fury' and its five-man crew on a deadly mission behind enemy lines. Outnumbered and outgunned, Wardaddy and his men face overwhelming odds in their heroic attempts to strike at the heart of Nazi Germany.
explore
Check out more list from our community