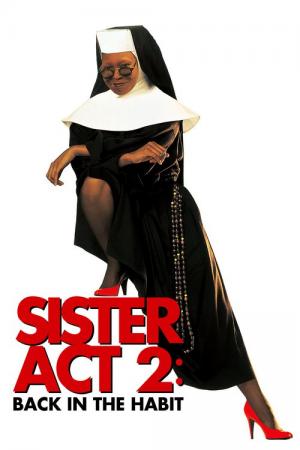 13 Best Movies Like Sister Act ...
If you liked this one , you will probably love these too! In this selection we highlight some of the best films that share a very similar mood to 'Sister Act 2: Back in the Habit', and are worth checking out.
1.
The Trouble with Angels (1966)
1h 52m Comedy Family
Mary and her friend, Rachel, are new students at St. Francis Academy, a boarding school run by the iron fist of Mother Superior. The immature teens grow bored and begin playing pranks on both the unsuspecting nuns and their unpleasant classmates, becoming a constant thorn in Mother Superior's side. However, as the years pass, Mary and Rachel slowly mature and begin to see the nuns in a different light.
2.
High School Musical 2 (2007)
1h 51m Comedy Drama Family Music Romance TV Movie
The East High Wildcats are gearing up for big fun as they land the coolest summer jobs imaginable. Troy, Gabriella, Chad, and Taylor have scored sweet gigs at the Lava Springs Country Club owned by Sharpay and Ryan's family. Sharpay's first rule of business: Get Troy. As Troy experiences a life of privilege he's never known, will he give up the Wildcats and Gabriella to rise to the top?
1h 50m Comedy Music Family
Fired from his band and hard up for cash, guitarist and vocalist Dewey Finn finagles his way into a job as a fifth-grade substitute teacher at a private school, where he secretly begins teaching his students the finer points of rock 'n' roll. The school's hard-nosed principal is rightly suspicious of Finn's activities. But Finn's roommate remains in the dark about what he's doing.
1h 57m Comedy Music
G.G. Sparrow faces off with her choir's newly appointed director, Vi Rose Hill, over the group's direction as they head into a national competition.
1h 52m Comedy Music Romance
College student Beca knows she does not want to be part of a clique, but that's exactly where she finds herself after arriving at her new school. Thrust in among mean gals, nice gals and just plain weird gals, Beca finds that the only thing they have in common is how well they sing together. She takes the women of the group out of their comfort zone of traditional arrangements and into a world of amazing harmonic combinations in a fight to the top of college music competitions.
6.
Camp Rock 2: The Final Jam (2010)
1h 44m Comedy Music TV Movie
Mitchie can't wait to go back to Camp Rock and spend the summer making new music with her friends and superstar Shane Gray. But the slick new camp across the lake, Camp Star, has drummed up some serious competition — featuring newcomers Luke and Dana. In a sensational battle of the bands, with Camp Rock's future at stake, will Camp Star's flashy production and over-the-top antics win out, or will Camp Rockers prove that music, teamwork, and spirit are what truly matter?
7.
High School Musical (2006)
1h 38m Comedy Drama Family Music Romance TV Movie
Troy, the popular captain of the basketball team, and Gabriella, the brainy and beautiful member of the academic club, break all the rules of East High society when they secretly audition for the leads in the school's musical. As they reach for the stars and follow their dreams, everyone learns about acceptance, teamwork, and being yourself.
1h Science Fiction Animation Drama
The now 50 year old Scientific Boys Club decides to build a ship with which they plan to sail to Mars on the "Ethereal Current", curious to see if there is life on Mars.
1h 43m Comedy Family
An acclaimed college hoops coach is demoted to a junior varsity team after a public meltdown.
1h 41m Comedy Family
Some say that to be the leader of a country is one of the loneliest jobs in the world. But being the child of a world leader can be doubly so. Constantly surrounded by security officers, restricted in movements and having almost every waking moment carefully monitored makes normalcy an impossibility. No one knows this better than young Luke Davenport, the son of U.S. President Davenport. He vents his loneliness, frustration and feelings of isolation from family and friends by being a brat to his private Secret Service agent. When the agent snaps from the strain in front of the First Lady, a new agent is assigned to Luke. He turns out to be the enormous Sam Simms, a bit of a rogue who managed to rise through the ranks by sheer determination rather than strict adherence to Secret-Service protocol. At first, Luke tries all his old tricks upon Sam. But instead of getting angry, Sam seems to actually understand.
11.
Confessions of a Teenage Drama Queen (2004)
1h 29m Comedy
When the teenager Mary Elizabeth Steppe, a.k.a. Lola, moves with her mother and two younger twin sisters from New York to the suburb of Dellwood, New Jersey, she has the feeling that her cultural and entertaining world ended. While in school, the displaced Lola becomes close friend of the unpopular Ella, who is also a great fan of the her favorite rock band Sidarthur. However, the most popular girl in the school, Carla Santini, disputes the lead role in an adaptation of Pygmalion with Lola and also the leadership of their mates. When the last concert of Sidarthur is sold-out, Lola plans with Ella to travel to New York and buy the tickets from scalpers. However, the girls get into trouble while helping the lead singer and Lola's idol Stu Wolf, changing their lives forever.
1h 50m Comedy Music
The popular Bratz dolls come to life in their first live-action feature film. Finding themselves being pulled further and further apart, the fashionable four band together to fight peer pressure, learn what it means to stand up for your friends, be true to oneself and live out your dreams.
1h 50m Fantasy Comedy Family
Recently orphaned, a young boy is taken in by his godmother who is shocked to realize that she can see the boy's imaginary friend: a flamboyant, French magician named Bogus.
explore
Check out more list from our community