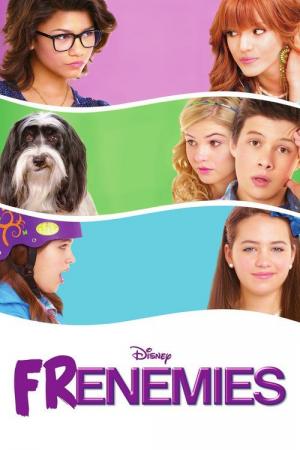 17 Best Movies Like Frenemies ...
If you liked this film , you will definitely love these too! In this selection we highlight some of the best films that share a very similar premise to '', and are worth checking out.
1h 32m Comedy Family
Zoey is a talented dancer whose organized life is rudely disrupted when she moves in with her new step-dad and three step-brothers, until she discovers a dog-training app that can get boys to obey her every command. But she soon learns that it isn't the cure-all she had hoped for.
1h 30m Comedy Drama Family TV Movie
High school senior Tara is so painfully shy that she dreads speaking to anyone in the hallways or getting called on in class. But in the privacy of her bedroom with her iPod in hand, she rocks out -- doing mock broadcasts for Miami's hottest FM radio station, which happens to be owned by her stepfather. When a slot opens up at The SLAM, Tara surprises herself by blossoming behind the mike into confident, "Radio Rebel" -- and to everyone's shock, she's a hit!
1h 40m Romance Comedy
Bianca's universe turns upside down when she learns that her high school refers to her as a 'DUFF' (Designated Ugly Fat Friend). Hoping to erase that label, she enlists the help of a charming jock and her favorite teacher. Together they'll face the school's mean girl and remind everyone that we are all someone's DUFF… and that's totally fine.
1h 37m Comedy Drama Family TV Movie
Dylan Schoenfield is the pink princess of the upscale Los Angeles Woodlands Academy. She has the coolest boyfriend, the most popular friends, and a brand-new it bag that everyone covets. But when she accidentally tosses her Serge Sanchez bag into a fountain, this princess comes face-to-face with her own personal frog, self-professed film geek Josh Rosen. In return for rescuing Dylan's bag, Josh convinces Dylan to let him film her for his documentary on high school popularity. Reluctantly, Dylan lets F-list Josh into her A-list world, and is shocked to realize that sometimes nerds can be pretty cool. But when Dylan's so-called prince charming of a boyfriend dumps her flat, her life and her social status comes to a crashing halt. Can Dylan win the Woodlands Academy Fall Formal Blossom Queen crown? Can Josh win the Woodlands Academy 10th Annual Film Festival? Can Dylan, with Josh's help, pull the pieces together to create her own happily-ever-after?
1h 46m Drama Comedy
The story follows five disparate high school students - Olivia, Mo, Charlie, Stella, and Wen who meet in detention. They realize they are destined to rock, and ultimately form a band that becomes a champion for students sidelined by the high school elite.
1h 50m Comedy Music
The popular Bratz dolls come to life in their first live-action feature film. Finding themselves being pulled further and further apart, the fashionable four band together to fight peer pressure, learn what it means to stand up for your friends, be true to oneself and live out your dreams.
7.
High School Musical (2006)
1h 38m Comedy Drama Family Music Romance TV Movie
Troy, the popular captain of the basketball team, and Gabriella, the brainy and beautiful member of the academic club, break all the rules of East High society when they secretly audition for the leads in the school's musical. As they reach for the stars and follow their dreams, everyone learns about acceptance, teamwork, and being yourself.
8.
Princess Protection Program (2009)
1h 29m TV Movie Comedy Drama Family
When an evil dictator threatens to take over the kingdom, Princess Rosalinda gets put into the Princess Protection Program. She is taken under the wing of General Joe Mason, an agent from the agency, and his daughter, Carter, who works after school at a nearby bait shop. Rosalinda goes undercover as a regular teen named, Rosie with the help of Carter. In turn, Rosalinda helps Carter overcome insecurities with herself and her crush on Donny who also likes her but can't tell or get shy.
1h 30m Family Music TV Movie
The film follows a shy, talented musician who pens romantic hip-hop verses only to stand idly by as they're delivered to the girl of his dreams by a proxy, his best friend. Disney Channel original movie.
1h 30m Comedy Family
At 104 pounds dripping wet, baby-faced sophomore Michael Peck (age 15) is not exactly the coolest guy at American High. Peck's teachers make him feel like an idiot, his classmates make him feel like a geek and his home life is just as bad, with parents who schedule family time in their planners and require him to sign contracts with them about his extra-curricular activities.
1h 30m Fantasy Drama Family
The story about Abby Jensen, a girl who's been eager to reach her 16th birthday and has kept a secret wish list since she was a little girl. When the Big Day actually arrives, utter disaster strikes, leaving Abby to think her birthday is ruined. But when a mysterious box of magical birthday candles arrives to turn things around, Abby's 16 Wishes start to come true. Her day gets better and better...until she makes one wish that threatens to change everything.
13.
The Baby-Sitters Club (1995)
1h 34m Comedy Drama Family
It's the story about seven very different best friends, and one summer that will bring them together like never before.
1h 29m Comedy Family
After his parents decide to move to a retirement home in Florida, professional gamer Quincy "Q"Johnson (Jerry Trainor) must find a way to raise 175,000 dollars to buy his family home. After hearing about a tournament for the game "Black Hole" with a grand prize of 175,500 dollars, Quincy enters the tournament, only to be faced with a new problem. An equally skilled gamer named Chris Saunders "Prodigy" (Jeanette McCurdy) has become the one block in Quincy's plan, defeating him at every turn. So he teams up with his friend Wendell (Amir Talai) to try and find ways to stop Chris from entering the tournament.
15.
Read It and Weep (2006)
1h 30m Comedy Drama Family TV Movie
A young girl turns into an A-List celebrity over night when her private journal is accidently published and becomes a best-seller.
1h 29m Comedy Family
As their first year of high school looms ahead, best friends Julie, Hannah, Yancy and Farrah have one last summer sleepover. Little do they know they're about to embark on the adventure of a lifetime. Desperate to shed their nerdy status, they take part in a night-long scavenger hunt that pits them against their popular archrivals. Everything under the sun goes on -- from taking Yancy's father's car to sneaking into nightclubs!
explore
Check out more list from our community