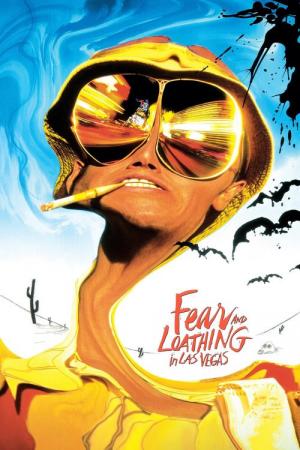 14 Best Movies Like Fear And Loathing In Las Vegas ...
If you liked this one , you will definitely love these too! In this list we highlight some of the best films that share a very similar mood to 'Fear and Loathing in Las Vegas', and are worth checking out.
1.
Where the Buffalo Roam (1980)
1h 25m Drama
After his wife leaves him, a disillusioned director dives into the drug scene, trying anything his friend suggests.
1h 34m Drama Crime
Heroin addict Mark Renton stumbles through bad ideas and sobriety attempts with his unreliable friends -- Sick Boy, Begbie, Spud and Tommy. He also has an underage girlfriend, Diane, along for the ride. After cleaning up and moving from Edinburgh to London, Mark finds he can't escape the life he left behind when Begbie shows up at his front door on the lam, and a scheming Sick Boy follows.
1h 35m Comedy Drama
Peter Highman must scramble across the US in five days to be present for the birth of his first child. He gets off to a bad start when his wallet and luggage are stolen, and put on the 'no-fly' list. Peter embarks on a terrifying journey when he accepts a ride from an actor.
1h 35m Action Comedy Family
Deadbeat dad kidnaps his kids from the bus to an abusive foster home and they go on a run. The cops are after them, they bicker constantly and his idea of a way out is grim, yet this dangerous ride might just turn them into a family.
1h 43m Drama
Bree is about to get a sex reassignment surgery that will finally allow her to actually be what she's already been in her mind for a long time: a transitioned woman. Yet before this happens she suddenly runs into her son who ends up coming for the trip across the United States.
1h 51m Comedy Drama
Grady is a 50-ish English professor who hasn't had a thing published in years—not since he wrote his award winning 'Great American Novel' 7 years ago. This weekend proves even worse than he could imagine as he finds himself reeling from one misadventure to another in the company of a new wonder boy author.
1h 35m Adventure Drama
A cross-country trip to sell drugs puts two hippie bikers on a collision course with small-town prejudices.
2h Comedy Drama
Tired of the noise and madness of New York and the crushing conventions of late Eisenhower-era America, itinerant journalist Paul Kemp travels to the pristine island of Puerto Rico to write for a local San Juan newspaper run by the downtrodden editor Lotterman. Adopting the rum-soaked lifestyle of the late '50s version of Hemingway's 'The Lost Generation', Paul soon becomes entangled with a very attractive American woman and her fiancée, a businessman involved in shady property development deals.  It is within this world that Kemp ultimately discovers his true voice as a writer and integrity as a man.
10.
The Darjeeling Limited (2007)
1h 32m Adventure Drama Comedy
Three American brothers who have not spoken to each other in a year set off on a train voyage across India with a plan to find themselves and bond with each other -- to become brothers again like they used to be. Their "spiritual quest", however, veers rapidly off-course (due to events involving over-the-counter pain killers, Indian cough syrup, and pepper spray).
1h 55m Drama Adventure
An aging, booze-addled father takes a trip from Montana to Nebraska with his estranged son in order to claim what he believes to be a million-dollar sweepstakes prize.
2h 1m Drama Fantasy Western
On the run after murdering a man, accountant William Blake encounters a strange North American man named Nobody who prepares him for his journey into the spiritual world.
1h 37m Crime Drama Comedy
A bigoted junkie cop suffering from bipolar disorder and drug addiction manipulates and hallucinates his way through the festive season in a bid to secure promotion and win back his wife and daughter.
2h 22m Fantasy Comedy Drama Romance
An Innuit hunter races his sled home with a fresh-caught halibut. This fish pervades the entire film, in real and imaginary form. Meanwhile, Axel tags fish in New York as a naturalist's gofer. He's happy there, but a messenger arrives to bring him to Arizona for his uncle's wedding. It's a ruse to get Axel into the family business. In Arizona, Axel meets two odd women: vivacious, needy, and plagued by neuroses and familial discord. He gets romantically involved with one, while the other, rich but depressed, plays accordion tunes to a gaggle of pet turtles
explore
Check out more list from our community