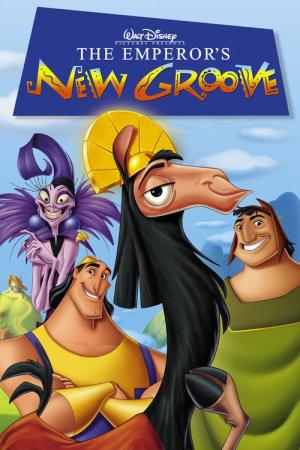 10 Best Movies Like Emperor ...
If you liked this one , you will probably love these too! In this selection we highlight some of the best films that share a very similar mood to 'The Emperor's New Groove', and are worth checking out.
1.
The Jungle Book (1967)
1h 18m Family Animation Adventure
The boy Mowgli makes his way to the man-village with Bagheera, the wise panther. Along the way he meets jazzy King Louie, the hypnotic snake Kaa and the lovable, happy-go-lucky bear Baloo, who teaches Mowgli "The Bare Necessities" of life and the true meaning of friendship.
2.
How to Train Your Dragon (2010)
1h 38m Fantasy Adventure Animation Family
As the son of a Viking leader on the cusp of manhood, shy Hiccup Horrendous Haddock III faces a rite of passage: he must kill a dragon to prove his warrior mettle. But after downing a feared dragon, he realizes that he no longer wants to destroy it, and instead befriends the beast – which he names Toothless – much to the chagrin of his warrior father
1h 37m Adventure Animation Comedy Family
Dory is reunited with her friends Nemo and Marlin in the search for answers about her past. What can she remember? Who are her parents? And where did she learn to speak Whale?
4.
The Lion King 1 1/2 (2004)
1h 25m Adventure Animation Family
When an impulsive boy named Kenai is magically transformed into a bear, he must literally walk in another's footsteps until he learns some valuable life lessons. His courageous and often zany journey introduces him to a forest full of wildlife, including the lovable bear cub Koda, hilarious moose Rutt and Tuke, woolly mammoths and rambunctious rams.
1h 36m Animation Comedy Family Adventure
Carl Fredricksen spent his entire life dreaming of exploring the globe and experiencing life to its fullest. But at age 78, life seems to have passed him by, until a twist of fate (and a persistent 8-year old Wilderness Explorer named Russell) gives him a new lease on life.
7.
The Road to El Dorado (2000)
1h 29m Family Adventure Animation Comedy Action
After a failed swindle, two con-men end up with a map to El Dorado, the fabled "city of gold," and an unintended trip to the New World. Much to their surprise, the map does lead the pair to the mythical city, where the startled inhabitants promptly begin to worship them as gods. The only question is, do they take the worshipful natives for all they're worth, or is there a bit more to El Dorado than riches?
1h 30m Animation Comedy Fantasy Adventure
It ain't easy bein' green -- especially if you're a likable (albeit smelly) ogre named Shrek. On a mission to retrieve a gorgeous princess from the clutches of a fire-breathing dragon, Shrek teams up with an unlikely compatriot -- a wisecracking donkey.
9.
Return to Never Land (2002)
1h 12m Adventure Fantasy Animation Family
In 1940, the world is besieged by World War II. Wendy, all grown up, has two children; including Jane, who does not believe Wendy's stories about Peter Pan.
10.
Oliver & Company (1988)
1h 17m Animation Comedy Family
This animated take on Oliver Twist re-imagines Oliver as an adorable orphaned kitten who struggles to survive in New York City and falls in with a band of canine criminals led by an evil human. First, Oliver meets Dodger, a carefree mutt with street savoir faire. But when Oliver meets wealthy Jenny on one of the gang's thieving missions, his life changes forever.
explore
Check out more list from our community