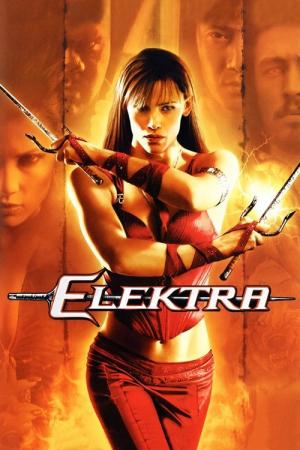 30 Best Movies Like Elektra ...
If you liked this movie , you will for sure love these too! In this list we highlight some of the best films that share a very similar premise to '', and are worth checking out.
1.
Street Fighter: The Legend of Chun-Li (2009)
1h 37m Action Adventure Science Fiction Thriller
When a teenager, Chun-Li witnesses the kidnapping of her father by wealthy crime lord M. Bison. When she grows up, she goes on a quest for vengeance and becomes the famous crime-fighter of the Street Fighter universe.
2.
Lara Croft: Tomb Raider (2001)
1h 40m Adventure Fantasy Action Thriller
English aristocrat Lara Croft is skilled in hand-to-hand combat and in the middle of a battle with a secret society. The shapely archaeologist moonlights as a tomb raider to recover lost antiquities and meets her match in the evil Powell, who's in search of a powerful relic.
1h 43m Fantasy Action Crime Science Fiction Thriller
A man blinded in a childhood accident fights crime using his superhumanly-elevated remaining senses.
1h 44m Action Fantasy Mystery
Liquidated after discovering a corporate conspiracy, mild-mannered graphic artist Patience Phillips washes up on an island, where she's resurrected and endowed with the prowess of a cat -- and she's eager to use her new skills ... as a vigilante. Before you can say "cat and mouse," handsome gumshoe Tom Lone is on her tail.
1h 50m Action Fantasy Thriller
A young girl is institutionalized by her abusive stepfather. Retreating to an alternative reality as a coping strategy, she envisions a plan which will help her escape from the mental facility.
6.
The Beastmaster (1982)
1h 58m Fantasy Adventure Action
Dar, is the son of a king, who is hunted by a priest after his birth and grows up in another family. When he becomes a grown man his new father is murdered by savages and he discovers that he has the ability to communicate with the animals, which leads him on his quest for revenge against his father's killers.
2h 8m Adventure Drama Action Thriller Romance
In war-torn Japan, the Tokugawa Shogun, desperate to restore peace to his people, orders the assassination of the hostile warlords. A beautiful young woman is raised from birth with nine other orphans, to become an assassin. Her name is Azumi, the ultimate assassin.
2h 2m Fantasy Action
In the final days of World War II, the Nazis attempt to use black magic to aid their dying cause. The Allies raid the camp where the ceremony is taking place, but not before a demon—Hellboy—has already been conjured. Joining the Allied forces, Hellboy eventually grows to adulthood, serving the cause of good rather than evil.
1h 32m Crime Drama Action Thriller Science Fiction
In the year of 2039, after World Wars destroy much of the civilization as we know it, territories are no longer run by governments, but by corporations; the mightiest of which is the Mishima Zaibatsu. In order to placate the seething masses of this dystopia, Mishima sponsors Tekken, a tournament in which fighters battle until only one is left standing.
10.
Mortal Kombat: Annihilation (1997)
1h 35m Action Fantasy Science Fiction
A group of heroic warriors has only six days to save the planet in "Mortal Kombat Annihilation." To succeed they must survive the most spectacular series of challenges any human, or god, has ever encountered as they battle an evil warlord bent on taking control of Earth. Sequel to the film "Mortal Kombat," and based on the popular video game.
1h 41m Action Fantasy
For nine generations an evil sorcerer has been victorious in hand-to-hand battle against his mortal enemies. If he wins a tenth Mortal Kombat tournament, desolation and evil will reign over the multiverse forever. To save Earth, three warriors must overcome seemingly insurmountable odds, their own inner demons, and superhuman foes in this action/adventure movie based on one of the most popular video games of all time.
12.
The Storm Warriors (2009)
2h 30m Action Adventure Fantasy
Wind and Cloud find themselves up against a ruthless Japanese warlord intent on invading China.
13.
The Scorpion King (2002)
1h 32m Action Fantasy Adventure
In ancient Egypt, peasant Mathayus is hired to exact revenge on the powerful Memnon and the sorceress Cassandra, who are ready to overtake Balthazar's village. Amid betrayals, thieves, abductions and more, Mathayus strives to bring justice to his complicated world.
14.
Highlander: Endgame (2000)
1h 27m Action Fantasy
Immortals Connor and Duncan Macleod join forces against a man from Connor's distant past in the highlands of Scotland, Kell, an immensely powerful immortal who leads an army of equally powerful and deadly immortal swordsmen and assassins. No immortal alive has been able to defeat Kell yet, and neither Connor nor Duncan are skilled enough themselves to take him on and live. The two of them eventually come to one inevitable conclusion; one of them must die so that the combined power of both the Highlanders can bring down Kell for good. There can be only one... the question is, who will it be?
15.
The Last Airbender (2010)
1h 43m Action Adventure Fantasy
The story follows the adventures of Aang, a young successor to a long line of Avatars, who must put his childhood ways aside and stop the Fire Nation from enslaving the Water, Earth and Air nations.
16.
The Scorpion King 3: Battle for Redemption (2012)
1h 46m Action Fantasy Adventure Drama
Since his triumphant rise to power in the original blockbuster "The Scorpion King", Mathayus' kingdom has fallen and he's lost his queen to plague. Now an assassin for hire, he must defend a kingdom from an evil tyrant and his ghost warriors for the chance to regain the power and glory he once knew. Starring Ron Perlman ("Hellboy") and Billy Zane ("Titanic"), and featuring 6-time WWE champion Dave Bautista and UFC star Kimbo Slice, "The Scorpion King 3: Battle for Redemption" takes "The Mummy" phenomenon to an all-new level of epic action and non-stop adventure.
2h 6m Action Science Fiction Adventure Fantasy
Wolverine faces his ultimate nemesis - and tests of his physical, emotional, and mortal limits - in a life-changing voyage to modern-day Japan.
18.
Dungeons & Dragons (2000)
1h 47m Drama Adventure Fantasy
The Empire of Izmer is a divided land: elite magicians called "mages" rule while lowly commoners are powerless. When Empress Savina vows to bring equality and prosperity to her land, the evil mage Profion plots to depose her.
1h 39m Action Adventure
Fourteen hundred years ago, a tormented soul walked the earth that was neither man nor god. Hercules was the powerful son of the god king Zeus, for this he received nothing but suffering his entire life. After twelve arduous labors and the loss of his family, this dark, world-weary soul turned his back on the gods finding his only solace in bloody battle. Over the years he warmed to the company of six similar souls, their only bond being their love of fighting and presence of death. These men and woman never question where they go to fight or why or whom, just how much they will be paid. Now the King of Thrace has hired these mercenaries to train his men to become the greatest army of all time. It is time for this bunch of lost souls to finally have their eyes opened to how far they have fallen when they must train an army to become as ruthless and blood thirsty as their reputation has become.
1h 48m Adventure Fantasy Action Thriller Science Fiction
Based on the 1930's comic strip, puts the hero up against his arch enemy, Shiwan Khan, who plans to take over the world by holding a city to ransom using an atom bomb. Using his powers of invisibility and "The power to cloud men's minds", the Shadow comes blazing to the city's rescue with explosive results.
21.
The Legend of Hercules (2014)
1h 39m Action Adventure
In Ancient Greece 1200 B.C., a queen succumbs to the lust of Zeus to bear a son promised to overthrow the tyrannical rule of the king and restore peace to a land in hardship. But this prince, Hercules, knows nothing of his real identity or his destiny. He desires only one thing: the love of Hebe, Princess of Crete, who has been promised to his own brother. When Hercules learns of his greater purpose, he must choose: to flee with his true love or to fulfill his destiny and become the true hero of his time. The story behind one of the greatest myths is revealed in this action-packed epic - a tale of love, sacrifice and the strength of the human spirit.
22.
Fists of Righteous Harmony (2008)
23.
The Scorpion King 4: Quest for Power (2015)
1h 45m Action Fantasy Adventure
When he is betrayed by a trusted friend, Mathayus must marshal all his strength and cunning to outwit a formidable opponent who will stop at nothing to unlock a supreme ancient power.
2h 7m Action Adventure Fantasy
A common thief joins a mythical god on a quest through Egypt.
2h 16m Fantasy Adventure Action
He was doomed to die, but managed to survive, and now his mission is to revenge for the annihilation of his tribe. He is the great warrior who calls himself Volkodav, and is the last man from the tribe of Serie Psi (Grey Hounds). After escaping certain death, Volkodaw — accompanied by Neletuchaya Mysh — is on a mission to kill Ludoed who is responsible to what happened to Serie Psi.
26.
Fist of the North Star (1995)
1h 43m Action Science Fiction Thriller
From the immensely popular FIST OF THE NORTH STAR comic book series, comes a new hero. The fate of mankind rests with superhuman warrior Kenshiro who roams the wastelands of the future waging a battle against overwhelming evil. With the spiritual guidance of his dead father, Kenshiro fights to free his stolen love from the brutal tyrant Lord Shin. Through his struggle he must confront his destiny.
27.
SAGA: Curse of the Shadow (2013)
28.
Wrath of the Titans (2012)
1h 39m Fantasy Adventure
Perseus tries to live a quieter life as a village fisherman while - dangerously weakened by humanity's lack of devotion - the gods are losing control of the long-imprisoned Titans and their ferocious leader, Kronos.
22m Documentary
While Senator Kelly addresses a senate committee about the supposed mutant menace, we learn about the making of the movie, X-Men.
explore
Check out more list from our community