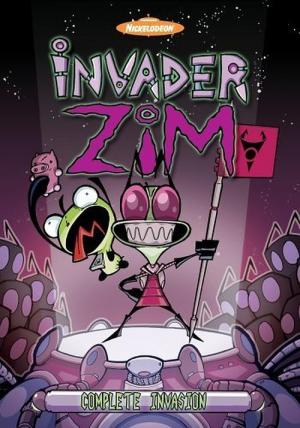 13 Best Shows Like Invader Zim ...
If you liked this film , you will for sure love these too! In this collection we highlight some of the best films that share a very similar mood to '', and are worth checking out.
1.
Invader ZIM: Enter the Florpus (2019)
1h 11m Family Animation Comedy Science Fiction TV Movie
ZIM discovers his almighty leaders never had any intention of coming to Earth and he loses confidence in himself for the first time in his life, which is the big break his human nemesis, Dib has been waiting for.
22m Animation Comedy Sci-Fi & Fantasy Action & Adventure
Rick is a mentally-unbalanced but scientifically-gifted old man who has recently reconnected with his family. He spends most of his time involving his young grandson Morty in dangerous, outlandish adventures throughout space and alternate universes. Compounded with Morty's already unstable family life, these events cause Morty much distress at home and school.
22m Animation Comedy Mystery Sci-Fi & Fantasy Kids
Twin brother and sister Dipper and Mabel Pines are in for an unexpected adventure when they spend the summer helping their great uncle Stan run a tourist trap in the mysterious town of Gravity Falls, Oregon.
4.
The Venture Bros. (2003)
5.
Sym-Bionic Titan (2010)
23m Action & Adventure Animation
Sym-Bionic Titan is an American animated action science fiction television series created by Genndy Tartakovsky, Paul Rudish, and Bryan Andrews for Cartoon Network. The series focuses on a trio made up of the alien princess Ilana, the rebellious soldier Lance, and the robot Octus; the three are able to combine to create the titular Sym-Bionic Titan. A preview of the series was first shown at the 2009 San Diego Comic-Con International, and further details were revealed at Cartoon Network's 2010 Upfront. The series premiered on September 17, 2010, and ended on April 9, 2011. The series is rated TV-PG-V.Cartoon Network initially ordered 20 episodes; Tartakovsky had hoped to expand on that, but the series was not renewed for another season, as the show "did not have any toys connected to it." Although Sym-Bionic Titan has never been released on DVD, All 20 episodes are available on iTunes.On October 7, 2012, reruns of Sym-Bionic Titan began airing on Adult Swim's Toonami block.
6.
Ben 10: Omniverse (2012)
22m Action & Adventure Animation
A year after the events that took place during the "Final Battle" and after the destruction of Omnitrix, 16-year-old Ben Tennyson has to face new enemies.
7.
Buzz Lightyear of Star Command (2000)
30m Animation Kids Sci-Fi & Fantasy Family Comedy Action & Adventure
Buzz Lightyear of Star Command is an American animated science fiction/adventure/comedy series produced by Walt Disney Television Animation. The series originally aired on UPN and ABC from October 2000 to January 2001 as part of Disney's One Saturday Morning programming block. It follows the adventures of space ranger Buzz Lightyear, who first appeared in the film Toy Story as an action figure and one of the film's protagonists.
22m Kids Animation Action & Adventure Comedy
When 10-year-old Ben Tennyson discovers a mysterious device, he gains the power to change into ten different alien heroes, each with uniquely awesome powers. With such abilities at his disposal, Ben realizes a greater responsibility to help others and stop evildoers, but that doesn't mean he's above a little superpowered mischief now and then.
9.
Bravest Warriors (2012)
10.
Leroy & Stitch (2006)
1h 13m Animation Comedy Family
Lilo, Stitch, Jumba and Pleakley have finally caught all of Jumba's genetic experiments and found the one true place where each of them belongs. Stitch, Jumba and Pleakley are offered positions in the Galactic Alliance, turning them down so they can stay on Earth with Lilo. But Lilo realizes her alien friends have places where they belong, and it's finally time to say "aloha."
11.
Transformers Prime (2010)
explore
Check out more list from our community