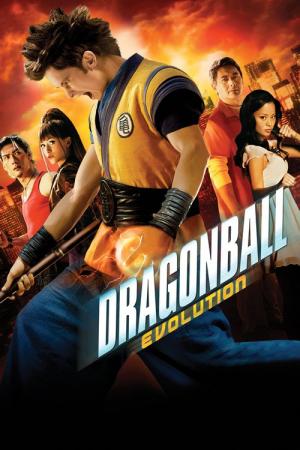 29 Best Movies Like Dragonball Evolution ...
If you liked this film , you will for sure love these too! In this list we highlight some of the best films that share a very similar mood to '', and are worth checking out.
1.
Bulletproof Monk (2003)
1h 44m Action Comedy Fantasy
A mysterious and immortal Tibetan kung fu master, who has spent the last 60 years traveling around the world protecting the ancient Scroll of the Ultimate, mentors a selfish street kid in the ancient intricacies of kung fu.
2h 23m Science Fiction Action Adventure
When an unexpected enemy emerges and threatens global safety and security, Nick Fury, director of the international peacekeeping agency known as S.H.I.E.L.D., finds himself in need of a team to pull the world back from the brink of disaster. Spanning the globe, a daring recruitment effort begins!
1h 42m Adventure Fantasy
John Gregory, who is a seventh son of a seventh son and also the local spook, has protected the country from witches, boggarts, ghouls and all manner of things that go bump in the night. However John is not young anymore, and has been seeking an apprentice to carry on his trade. Most have failed to survive. The last hope is a young farmer's son named Thomas Ward. Will he survive the training to become the spook that so many others couldn't?
2h 1m Fantasy Action
After being bitten by a genetically altered spider, nerdy high school student Peter Parker is endowed with amazing powers to become the Amazing superhero known as Spider-Man.
1h 32m Action Adventure Science Fiction
The adventures of teenager Max McGrath and alien companion Steel, who must harness and combine their tremendous new powers to evolve into the turbo-charged superhero Max Steel.
6.
I Am Number Four (2011)
1h 49m Action Thriller Science Fiction Adventure
A teenage fugitive with an incredible secret races to stay one step ahead of the mysterious forces seeking destroy him in this sci-fi action thriller. With three dead and one on the run, the race to find the elusive Number Four begins. Outwardly normal teen John Smith never gets too comfortable in the same identity, and along with his guardian, Henri, he is constantly moving from town to town. With each passing day, John gains a stronger grasp on his extraordinary new powers, and his bond to the beings that share his fantastic fate grows stronger.
7.
Turbo: A Power Rangers Movie (1997)
1h 39m Action Adventure Family Fantasy Science Fiction Thriller
The legendary Power Rangers must stop the evil space pirate Divatox from releasing the powerful Maligore from his volcanic imprisonment on the island of Muranthias, where only the kindly wizard Lerigot has the key to release him. The hope of victory lies in the Ranger's incredible new Turbo powers and powerful Turbo Zords.
1h 41m Action Fantasy
For nine generations an evil sorcerer has been victorious in hand-to-hand battle against his mortal enemies. If he wins a tenth Mortal Kombat tournament, desolation and evil will reign over the multiverse forever. To save Earth, three warriors must overcome seemingly insurmountable odds, their own inner demons, and superhuman foes in this action/adventure movie based on one of the most popular video games of all time.
9.
The Avenging Fist (2001)
10.
The Last Airbender (2010)
1h 43m Action Adventure Fantasy
The story follows the adventures of Aang, a young successor to a long line of Avatars, who must put his childhood ways aside and stop the Fire Nation from enslaving the Water, Earth and Air nations.
11.
Fist of the North Star (1995)
1h 43m Action Science Fiction Thriller
From the immensely popular FIST OF THE NORTH STAR comic book series, comes a new hero. The fate of mankind rests with superhuman warrior Kenshiro who roams the wastelands of the future waging a battle against overwhelming evil. With the spiritual guidance of his dead father, Kenshiro fights to free his stolen love from the brutal tyrant Lord Shin. Through his struggle he must confront his destiny.
12.
Masters of the Universe (1987)
1h 46m Action Fantasy Science Fiction Adventure Thriller
The world of Eternia in the aftermath of Skeletor's war on Castle Grayskull, which he has won after seizing Grayskull and the surrounding city using a cosmic key developed by the locksmith Gwildor. The Sorceress is now Skeletor's prisoner and he begins to drain her life-force as he waits for the moon of Eternia to align with the Great Eye of the Universe that will bestow god-like power upon him.
13.
Fantastic 4: Rise of the Silver Surfer (2007)
1h 32m Adventure Fantasy Action Thriller
The Fantastic Four return to the big screen as a new and all powerful enemy threatens the Earth. The seemingly unstoppable 'Silver Surfer', but all is not what it seems and there are old and new enemies that pose a greater threat than the intrepid superheroes realize.
14.
Ben 10: Race Against Time (2007)
15.
The Forbidden Kingdom (2008)
1h 44m Action Adventure Fantasy
An American teenager who is obsessed with Hong Kong cinema and kung-fu classics makes an extraordinary discovery in a Chinatown pawnshop: the legendary stick weapon of the Chinese sage and warrior, the Monkey King. With the lost relic in hand, the teenager unexpectedly finds himself travelling back to ancient China to join a crew of warriors from martial arts lore on a dangerous quest to free the imprisoned Monkey King.
2h 23m Action Adventure Fantasy Science Fiction
A young boy learns that he has extraordinary powers and is not of this earth. As a young man, he journeys to discover where he came from and what he was sent here to do. But the hero in him must emerge if he is to save the world from annihilation and become the symbol of hope for all mankind.
2h 7m Science Fiction Action Adventure
Three escaped criminals from the planet Krypton test the Man of Steel's mettle. Led by General Zod, the Kryptonians take control of the White House and partner with Lex Luthor to destroy Superman and rule the world. But Superman, who attempts to make himself human in order to get closer to Lois, realizes he has a responsibility to save the planet.
18.
Thunderstorm: The Return of Thor (2011)
19.
Ender's Game (2013)
1h 54m Science Fiction Action Adventure
Based on the classic novel by Orson Scott Card, Ender's Game is the story of the Earth's most gifted children training to defend their homeplanet in the space wars of the future.
20.
Fantastic Four (2005)
1h 46m Action Adventure Fantasy Science Fiction
During a space voyage, four scientists are altered by cosmic rays: Reed Richards gains the ability to stretch his body; Sue Storm can become invisible; Johnny Storm controls fire; and Ben Grimm is turned into a super-strong … thing. Together, these "Fantastic Four" must now thwart the evil plans of Dr. Doom and save the world from certain destruction.
2h 4m Adventure Fantasy Action Science Fiction
After losing a powerful orb, Kara, Superman's cousin, comes to Earth to retrieve it and instead finds herself up against a wicked witch.
22.
Fantastic Four (2015)
1h 40m Action Adventure Science Fiction
Four young outsiders teleport to a dangerous universe, which alters their physical form in shocking ways. Their lives irrevocably upended, the team must learn to harness their daunting new abilities and work together to save Earth from a former friend turned enemy.
23.
Captain America: The Winter Soldier (2014)
2h 16m Action Adventure Science Fiction
After the cataclysmic events in New York with The Avengers, Steve Rogers, aka Captain America is living quietly in Washington, D.C. and trying to adjust to the modern world. But when a S.H.I.E.L.D. colleague comes under attack, Steve becomes embroiled in a web of intrigue that threatens to put the world at risk. Joining forces with the Black Widow, Captain America struggles to expose the ever-widening conspiracy while fighting off professional assassins sent to silence him at every turn. When the full scope of the villainous plot is revealed, Captain America and the Black Widow enlist the help of a new ally, the Falcon. However, they soon find themselves up against an unexpected and formidable enemy—the Winter Soldier.
24.
Dungeons & Dragons: Wrath of the Dragon God (2005)
1h 45m Action Adventure Fantasy
Due to a curse from his former master Profion, Damodar survived his death by Ridley Freeborn as an undead entity in pursuit of an evil artifact for some hundred years, so that he might be capable of unleashing unstoppable destruction on Izmir and the descendants of those who caused his demise.
25.
X-Men: Days of Future Past (2014)
2h 12m Action Adventure Fantasy Science Fiction
The ultimate X-Men ensemble fights a war for the survival of the species across two time periods as they join forces with their younger selves in an epic battle that must change the past – to save our future.
26.
Ben 10: Alien Swarm (2009)
1h 9m Adventure
Ben tenison is back in this all new Comedy Central, Movie, Based on the current Alien Force story. Alien swarm picks up with Ben 10 as a full fledged plumber but he's about to leave the ranks to do what he believes is right.
27.
Superman II: The Richard Donner Cut (1980)
28.
Highlander II: The Quickening (1991)
1h 49m Fantasy Science Fiction
In the year 2024, the ozone layer is believed to have been destroyed. It is up to MacLeod and Rameriz to set things right. Opposition comes from both the planet Ziest (MacLeod and Ramirez's homeworld) and a corporation profiting from the supposed lack of ozone. Also, flashbacks show the story behind MacLeod and Ramirez's exile from Ziest.
explore
Check out more list from our community