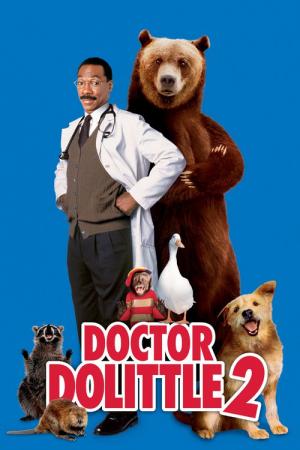 29 Best Movies Like Dr Dolittle ...
If you liked this one , you will for sure love these too! In this collection we highlight some of the best films that share a very similar premise to '', and are worth checking out.
1.
Doctor Dolittle (1998)
1h 25m Comedy Family Fantasy
A successful physician and devoted family man, John Dolittle seems to have the world by the tail, until a long suppressed talent he possessed as a child, the ability to communicate with animals is suddenly reawakened with a vengeance! Now every creature within squawking distance wants the good doctor's advice, unleashing an outrageous chain of events that turns his world upside down!
2.
Furry Vengeance (2010)
1h 32m Family Comedy Fantasy
When real estate developer Dan Sanders finalizes plans to level a swath of pristine Oregon forest to make way for a soulless housing subdivision, a band of woodland creatures rises up to throw a monkey wrench into the greedy scheme. Just how much mischief from the furry critters can the businessman take before he calls it quits?
1h 33m Comedy Family Fantasy
Lisa Dolittle sends her daughter to 'Durango', a Dude Ranch, to find herself. While there, she uses her talent to talk to the animals in order to save Durango from being taken over by a neighboring Ranch.
1h 42m Comedy Romance Family
Kindhearted Griffin Keyes is one of the best-loved caretakers at the Franklin Park Zoo, but since he is more comfortable with the animals than with females of his own species, his love life is lacking. When Griffin decides that the only way to get a girlfriend is to find a more-glamorous career, the animals panic. To keep him from leaving, they reveal their secret ability to talk and offer to teach him the rules of courtship, animal-style.
1h 32m Comedy Family
Two men get laid off and have to become stay-at-home dads when they can't find jobs, which inspires them to open their own day-care center.
6.
Yours, Mine & Ours (2005)
1h 30m Comedy Family Romance
Admiral Frank Beardsley returns to New London to run the Coast Guard Academy, his last stop before a probable promotion to head the Guard. A widower with eight children, he runs a loving but tight ship, with charts and salutes. The kids long for a permanent home. Helen North is a free spirit, a designer whose ten children live in loving chaos, with occasional group hugs. Helen and Frank, high school sweethearts, reconnect at a reunion, and it's love at first re-sighting. They marry on the spot. Then the problems start as two sets of kids, the free spirits and the disciplined preppies, must live together. The warring factions agree to work together to end the marriage.
7.
The Flintstones (1994)
1h 31m Fantasy Comedy Family
Modern Stone Age family the Flintstones hit the big screen in this live-action version of the classic cartoon. Fred helps Barney adopt a child. Barney sees an opportunity to repay him when Slate Mining tests its employees to find a new executive. But no good deed goes unpunished.
1h 41m Family Fantasy Adventure
After losing his wife seven years earlier, the eccentric Dr. John Dolittle, famed doctor and veterinarian of Queen Victoria's England, hermits himself away behind the high walls of Dolittle Manor with only his menagerie of exotic animals for company. But when the young queen falls gravely ill, a reluctant Dolittle is forced to set sail on an epic adventure to a mythical island in search of a cure, regaining his wit and courage as he crosses old adversaries and discovers wondrous creatures.
9.
Mr. Popper's Penguins (2011)
1h 34m Comedy Family
Jim Carrey stars as Tom Popper, a successful businessman who's clueless when it comes to the really important things in life...until he inherits six "adorable" penguins, each with its own unique personality. Soon Tom's rambunctious roommates turn his swank New York apartment into a snowy winter wonderland — and the rest of his world upside-down.
10.
Daddy Day Camp (2007)
1h 29m Family Comedy
Seeking to offer his son the satisfying summer camp experience that eluded him as a child, the operator of a neighborhood daycare center opens his own camp, only to face financial hardship and stiff competition from a rival camp.
11.
Dr. Dolittle: Tail to the Chief (2008)
1h 25m Comedy Family Fantasy
Maya Dolittle is back in a heartwarming adventure of presidential proportions! Maya's dream of going to vet school is put on hold when she gets a call from the president of the United States. It seems the First Dog is out of control, and the president needs Maya's help. It's up to Maya and her own dog, Lucky, to stop a canine catastrophe from becoming a national crisis!
1h 28m Comedy Family
Charlie and Dan have been best friends and business partners for thirty years; their Manhattan public relations firm is on the verge of a huge business deal with a Japanese company. With two weeks to sew up the contract, Dan gets a surprise: a woman he married on a drunken impulse nearly nine years before (annulled the next day) shows up to tell him he's the father of her twins, now seven, and she'll be in jail for 14 days for a political protest. Dan volunteers to keep the tykes, although he's up tight and clueless. With Charlie's help is there any way they can be dad and uncle, meet the kids' expectations, and still land the account?
1h 30m Action Adventure Comedy Family
Bingo, the runaway circus dog, is off the leash and saving Chuckie's life! Bingo and the boy become the best of friends in this canine comedy featuring doggy disguises and skateboarding, pinball and prison. Chuckie and his parents (Cindy Williams and David Rasche) are moving house, a thousand miles away, but Bingo won't be allowed to join them. Chuckie and Bingo's determination to be reunited is t
14.
Beverly Hills Chihuahua 2 (2011)
1h 24m Comedy Family
Puppy mayhem turns the lives of newlywed Chihuahua parents Papi and Chloe upside down when their rambunctious, mischievous puppies present one challenge after another. But when their human owners end up in trouble, the tiny pups will stop at nothing to save them - because in good times and hard times, the family always sticks together. So Papi, Chloe and the puppies embark on a heroic adventure, proving once again that big heroes come in small packages.
15.
Larger Than Life (1996)
1h 33m Comedy
Motivational Speaker Jack Corcoran is determined to get his career off the ground, but the biggest gigs he can get are the ones nobody wants. Then one day, he receives a telegram that his circus clown father has passed away, and has left a "huge" inheritance. When he gets there, he finds that his inheritance has come in the form of an elephant that was his father's pride and joy in circus acts. His main intention is to sell the pachyderm off. Jack must choose between loud and rude zookeeper Mo or attractive animal show owner Terry. As the two treks through the country Jack and the elephant develop a bond, and it changes his approach on life for the better.
16.
The Master of Disguise (2002)
1h 20m Comedy Family
A sweet-natured Italian waiter named Pistachio Disguisey at his father Fabbrizio's restaurant, who happens to be a member of a family with supernatural skills of disguise. But moments later the patriarch of the Disguisey family is kidnapped Fabbrizio's former arch-enemy, Devlin Bowman, a criminal mastermind in an attempt to steal the world's most precious treasures from around the world. And it's up to Pistachio to track down Bowman and save his family before Bowman kills them!
17.
Harry and the Hendersons (1987)
1h 50m Comedy Family Fantasy
Returning from a hunting trip in the forest, the Henderson family's car hits an animal in the road. At first they fear it was a man, but when they examine the "body" they find it's a "bigfoot". They think it's dead so they decide to take it home (there could be some money in this). As you guessed, it isn't dead. Far from being the ferocious monster they fear "Harry" to be, he's a friendly giant.
18.
Alexander and the Terrible, Horrible, No Good, Very Bad Day (2014)
1h 21m Family Comedy
Alexander's day begins with gum stuck in his hair, followed by more calamities. Though he finds little sympathy from his family and begins to wonder if bad things only happen to him, his mom, dad, brother, and sister all find themselves living through their own terrible, horrible, no good, very bad day.
19.
Are We Done Yet? (2007)
1h 32m Comedy Family
Newlyweds Nick and Suzanne decide to move to the suburbs to provide a better life for their two kids. But their idea of a dream home is disturbed by a contractor with a bizarre approach to business.
20.
The Shaggy Dog (2006)
1h 38m Comedy Family
The tale of a workaholic dad-turned-dog who finds that being man's best friend shows him the most important job - being a great dad.
1h 48m Comedy Family Fantasy
Roberto Benigni adapts the classic children's tale by Carlo Collodi for the big-budget family-oriented comedy Pinocchio.
1h 30m Family Comedy Adventure Fantasy
Family adventure based on Mary Norton's classic children's books about a race of tiny people who live under the floorboards, resourcefully surviving by borrowing bits and pieces from the large residents who dwell above. After being discovered by 'human beans', borrower Arrietty and her parents are forced to leave their home while attempting to evade the clutches of obsessive scientist Professor Mildeye.
23.
A Talking Cat!?! (2013)
1h 23m Comedy Family Fantasy
A mysterious talking cat uses its powers of communication to enrich the lives of two different families, and bring them together.
1h 47m Comedy Family
A financial executive who can't stop his career downspiral is invited into his daughter's imaginary world, where solutions to his problems await.
1h 24m Family Animation Fantasy Comedy
The adventures of a heroic and debonair stalwart mouse named Stuart Little with human qualities, who faces some comic misadventures while searching for his lost bird friend and living with a human family as their child.
26.
Beverly Hills Chihuahua (2008)
1h 31m Adventure Comedy Family Romance
A pampered Beverly Hills chihuahua named Chloe who, while on vacation in Mexico with her owner Viv's niece, Rachel, gets lost and must rely on her friends to help her get back home before she is caught by a dognapper who wants to ransom her.
27.
Are We There Yet? (2005)
1h 35m Adventure Comedy Family Romance
The fledgling romance between Nick, a playboy bachelor, and Suzanne, a divorced mother of two, is threatened by a particularly harrowing New Years Eve. When Suzanne's work keeps her in Vancouver for the holiday, Nick offers to bring her kids to the city from Portland, Oregon. The kids, who have never liked any of the men their mom dates, are determined to turn the trip into a nightmare for Nick.
28.
Moms' Night Out (2014)
1h 38m Comedy
Yearning for an evening without their kids, some friends plan a night out. But to do this, their husbands need to watch the kids. What can go wrong?
explore
Check out more list from our community