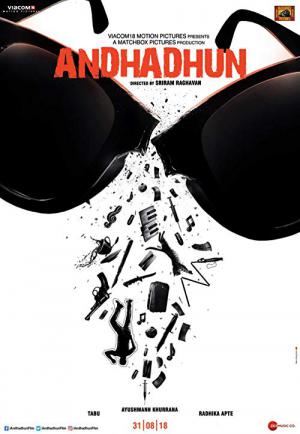 13 Best Movies Like Andhadhun ...
If you liked this film , you will probably love these too! In this selection we highlight some of the best films that share a very similar mood to 'Andhadhun', and are worth checking out.
1h 58m Crime Drama Thriller
Story starts with a summer fling between a provincial guy and a big-city girl. The holiday is over, the beauty returns to the city and receives a marriage proposal from a rich admirer. The provincial boy comes back being unable to let her go. Things get messy when their passion oversteps all the limits. Soon contemporary Romeo and Juliet get confused about what is really important turning into consuming 'Locust': overwhelming love they have leads them to commit brutal murders.
1h 22m Thriller
A desperate housewife discovers her husband is having an affair and kidnaps his unsuspecting mistress, but what starts as a prank quickly spirals out of control.
1h 42m Drama Crime Thriller Mystery
After witnessing a miracle, a young Latina woman experiences strange things as a police detective searches for the truth behind his partner's death.
2h 43m Crime Drama Thriller Mystery
A simple, street-smart man tries to protect his family from a tough cop looking for his missing son.
2h Thriller
The wife of an American doctor suddenly vanishes in Paris and, to find her, he navigates a puzzling web of language, locale, laissez-faire cops, triplicate-form filling bureaucrats and a defiant, mysterious waif who knows more than she tells.
1h 26m Crime Drama Thriller Mystery
Tells the seemingly random yet vitally connected story of a set of incidents that all converge one evening at 11:14pm. The story follows the chain of events of five different characters and five different storylines that all converge to tell the story of murder and deceit.
1h 46m Mystery Crime Drama Thriller
The gruesome death of a prostitute brings suspicion on one of her clients, James Wayland, a brilliant, self-destructive and epileptic heir to a textile fortune. So detectives Braxton and Kennesaw take Wayland in for questioning, thinking they can break the man. But despite his troubles, Wayland is a master of manipulation, and during the interrogation, he begins to turn the tables on the investigators, forcing them to reveal their own sinister sides.
2h 30m Action Drama Crime Romance
A young man returns to Kashmir after his father's disappearance to confront his uncle - the man he suspects to have a role in his father's fate.
11.
Detective Byomkesh Bakshy! (2015)
2h 19m Action Mystery Drama
In war torn Calcutta during the 1940's, Byomkesh Bakshy, fresh out of college, pits himself against an evil genius who is out to destroy the world.
12.
Kaabil: The Mind Sees All (2017)
1h 38m Crime Drama Thriller
Jerry, a small-town Minnesota car salesman is bursting at the seams with debt... but he's got a plan. He's going to hire two thugs to kidnap his wife in a scheme to collect a hefty ransom from his wealthy father-in-law. It's going to be a snap and nobody's going to get hurt... until people start dying. Enter Police Chief Marge, a coffee-drinking, parka-wearing - and extremely pregnant - investigator who'll stop at nothing to get her man. And if you think her small-time investigative skills will give the crooks a run for their ransom... you betcha!
explore
Check out more list from our community