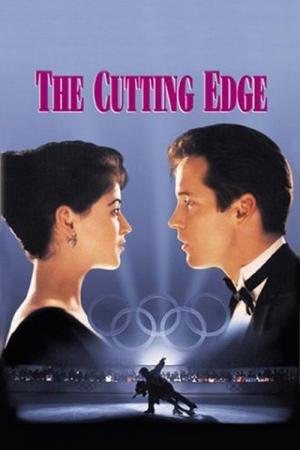 14 Best Movies Like Cutting Edge ...
If you liked this film , you will for sure love these too! In this collection we highlight some of the best films that share a very similar mood to 'The Cutting Edge', and are worth checking out.
1.
The Cutting Edge: Fire & Ice (2010)
1h 30m Drama Romance
Alexandra "Alex" Delgado, a pairs figure skater, found her career come to an abrupt halt after her partner (on and off the ice) became injured. As their love affair cooled, a heartbroken Alex stopped competing and turned to teaching. Enter James Van Behr the smoldering bad boy of speed skating, who has had fiery Alex in his sights as a skating partner ever since he was banned from speed skating. There aren't many girls who say no to him but she may well be the first. However, he pushes her buttons, challenging her like no one else - and her fighting spirit returns. She agrees to be his partner and they begin a grueling practice regimen fueled (and occasionally derailed) by their own tempestuous relationship, which heats up as they get closer to competition. But will their passion destroy Alex's chance to bring home the gold again?
1h 49m Drama Comedy Romance
After a one night stand with Alex, Isabel realizes that she is pregnant and they decide to get married. However, along with the marriage comes compromise of one's own cultural traditions.
1h 44m Comedy Romance
After leaving Washington D.C. hospital, plastic surgeon Ben Stone heads for California, where a lucrative practice in Beverly Hills awaits. After a car accident, he's sentenced to perform as the community's general practitioner.
1h 42m Comedy Drama Romance
No sooner does Italian-American widow Loretta accept a marriage proposal from her doltish boyfriend, Johnny, than she finds herself falling for his younger brother, Ronny. She tries to resist, but Ronny lost his hand in an accident he blames on his brother, and has no scruples about aggressively pursuing her while Johnny is out of the country. As Loretta falls deeper in love, she comes to learn that she's not the only one in her family with a secret romance.
5.
Blast from the Past (1999)
1h 52m Science Fiction Drama Romance Comedy
Following a bomb scare in the 1960s that locked the Webers into their bomb shelter for 35 years, Adam now ventures forth into Los Angeles to obtain food and supplies for his family, and a non-mutant wife for himself.
2h 15m Comedy Romance
A washed up golf pro working at a driving range tries to qualify for the US Open in order to win the heart of his succesful rival's girlfriend.
1h 40m Comedy Drama Romance
A physical therapist falls for the basketball player she is helping recover from a career-threatening injury.
1h 50m Comedy Drama Romance
The life of super-yuppie J.C. is thrown into turmoil when she inherits a baby from a distant relative.
2h 18m Comedy Drama Romance
Jerry Maguire used to be a typical sports agent—willing to do just about anything he could to get the biggest possible contracts for his clients, plus a nice commission for himself. Then, one day, he suddenly has second thoughts about what he's really doing. When he voices these doubts, he ends up losing his job and all of his clients—an egomaniacal football player.
10.
The Mighty Ducks (1992)
1h 41m Comedy Family Drama
After reckless young lawyer Gordon Bombay gets arrested for drunk driving, he must coach a kids hockey team for his community service. Gordon has experience on the ice, but isn't eager to return to hockey, a point hit home by his tense dealings with his own former coach, Jack Reilly. The reluctant Gordon eventually grows to appreciate his team, which includes promising young Charlie Conway, and leads them to take on Reilly's tough players.
11.
Sleepless in Seattle (1993)
1h 45m Comedy Drama Romance
Desperate to find his dad Sam a date, a young boy calls into a radio show and catches the attention of Annie, a journalist who wants to meet Sam atop the Empire State Building.
1h 48m Comedy Romance
Melanie Parker, an architect and mother of Sammy, and Jack Taylor, a newspaper columnist and father of Maggie, are both divorced. They meet one morning when overwhelmed Jack is left unexpectedly with Maggie and forgets that Melanie was to take her to school. As a result, both children miss their school field trip and are stuck with the parents. The two adults project their negative stereotypes of ex-spouses on each other, but end up needing to rely on each other to watch the children as each must save his job. Humor is added by Sammy's propensity for lodging objects in his nose and Maggie's tendency to wander.
1h 55m Romance Comedy
It took a lot of cajoling to get Bob, a recently widowed architect, to go on a blind date at a quirky Irish-Italian eatery. Once there, he's smitten instantly not with his date but with the sharp-witted waitress. Everything seems to be going great until an unbelievable truth is revealed, one that could easily break both of their hearts for good.
14.
The Back-up Plan (2010)
1h 46m Comedy Romance
When Zoe tires of looking for Mr. Right, she decides to have a baby on her own. But on the day she's artificially inseminated, she meets Stan, who seems to be just who she's been searching for all her life. Now, Zoe has to figure out how to make her two life's dreams fit with each other.
explore
Check out more list from our community