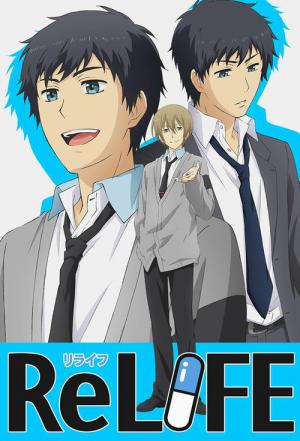 14 Best Shows Like Relife ...
If you liked this film , you will for sure love these too! In this selection we highlight some of the best films that share a very similar mood to 'ReLIFE', and are worth checking out.
24m Animation Comedy
Tamako is just a normal young girl whose family has been making mochi for generations. As her birthday approaches, she happens to meet a talking bird who claims to be a royal court attendant looking for a bride for his master. After the encounter, Dera the bird decides to stay around her and becomes a part of Tamako's life and the neighborhood that she lives in.
2.
Waiting in the Summer (2012)
24m Animation Comedy Drama Sci-Fi & Fantasy
While testing out his camera on a bridge one summer night, Kaito sees a blue light streaking across the sky, only to be blown off the railing seconds later. Just before succumbing to unconsciousness, a hand reaches down to grab ahold of his own. He woke up the next morning wondering how he ended up back in his own room with no injuries or any recollection of the night before. As he proceeds with his normal school life, Kaito and his friends discuss what to do with his camera, finally deciding to make a film with it over the summer break. Noticing that Kaito has an interest in the new upperclassmen Ichika Takatsuki, his friend Tetsurou decides to invite her, as well as her friend Remon Yamano, to join them in their project.In what becomes one of the most entertaining and exciting summers of their lives, Kaito and his friends find that their time spent together is not just about creating a film, but something much more meaningful that will force them to confront their true feelings.
24m Animation Comedy Drama
Ryūji Takasu is a gentle high school student with a love for housework; but in contrast to his kind nature, he has an intimidating face that often gets him labeled as a delinquent. On the other hand is Taiga Aisaka, a small, doll-like student who is anything but a cute and fragile girl. Equipped with a wooden katana and feisty personality, Taiga is known throughout the school as the "Palmtop Tiger." One day, an embarrassing mistake causes the two students to cross paths. Ryūji discovers that Taiga actually has a sweet side: she has a crush on the popular vice president, Yūsaku Kitamura, who happens to be his best friend. But things only get crazier when Ryūji reveals that he has a crush on Minori Kushieda—Taiga's best friend! Toradora! is a romantic comedy that follows this odd duo as they embark on a quest to help each other with their respective crushes, forming an unlikely alliance in the process.
4.
Saekano: How to Raise a Boring Girlfriend (2015)
23m Animation Comedy Drama
Tomoya Aki is an otaku who has a dream. His dream is to create the best visual novel game ever. The main heroine for this game and the inspiration for this dream is a background character named Megumi Kato who somehow stumbles into main character-esque traits in his eyes. To complete the game in time he has to call upon the aid of his anime loving professional friends who aren't so keen on the choice of his main heroine.
5.
Tanaka-kun is Always Listless (2016)
24m Animation Comedy
This unconventional, surrealist comedy follows an exhausted high school boy who, despite multiple attempts from his friends, still manages to spectacularly... sleep. Much to the chagrin of the energetic (at times bossy) Oota, Tanaka is often found in a blissful state of lethargy, possessing the ability to doze off in any situation, especially in mid-sentence!
23m Animation Comedy Family
After punching a famous curator in the face for criticizing his work as "textbook and lifeless," Handa Seishuu is sent to Gotō Island to calm his nerves and find new inspiration for his calligraphy. Growing up in the city all his life, though, Handa must adapt to country life while meeting an assortment of quirky people during his tenure.
7.
My Love Story!! (2015)
24m Animation Comedy
Takeo Godau is a giant guy with a giant heart. Too bad the girls don't want him! (They always go for his good-looking best friend, Makoto Sunakawa.) Used to being on the sidelines, Takeo simply stands tall and accepts his fate. But one day when he saves a girl named Rinko Yamato from a harasser on the train, his (love!) life suddenly takes an incredible turn! Takeo can hardly believe it when he crosses paths with Rinko again, and he finds himself falling in love with her... But with handsome Suna around, does Takeo even stand a chance?
8.
Sound! Euphonium (2015)
24m Animation Comedy Drama
After swearing off music due to an incident at the middle school regional brass band competition, euphonist Kumiko Oumae enters high school hoping for a fresh start. As fate would have it, she ends up being surrounded by people with an interest in the high school brass band. Kumiko finds the motivation she needs to make music once more with the help of her bandmates, some of whom are new like novice tubist Hazuki Katou; veteran contrabassist Sapphire Kawashima; and band vice president and fellow euphonist Asuka Tanaka. Others are old friends, like Kumiko's childhood friend and hornist-turned-trombonist Shuuichi Tsukamoto, and trumpeter and bandmate from middle school, Reina Kousaka.However, in the band itself, chaos reigns supreme. Despite their intention to qualify for the national band competition, as they currently are, just competing in the local festival will be a challenge—unless the new band advisor Noboru Taki does something about it.From the studio that animated Suzumiya Haruhi no Yuuutsu, Kyoto Animation's Hibike! Euphonium is a fresh and musical take on the slice-of-life staple that is the high school student's struggle to deal with their past, find romance, and realize their dreams and aspirations.
9.
As the Moon, So Beautiful (2017)
24m Animation Drama
Kotarou Azumi and Akane Mizuno became third year students at junior high school and are classmates for the first time. These two, along with fellow classmates, Chinatsu Nishio and Takumi Hira, relate to their peers through mutual understandings and feelings. As their final year at junior high school progresses, the group overcome their challenges to mature and become aware of changes in themselves.
10.
Monthly Girls' Nozaki-kun (2014)
24m Animation Comedy
High school student Chiyo Sakura has a crush on schoolmate Umetarō Nozaki, but when she confesses her love to him, he mistakes her for a fan and gives her an autograph. When she says that she always wants to be with him, he invites her to his house and has her help on some drawings. Chiyo discovers that Nozaki is actually a renowned shōjo manga artist named Sakiko Yumeno. She then agrees to be his assistant in order to get closer to him. As they work on his manga Let's Fall in Love (恋しよっ), they encounter other schoolmates who assist them or serve as inspirations for characters in the stories.
24m Comedy Drama Animation
After a family tragedy turns her life upside down, 16-year-old high school student Tohru Honda takes matters into her own hands and moves out… into a tent! Unfortunately for her, she pitches her new home on private land belonging to the mysterious Soma clan, and it isn't long before the owners discover her secret. But, as Tohru quickly finds out when the family offers to take her in, the Somas have a secret of their own—when hugged by the opposite sex, they turn into the animals of the Chinese Zodiac!
12.
Kaguya-sama: Love is War (2019)
24m Animation Comedy Drama
Considered a genius due to having the highest grades in the country, Miyuki Shirogane leads the prestigious Shuchiin Academy's student council as its president, working alongside the beautiful and wealthy vice president Kaguya Shinomiya. The two are often regarded as the perfect couple by students despite them not being in any sort of romantic relationship.
13.
A Silent Voice (2016)
2h 10m Animation Drama Romance
Shouya Ishida starts bullying the new girl in class, Shouko Nishimiya, because she is deaf. But as the teasing continues, the rest of the class starts to turn on Shouya for his lack of compassion. When they leave elementary school, Shouko and Shouya do not speak to each other again... until an older, wiser Shouya, tormented by his past behaviour, decides he must see Shouko once more. He wants to atone for his sins, but is it already too late...?
14.
My Teen Romantic Comedy SNAFU (2013)
24m Animation Comedy Drama
So exactly what's going to happen when Hachiman Hikigaya, an isolated high school student with no friends, no interest in making any and a belief that everyone else's supposedly great high school experiences are either delusions or outright lies, is coerced by a well meaning faculty member into joining the one member "Volunteer Services Club" run by Yukino Yukinoshita, who's smart, attractive and generally considers everyone in her school to be her complete inferior?
explore
Check out more list from our community