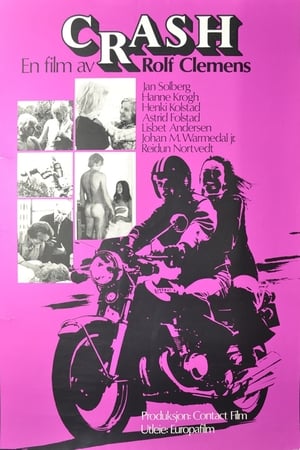 13 Best Movies Like Crash ...
If you liked this film , you will probably love these too! In this selection we highlight some of the best films that share a very similar premise to 'Crash', and are worth checking out.
Although deeply in love with her boyfriend - and indeed sleeping in the same bed with him - a schoolteacher cannot handle the almost complete lack of intimacy he will allow. Increasingly frustrated, she gradually finds her sexual appetites leading her into ever more risky situations, including a developing one with the headmaster.
1h 39m
Director, Writer: Catherine Breillat
Drama Romance
After Dr. Bill Harford's wife, Alice, admits to having sexual fantasies about a man she met, Bill becomes obsessed with having a sexual encounter. He discovers an underground sexual group and attends one of their meetings -- and quickly discovers that he is in over his head.
2h 39m
Director, Screenplay: Stanley Kubrick
Screenplay: Frederic Raphael
Writer: Arthur Schnitzler
Drama Thriller Mystery
In the upscale Toronto strip club Exotica, dancer Christina is visited nightly by the obsessive Francis, a depressed tax auditor. Her ex-boyfriend, the club's MC, Eric, still jealously pines for her even as he introduces her onstage, but Eric is having his own relationship problems with the club's female owner. Thomas, a mysterious pet-shop owner, is about to become unexpectedly involved in their lives.
1h 44m
Director, Writer: Atom Egoyan
Drama Mystery
The beautiful O is taken by her boyfriend, Rene, to a bizarre retreat, where she is trained in bondage and sexual perversion...
1h 37m
Director: Just Jaeckin
Novel: Dominique Aury
Screenplay: Sébastien Japrisot
Drama
5.
Sex, Lies, and Videotape (1989)
A sexually repressed woman's husband is having an affair with her sister. The arrival of a visitor with a rather unusual fetish changes everything.
1h 41m
Director, Writer: Steven Soderbergh
Drama
A passenger on a cruise ship develops an irresistible infatuation with an eccentric paraplegic's wife.
2h 19m
Director, Screenplay: Roman Polanski
Novel: Pascal Bruckner
Screenplay: Gérard Brach
Screenplay: John Brownjohn
Thriller Drama Romance
Happily unattached, the sexually voracious Leila satisfies her desires with a host of rapidly changing bed partners, unconcerned about the emotional consequences. But that all changes when she meets an artist looking for a deeper commitment.
1h 33m
Director: Clement Virgo
Writer: Tamara Berger
Drama
Manu has lived a difficult life. Abused and violently raped, she sets off to find herself only to meet Nadine, a prostitute who has encountered one too many injustices in the world. Angry at the world, they embark on a twisted, rage-filled road trip. They choose to have sex when they please and kill when they need. Leaving a trail of mischief and dead bodies in their wake. Generating a media blitz and manhunt, soon everyone is out to capture the young fugitives.
1h 17m
Director, Novel, Screenplay: Virginie Despentes
Director, Screenplay: Coralie Trinh Thi
Crime Drama Romance Thriller
This melodrama investigates the life of a sex worker, in a pseudo-documentary style.
1h 25m
Director, Writer: Ken Russell
Writer: Deborah Dalton
Drama
Ken Park focuses on several teenagers and their tormented home lives. Shawn seems to be the most conventional. Tate is brimming with psychotic rage; Claude is habitually harassed by his brutish father and coddled, rather uncomfortably, by his enormously pregnant mother. Peaches looks after her devoutly religious father, but yearns for freedom. They're all rather tight, or so they claim.
1h 37m
Director: Larry Clark
Director: Edward Lachman
Screenplay: Harmony Korine
Drama
11.
Nymphomaniac: Vol. I (2013)
A man named Seligman finds a fainted wounded woman in an alley and he brings her home. She tells him that her name is Joe and that she is nymphomaniac. Joe tells her life and sexual experiences with hundreds of men since she was a young teenager while Seligman tells about his hobbies, such as fly fishing, reading about Fibonacci numbers or listening to organ music.
1h 58m
Director, Writer: Lars von Trier
Drama
Emmanuelle, a svelte, naive young woman, is en route to Bangkok where she'll join her new husband. He works for the French Embassy and has a lovely home, several dedicated servants, and an expensive car at his disposal. Once Emmanuelle arrives, her husband and a few friends introduce her to a realm of sexual ecstasy she'd never imagined.
1h 29m
Director: Just Jaeckin
Novel: Emmanuelle Arsan
Writer: Jean-Louis Richard
Drama Romance
13.
Twentynine Palms (2003)
David, an independent photographer, and Katia, an unemployed woman, leave Los Angeles, en route to the southern California desert, where they search a natural set to use as a backdrop for a magazine photo shoot. They find a motel in the town of Twentynine Palms and spend their days in their sport-utility vehicle, discovering the Joshua Tree Desert, and losing themselves on nameless roads and trails. Frantically making love all the time and almost everywhere, they regularly fight, then kiss and make up, with little else going on in their empty relationship and quite ordinary daily life--until something horrible and hideous brutally puts an end to their trip.
1h 54m
Director, Writer: Bruno Dumont
Drama Thriller Horror
explore
Check out more list from our community