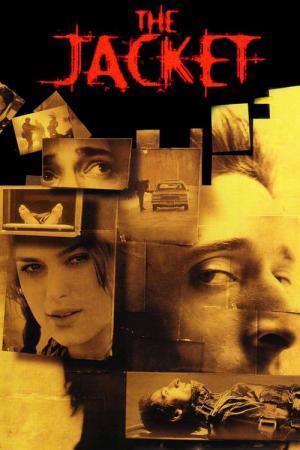 13 Best Movies Like The Jacket ...
If you liked this one , you will definitely love these too! In this collection we highlight some of the best films that share a very similar premise to 'The Jacket', and are worth checking out.
1h 30m Thriller Science Fiction Mystery
A group of strangers find themselves trapped in a maze-like prison. It soon becomes clear that each of them possesses the peculiar skills necessary to escape, if they don't wind up dead first.
1h 30m Thriller Mystery Science Fiction Drama
Simon Cable wakes up in a hospital bed, confused and disoriented. He soon discovers from doctors that he has amnesia and is unable to remember the last two years of his life. Cable investigates what has happened to him and slowly pieces together his enigmatic past.
1h 58m Science Fiction Thriller
When a rare phenomenon gives police officer John Sullivan the chance to speak to his father, 30 years in the past, he takes the opportunity to prevent his dad's tragic death. After his actions inadvertently give rise to a series of brutal murders he and his father must find a way to fix the consequences of altering time.
1h 17m Science Fiction Drama Thriller
Friends and fledgling entrepreneurs invent a device in their garage which reduces the apparent mass of any object placed inside it, but they discover that it has some highly unexpected capabilities - ones that could enable them to do and to have seemingly anything they want. Taking advantage of this unique opportunity is the first challenge they face. Dealing with the consequences is the next.
5.
The Butterfly Effect (2004)
1h 53m Science Fiction Thriller
A young man struggles to access sublimated childhood memories. He finds a technique that allows him to travel back into the past, to occupy his childhood body and change history. However, he soon finds that every change he makes has unexpected consequences.
2h 9m Drama Thriller Mystery
In honor of his birthday, San Francisco banker Nicholas Van Orton, a financial genius and a cold-hearted loner, receives an unusual present from his younger brother, Conrad: a gift certificate to play a unique kind of game. In nary a nanosecond, Nicholas finds himself consumed by a dangerous set of ever-changing rules, unable to distinguish where the charade ends and reality begins.
1h 39m Mystery Thriller Drama
Psychiatrist Sam Foster has a new patient, Henry Letham, who claims to be suicidal. In trying to diagnose him, Sam visits Henry's prior therapist and also finds Henry's mother -- even though Henry has said that he murdered both of his parents. As reality starts to contradict fact, Sam spirals into an unstable mental state. Then he finds a clue as to how and when Henry may try to kill himself, and races to try to stop him.
8.
Eternal Sunshine of the Spotless Mind (2004)
1h 48m Science Fiction Drama Romance
Joel Barish, heartbroken that his girlfriend underwent a procedure to erase him from her memory, decides to do the same. However, as he watches his memories of her fade away, he realises that he still loves her, and may be too late to correct his mistake.
1h 39m Horror
When Jess sets sail on a yacht with a group of friends, she cannot shake the feeling that there is something wrong. Her suspicions are realised when the yacht hits a storm and the group is forced to board a passing ocean liner to get to safety, a ship Jess is convinced she's been on before.
2h 1m Fantasy Action
After being bitten by a genetically altered spider, nerdy high school student Peter Parker is endowed with amazing powers to become the Amazing superhero known as Spider-Man.
1h 53m Mystery Thriller
Leonard Shelby is tracking down the man who raped and murdered his wife. The difficulty of locating his wife's killer, however, is compounded by the fact that he suffers from a rare, untreatable form of short-term memory loss. Although he can recall details of life before his accident, Leonard cannot remember what happened fifteen minutes ago, where he's going, or why.
2h 16m Romance Science Fiction Fantasy Thriller
David Aames has it all: wealth, good looks and gorgeous women on his arm. But just as he begins falling for the warmhearted Sofia, his face is horribly disfigured in a car accident. That's just the beginning of his troubles as the lines between illusion and reality, between life and death, are blurred.
1h 33m Thriller Science Fiction Mystery
Decorated soldier Captain Colter Stevens wakes up in the body of an unknown man, discovering he's involved in a mission to find the bomber of a Chicago commuter train. He learns he's part of a top-secret experimental program that enables him to experience the final 8 minutes of another person's life. Colter re-lives the train incident over and over again, gathering more clues each time.
explore
Check out more list from our community