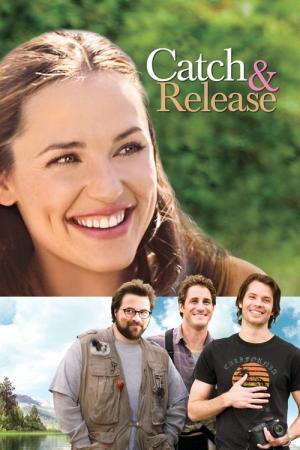 11 Best Movies Like Catch And Release ...
If you liked this movie , you will for sure love these too! In this selection we highlight some of the best films that share a very similar mood to 'Catch and Release', and are worth checking out.
1.
P.S. I Love You (2007)
2h 6m Drama Romance
A young widow discovers that her late husband has left her 10 messages intended to help ease her pain and start a new life.
2.
Celeste & Jesse Forever (2012)
1h 31m Comedy Drama Romance
Celeste and Jesse met in high school and got married young. They laugh at the same jokes and finish each other's sentences. They are forever linked in their friends' minds as the perfect couple – she, a high-powered businesswoman and budding novelist; he, a free spirit who keeps things from getting boring. Their only problem is that they have decided to get divorced. Can their perfect relationship withstand this minor setback?
3.
The Story of Us (1999)
1h 35m Comedy Drama Romance
Ben and Katie Jordan are a married couple who go through hard times in fifteen years of marriage.
4.
How to Make an American Quilt (1995)
1h 56m Drama Romance
Soon-to-be-wed graduate student Finn Dodd develops cold feet when she suspects her fiancé is cheating on her. In order to clear her head, Finn visits her grandmother, Hy, and great aunt, Glady Joe Cleary, in Grasse, Calif. There, Finn learns that Hy and Glady Joe are members of a group of passionate quilters, and over the course of her visit she is regaled with tales of love and life by women who have collected rich experiences and much wisdom.
5.
The Sisterhood of the Traveling Pants 2 (2008)
1h 41m Comedy Romance Drama
An unmarried 40-year-old woman turns to a turkey baster in order to become pregnant. Seven years later, she reunites with her best friend, who has been living with a secret: he replaced her preferred sperm sample with his own.
7.
In the Land of Women (2007)
1h 37m Romance Comedy Drama
After a bad breakup with his girlfriend leaves him heartbroken, Carter Webb moves to Michigan to take care of his ailing grandmother. Once there, he gets mixed up in the lives of the mother and daughters who live across the street.
1h 55m Romance Comedy
It took a lot of cajoling to get Bob, a recently widowed architect, to go on a blind date at a quirky Irish-Italian eatery. Once there, he's smitten instantly not with his date but with the sharp-witted waitress. Everything seems to be going great until an unbelievable truth is revealed, one that could easily break both of their hearts for good.
9.
My Best Friend's Wedding (1997)
1h 45m Comedy Romance
When she receives word that her longtime platonic pal Michael O'Neal is getting married to debutante Kimberly Wallace, food critic Julianne Potter realizes her true feelings for Michael -- and sets out to sabotage the wedding.
10.
How Do You Know (2010)
2h 1m Comedy Drama Romance
After being cut from the USA softball team and feeling a bit past her prime, Lisa finds herself evaluating her life and in the middle of a love triangle, as a corporate guy in crisis competes with her current, baseball-playing beau.
11.
The Jane Austen Book Club (2007)
1h 46m Comedy Romance
Six Californians start a club to discuss the works of Jane Austen. As they delve into Austen's literature, the club members find themselves dealing with life experiences that parallel the themes of the books they are reading.
explore
Check out more list from our community