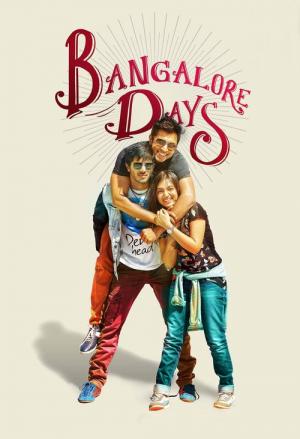 11 Best Movies Like Bangalore Days ...
If you liked this film , you will for sure love these too! In this collection we highlight some of the best films that share a very similar mood to 'Bangalore Days', and are worth checking out.
1h 30m Reality
Four male celebrities in their 40s who have no experience in group travel, except for school field trips and business trips, go on a fully pre-planned group tour. They depart lightheartedly without serious preparations, but their busy travel schedule, led by the guide, is not something to be taken lightly! They have to do everything - eating, sleeping, and sightseeing - together with non-celebrity travel mates they never met before, which adds a unique twist to the travel adventure.
1h 26m Comedy Drama
A comedy-drama about a Black American female philosophy professor and her insensitive, philandering, and flamboyant artist husband who are having a marital crisis. When the wife goes off on an almost unbelievable journey to find "ecstasy", her husband is forced to see her in a different light.
1h 27m Comedy Drama
Jake is a 16-year-old girl whose mother left her. She finds her older sister Darlene in L.A., but Darlene turns her away. Darlene's neighbor Marci takes pity on Jake, allowing her to stay over. When Jake discovers that Marci is a manager in a massage parlor, she convinces Marci to hire her.
2h 18m Drama Comedy Romance
A depressed wealthy businessman and a spunky and care-free young woman embark on an unexpected journey that changes their lives.
5.
Pyaar Ka Punchnama (2011)
2h 29m Drama Comedy Romance
Nishant starts dating Charu while his roommates Rajat and Vikrant already have girlfriends in Neha and Rhea respectively. Trouble starts when the guys feel that their girlfriends are dominating them.
7.
The Postmodern Life of My Aunt (2006)
2h 40m Romance Comedy Drama
John (Arya) and Regina (Nayanthara) are forced into wedlock against their wishes. Both undergo a rough patch initially in their marriage as they are not able to get over their past romances. Prior to their marriage, Regina was in love with Surya (Jai), while John romanced Keerthana (Nazriya). What leads to the Arya-Nayanthara wedding? How they forget their romantic past and finally come together forms the rest of the story.
1h 13m Comedy Drama Romance
An ensemble of interconnected twentysomethings struggle with the complications of life, work, and love as they cross paths in the city throughout one day.
1h 40m Comedy Drama Romance
Three generations of women live on a small island off the coast of Washington state with their men with whom they have no end of problems.
2h 37m Comedy Romance
Three stages in George's life, and three girls he encounters in each stage.
explore
Check out more list from our community