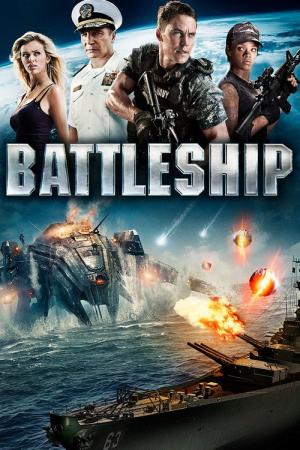 30 Best Movies Like Battleship ...
If you liked this movie , you will definitely love these too! In this list we highlight some of the best films that share a very similar mood to '', and are worth checking out.
2h 11m Action Science Fiction Adventure
A ragtag band of humans band together in the year 2025 to fight legions of monstrous creatures rising from the sea. Using massive piloted robots to combat the alien threat, earth's survivors take the fight to the invading alien force lurking in the depths of the Pacific Ocean. Nearly defenseless in the face of the relentless enemy, the forces of mankind have no choice but to turn to two unlikely heroes -- a washed up former pilot and an untested trainee -- who now stand as earth's final hope against the mounting apocalypse.
2.
Battle Los Angeles (2011)
1h 56m Action Science Fiction
When once distant UFOs become a terrifying threat attacking Earth, a Marine staff sergeant and his team take it upon themselves to face the enemy and protect what remains of the planet.
1h 52m Science Fiction Adventure Action
16-year-old Cassie Sullivan tries to survive in a world devastated by the waves of an alien invasion that has already decimated the population and knocked mankind back to the Stone Age.
4.
Independence Day (1996)
2h 25m Action Adventure Science Fiction
On July 2, a giant alien mothership enters orbit around Earth and deploys several dozen saucer-shaped 'destroyer' spacecraft that quickly lay waste to major cities around the planet. On July 3, the United States conducts a coordinated counterattack that fails. On July 4, a plan is devised to gain access to the interior of the alien mothership in space, in order to plant a nuclear missile.
5.
Edge of Tomorrow (2014)
1h 53m Action Science Fiction
Major Bill Cage is an officer who has never seen a day of combat when he is unceremoniously demoted and dropped into combat. Cage is killed within minutes, managing to take an alpha alien down with him. He awakens back at the beginning of the same day and is forced to fight and die again... and again - as physical contact with the alien has thrown him into a time loop.
6.
Transformers: Revenge of the Fallen (2009)
2h 29m Science Fiction Action Adventure
Sam Witwicky leaves the Autobots behind for a normal life. But when his mind is filled with cryptic symbols, the Decepticons target him and he is dragged back into the Transformers' war.
7.
American Warships (2012)
1h 30m Action Thriller Science Fiction War
When an alien force wages war on Earth, only the crew of the USS Iowa - the last American battleship, stands in their way.
2h 4m Action Science Fiction Adventure Mystery
Jack Harper is one of the last few drone repairmen stationed on Earth. Part of a massive operation to extract vital resources after decades of war with a terrifying threat known as the Scavs, Jack's mission is nearly complete. His existence is brought crashing down when he rescues a beautiful stranger from a downed spacecraft. Her arrival triggers a chain of events that forces him to question everything he knows and puts the fate of humanity in his hands.
2h 3m Action Drama Science Fiction
Ford Brody, a Navy bomb expert, has just reunited with his family in San Francisco when he is forced to go to Japan to help his estranged father, Joe. Soon, both men are swept up in an escalating crisis when an ancient alpha predator arises from the sea to combat malevolent adversaries that threaten the survival of humanity. The creatures leave colossal destruction in their wake, as they make their way toward their final battleground: San Francisco.
10.
Ender's Game (2013)
1h 54m Science Fiction Action Adventure
Based on the classic novel by Orson Scott Card, Ender's Game is the story of the Earth's most gifted children training to defend their homeplanet in the space wars of the future.
11.
The Chronicles of Riddick (2004)
1h 59m Action Science Fiction
After years of outrunning ruthless bounty hunters, escaped convict Riddick suddenly finds himself caught between opposing forces in a fight for the future of the human race. Now, waging incredible battles on fantastic and deadly worlds, this lone, reluctant hero will emerge as humanity's champion - and the last hope for a universe on the edge of annihilation.
23m Action & Adventure Animation Family Sci-Fi & Fantasy
Transformers Animated is an Japanese/American animated television series based on the Transformers toy line. The series debuted on Cartoon Network on December 26, 2007, and has been shown on NickToons in the UK since February 2008. It is produced by Cartoon Network Studios and animated by The Answer Studio, MOOK DLE., and Studio 4°C . The series has 42 episodes across three seasons. The European Jetix began to air the series on September 10, 2008. The series began its broadcast in Japan on April 3, 2010, on both TV Aichi and TV Tokyo. The Japanese version of the cartoon was slightly rewritten to tie into Michael Bay's Transformers trilogy.The show's continuity is separate from any other previous Transformers series, despite using footage from the first series in its first episode as a historical film. Despite being a Cartoon Network original series, the show was aired on Nicktoons in the UK, Jetix/Disney XD in the rest of Europe and finally, back in the states on The Hub in high definition.
1h 32m Science Fiction Action
When strange lights descend on the city of Los Angeles, people are drawn outside like moths to a flame where an extraterrestrial force threatens to swallow the entire human population off the face of the Earth. Now the band of survivors must fight for their lives as the world unravels around them.
14.
Battle of Los Angeles (2011)
1h 30m Science Fiction
In February 1942 Us forces engaged an unidentified flying object above Los Angeles. Now almost 70 years later, the alien invaders have returned.
2h 31m Action Thriller Science Fiction Adventure
When an asteroid threatens to collide with Earth, NASA honcho Dan Truman determines the only way to stop it is to drill into its surface and detonate a nuclear bomb. This leads him to renowned driller Harry Stamper, who agrees to helm the dangerous space mission provided he can bring along his own hotshot crew. Among them is the cocksure A.J. who Harry thinks isn't good enough for his daughter, until the mission proves otherwise.
16.
G.I. Joe: The Rise of Cobra (2009)
1h 58m Adventure Action Thriller Science Fiction
From the Egyptian desert to deep below the polar ice caps, the elite G.I. JOE team uses the latest in next-generation spy and military equipment to fight the corrupt arms dealer Destro and the growing threat of the mysterious Cobra organization to prevent them from plunging the world into chaos.
1h Action & Adventure Sci-Fi & Fantasy
Falling Skies opens in the chaotic aftermath of an alien attack that has left most of the world completely incapacitated. In the six months since the initial invasion, the few survivors have banded together outside major cities to begin the difficult task of fighting back. Each day is a test of survival as citizen soldiers work to protect the people in their care while also engaging in an insurgency campaign against the occupying alien force.
1h 49m Thriller Action Science Fiction
A special-ops team is dispatched to fight supernatural beings that have taken over a European city.
19.
Age of Tomorrow (2014)
1h 30m Thriller Science Fiction Action
Mankind must fight to survive as Earth is invaded by hostile UFOs bent on destroying the planet. As the epic battle wages on, astronauts sneak aboard the mothership where they discover a portal to the aliens' home world. They manage to alert Earth before they are brutally murdered. Left with no other choice, Earth sends an elite military team of science and combat specialists through the portal where they attempt to stop the invasion from the inside out.
1h 33m Thriller Action Science Fiction
A documentary crew follows an elite unit of soldiers in the wake of an alien invasion.
2h 23m Science Fiction Action Adventure
When an unexpected enemy emerges and threatens global safety and security, Nick Fury, director of the international peacekeeping agency known as S.H.I.E.L.D., finds himself in need of a team to pull the world back from the brink of disaster. Spanning the globe, a daring recruitment effort begins!
22.
War of the Worlds (2005)
1h 57m Adventure Thriller Science Fiction
Ray Ferrier is a divorced dockworker and less-than-perfect father. Soon after his ex-wife and her new husband drop off his teenage son and young daughter for a rare weekend visit, a strange and powerful lightning storm touches down.
41m Action & Adventure Drama Sci-Fi & Fantasy
Their mission is simple: Find a cure. Stop the virus. Save the world. When a global pandemic wipes out eighty percent of the planet's population, the crew of a lone naval destroyer must find a way to pull humanity from the brink of extinction.
24.
Transformers: Age of Extinction (2014)
2h 45m Science Fiction Action Adventure
As humanity picks up the pieces, following the conclusion of "Transformers: Dark of the Moon," Autobots and Decepticons have all but vanished from the face of the planet. However, a group of powerful, ingenious businessman and scientists attempt to learn from past Transformer incursions and push the boundaries of technology beyond what they can control - all while an ancient, powerful Transformer menace sets Earth in his cross-hairs.
25.
Cowboys & Aliens (2011)
1h 59m Action Science Fiction Thriller Western
A stranger stumbles into the desert town of Absolution with no memory of his past and a futuristic shackle around his wrist. With the help of mysterious beauty Ella and the iron-fisted Colonel Dolarhyde, he finds himself leading an unlikely posse of cowboys, outlaws, and Apache warriors against a common enemy from beyond this world in an epic showdown for survival.
26.
Transformers: Dark of the Moon (2011)
2h 34m Action Science Fiction Adventure
The Autobots continue to work for NEST, now no longer in secret. But after discovering a strange artifact during a mission in Chernobyl, it becomes apparent to Optimus Prime that the United States government has been less than forthright with them.
1h 47m Science Fiction Fantasy Adventure
An independent group of researchers called the Godzilla Prediction Network (GPN) actively track Godzilla as he makes landfall in Nemuro. Matters are further complicated when a giant meteor is discovered in the Ibaragi Prefecture. The mysterious rock begins to levitate as it's true intentions for the world and Godzilla are revealed.
28.
Battlefield Earth (2000)
1h 58m Action Adventure Science Fiction War
In the year 3000, man is no match for the Psychlos, a greedy, manipulative race of aliens on a quest for ultimate profit. Led by the powerful Terl, the Psychlos are stripping Earth clean of its natural resources, using the broken remnants of humanity as slaves. What is left of the human race has descended into a near primitive state. After being captured, it is up to Tyler to save mankind.
1h 30m Science Fiction
During the alien invasion of 2022, one man flees through a wormhole to 1992, where attempt after attempt is made to catch and kill him.
explore
Check out more list from our community