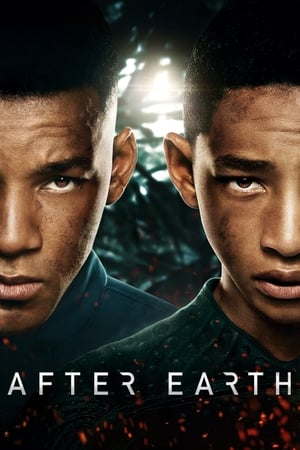 30 Best Movies Like After Earth ...
If you liked this movie , you will definitely love these too! In this collection we highlight some of the best films that share a very similar premise to '', and are worth checking out.
2h 4m Action Science Fiction Adventure Mystery
Jack Harper is one of the last few drone repairmen stationed on Earth. Part of a massive operation to extract vital resources after decades of war with a terrifying threat known as the Scavs, Jack's mission is nearly complete. His existence is brought crashing down when he rescues a beautiful stranger from a downed spacecraft. Her arrival triggers a chain of events that forces him to question everything he knows and puts the fate of humanity in his hands.
2h 42m Action Adventure Fantasy Science Fiction
In the 22nd century, a paraplegic Marine is dispatched to the moon Pandora on a unique mission, but becomes torn between following orders and protecting an alien civilization.
3.
Planet of the Apes (2001)
1h 59m Thriller Science Fiction Action Adventure
After a spectacular crash-landing on an uncharted planet, brash astronaut Leo Davidson finds himself trapped in a savage world where talking apes dominate the human race. Desperate to find a way home, Leo must evade the invincible gorilla army led by Ruthless General Thade.
4.
The Maze Runner (2014)
1h 53m Action Mystery Science Fiction Thriller
Set in a post-apocalyptic world, young Thomas is deposited in a community of boys after his memory is erased, soon learning they're all trapped in a maze that will require him to join forces with fellow "runners" for a shot at escape.
5.
Ender's Game (2013)
1h 54m Science Fiction Action Adventure
Based on the classic novel by Orson Scott Card, Ender's Game is the story of the Earth's most gifted children training to defend their homeplanet in the space wars of the future.
2h 19m Action Adventure Science Fiction
In a world divided into factions based on personality types, Tris learns that she's been classified as Divergent and won't fit in. When she discovers a plot to destroy Divergents, Tris and the mysterious Four must find out what makes Divergents dangerous before it's too late.
1h 52m Science Fiction Adventure Action
16-year-old Cassie Sullivan tries to survive in a world devastated by the waves of an alien invasion that has already decimated the population and knocked mankind back to the Stone Age.
8.
The Book of Eli (2010)
1h 58m Action Thriller Science Fiction
A post-apocalyptic tale, in which a lone man fights his way across America in order to protect a sacred book that holds the secrets to saving humankind.
9.
The Hunger Games (2012)
2h 22m Science Fiction Adventure Fantasy
Every year in the ruins of what was once North America, the nation of Panem forces each of its twelve districts to send a teenage boy and girl to compete in the Hunger Games. Part twisted entertainment, part government intimidation tactic, the Hunger Games are a nationally televised event in which "Tributes" must fight with one another until one survivor remains. Pitted against highly-trained Tributes who have prepared for these Games their entire lives, Katniss is forced to rely upon her sharp instincts as well as the mentorship of drunken former victor Haymitch Abernathy. If she's ever to return home to District 12, Katniss must make impossible choices in the arena that weigh survival against humanity and life against love. The world will be watching.
43m Sci-Fi & Fantasy Drama Action & Adventure
100 years in the future, when the Earth has been abandoned due to radioactivity, the last surviving humans live on an ark orbiting the planet — but the ark won't last forever. So the repressive regime picks 100 expendable juvenile delinquents to send down to Earth to see if the planet is still habitable.
2h 11m Action Science Fiction Adventure
A ragtag band of humans band together in the year 2025 to fight legions of monstrous creatures rising from the sea. Using massive piloted robots to combat the alien threat, earth's survivors take the fight to the invading alien force lurking in the depths of the Pacific Ocean. Nearly defenseless in the face of the relentless enemy, the forces of mankind have no choice but to turn to two unlikely heroes -- a washed up former pilot and an untested trainee -- who now stand as earth's final hope against the mounting apocalypse.
12.
Robot Overlords (2014)
1h 41m Drama Science Fiction Thriller
Robert Neville is a scientist who was unable to stop the spread of the terrible virus that was incurable and man-made. Immune, Neville is now the last human survivor in what is left of New York City and perhaps the world. For three years, Neville has faithfully sent out daily radio messages, desperate to find any other survivors who might be out there. But he is not alone.
2h 38m Action Adventure Science Fiction
Dr. Adrian Helmsley, part of a worldwide geophysical team investigating the effect on the earth of radiation from unprecedented solar storms, learns that the earth's core is heating up. He warns U.S. President Thomas Wilson that the crust of the earth is becoming unstable and that without proper preparations for saving a fraction of the world's population, the entire race is doomed. Meanwhile, writer Jackson Curtis stumbles on the same information. While the world's leaders race to build "arks" to escape the impending cataclysm, Curtis struggles to find a way to save his family. Meanwhile, volcanic eruptions and earthquakes of unprecedented strength wreak havoc around the world.
1h 59m Science Fiction Action Thriller
Betrayed by his own kind and left for dead on a desolate planet, Riddick fights for survival against alien predators and becomes more powerful and dangerous than ever before. Soon bounty hunters from throughout the galaxy descend on Riddick only to find themselves pawns in his greater scheme for revenge. With his enemies right where he wants them, Riddick unleashes a vicious attack of vengeance before returning to his home planet of Furya to save it from destruction.
1h 49m Thriller Action Science Fiction
A special-ops team is dispatched to fight supernatural beings that have taken over a European city.
17.
The Darkest Hour (2011)
1h 29m Horror Action Thriller Science Fiction
In Moscow, five young people lead the charge against an alien race which has attacked Earth via our power supply.
2h 15m Adventure Action Science Fiction
In a futuristic world where the polar ice caps have melted and made Earth a liquid planet, a beautiful barmaid rescues a mutant seafarer from a floating island prison. They escape, along with her young charge, Enola, and sail off aboard his ship.
1h 56m Action Drama Horror Science Fiction Thriller
Life for former United Nations investigator Gerry Lane and his family seems content. Suddenly, the world is plagued by a mysterious infection turning whole human populations into rampaging mindless zombies. After barely escaping the chaos, Lane is persuaded to go on a mission to investigate this disease. What follows is a perilous trek around the world where Lane must brave horrific dangers and long odds to find answers before human civilization falls.
20.
Jupiter Ascending (2015)
2h 7m Science Fiction Fantasy Action Adventure
In a universe where human genetic material is the most precious commodity, an impoverished young Earth woman becomes the key to strategic maneuvers and internal strife within a powerful dynasty…
42m Sci-Fi & Fantasy Drama
One day, electricity just stopped working and the world was suddenly thrust back into the dark ages. Now, 15 years later, a young woman's life is dramatically changed when a local militia arrives and kills her father, who mysteriously—and unbeknownst to her—had something to do with the blackout. An unlikely group sets out off on a daring journey to find answers about the past in the hopes of reclaiming the future.
22.
The Lost World: Jurassic Park (1997)
2h 9m Adventure Action Science Fiction
Four years after Jurassic Park's genetically bred dinosaurs ran amok, multimillionaire John Hammond shocks chaos theorist Ian Malcolm by revealing that he has been breeding more beasties at a secret location. Malcolm, his paleontologist ladylove and a wildlife videographer join an expedition to document the lethal lizards' natural behavior in this action-packed thriller.
23.
Independence Day (1996)
2h 25m Action Adventure Science Fiction
On July 2, a giant alien mothership enters orbit around Earth and deploys several dozen saucer-shaped 'destroyer' spacecraft that quickly lay waste to major cities around the planet. On July 3, the United States conducts a coordinated counterattack that fails. On July 4, a plan is devised to gain access to the interior of the alien mothership in space, in order to plant a nuclear missile.
45m Sci-Fi & Fantasy Mystery Action & Adventure
In the year 2149, the world is dying. The planet is overdeveloped and overcrowded, with the majority of plant and animal life extinct. The future of mankind is in jeopardy, and its only hope for survival is in the distant past. An ordinary family goes on an extraordinary journey back in time to prehistoric Earth as a part of a massive expedition to save the human race.
25.
Wing Commander (1999)
1h 40m Science Fiction
The Hollywood version of the popular video game series "Wing Commander". Unlike other video games to feature film transitions, series creator Chris Roberts was heavily involved in the film's creation. This is the story of Christopher Blair and Todd "Maniac" Marshall as they arrive at the Tiger Claw and are soon forced to stop a Kilrathi fleet heading towards Earth.
26.
Spacehunter: Adventures in the Forbidden Zone (1983)
1h 30m Adventure Science Fiction
Three women makes an emergency landing on a planet plagued with a fatal disease, but are captured by dictator Overdog. Adventurer Wolff goes there to rescue them and meets Niki, the only Earthling left from a medical expedition. Combining their talents, they try to rescue the women.
1h 34m Science Fiction
In a future in which most water has disappeared from the Earth, we find a group of children, mostly teenagers, who are living at an orphanage, run by the despotic rulers of the new Earth. The group in question plays a hockey based game on roller skates and is quite good. It has given them a unity that transcends the attempts to bring them to heel by the government. Finding an orb of special power, they find it has unusual effects on them. They escape from the orphanage (on skates) and try to cross the wasteland looking for a place they can live free as the storm-troopers search for them and the orb.
28.
The Black Hole (1979)
1h 38m Adventure Family Science Fiction Action
The explorer craft USS Palomino is returning to Earth after a fruitless 18-month search for extra-terrestrial life when the crew comes upon a supposedly lost ship, the USS Cygnus, hovering near a black hole. The ship is controlled by Dr. Hans Reinhardt and his monstrous robot companion, but the initial wonderment and awe the Palomino crew feel for the ship and its resistance to the power of the black hole turn to horror as they uncover Reinhardt's plans.
29.
The Chronicles of Riddick (2004)
1h 59m Action Science Fiction
After years of outrunning ruthless bounty hunters, escaped convict Riddick suddenly finds himself caught between opposing forces in a fight for the future of the human race. Now, waging incredible battles on fantastic and deadly worlds, this lone, reluctant hero will emerge as humanity's champion - and the last hope for a universe on the edge of annihilation.
explore
Check out more list from our community