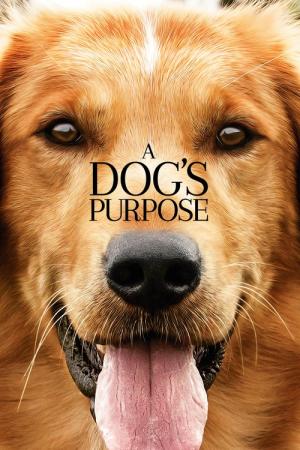 14 Best Movies Like A Dog ...
If you liked this film , you will probably love these too! In this selection we highlight some of the best films that share a very similar mood to 'A Dog's Purpose', and are worth checking out.
1h 27m Fantasy Comedy Family
A stuffy businessman finds himself trapped inside the body of his family's cat.
2.
The One and Only Ivan (2020)
1h 33m Family Comedy Drama
A gorilla named Ivan living in a suburban shopping mall tries to piece together his past, with the help of other animals, as they hatch a plan to escape from captivity.
1h 30m Action Adventure Comedy Family
Bingo, the runaway circus dog, is off the leash and saving Chuckie's life! Bingo and the boy become the best of friends in this canine comedy featuring doggy disguises and skateboarding, pinball and prison. Chuckie and his parents (Cindy Williams and David Rasche) are moving house, a thousand miles away, but Bingo won't be allowed to join them. Chuckie and Bingo's determination to be reunited is t
4.
Babe: Pig in the City (1998)
1h 32m Adventure Comedy Drama Family Fantasy
Babe, fresh from his victory in the sheepherding contest, returns to Farmer Hoggett's farm, but after Farmer Hoggett is injured and unable to work, Babe has to go to the big city to save the farm.
5.
Homeward Bound: The Incredible Journey (1993)
1h 24m Adventure Comedy Drama Family
Remake of the popular Disney classic, this time featuring some well known voices as two dogs and a cat trek across America encountering all sorts of adventures in the quest to be reunited with their owners.
6.
Hachi: A Dog's Tale (2009)
1h 33m Drama Family
A drama based on the true story of a college professor's bond with the abandoned dog he takes into his home.
7.
Who Gets the Dog? (2016)
1h 35m Comedy Romance
A couple going through a divorce squabble over custody of their beloved dog.
8.
Marley & Me (2008)
1h 55m Comedy Family
A newly married couple who, in the process of starting a family, learn many of life's important lessons from their trouble-loving retriever, Marley. Packed with plenty of laughs to lighten the load, the film explores the highs and lows of marriage, maturity and confronting one's own mortality, as seen through the lens of family life with a dog.
9.
Far from Home: The Adventures of Yellow Dog (1995)
1h 27m Action Adventure Drama Family
Teenager Angus adopts a stray dog and names him Yellow. Several days later, while travelling along the coast of British Columbia with Angus's father, John, the boy and dog become stranded when turbulent waters capsize their boat. Angus's parents relentlessly badger rescue teams. Angus, schooled by his father in wilderness survival skills, and assisted by the intelligent Yellow Dog, tries to attract rescuers.
1h 34m Adventure Family
An update of the Lassie legend stars Thomas Guiry as a troubled city kid whose family retreats to the country, where he befriends the famous collie and changes for the better. Conflict develops when a ruthless sheep rancher causes trouble for everyone.
12.
102 Dalmatians (2000)
1h 31m Fantasy Drama Comedy Family
Babe is a little pig who doesn't quite know his place in the world. With a bunch of odd friends, like Ferdinand the duck who thinks he is a rooster and Fly the dog he calls mum, Babe realises that he has the makings to become the greatest sheep pig of all time, and Farmer Hogget knows it. With the help of the sheep dogs, Babe learns that a pig can be anything that he wants to be.
14.
The Incredible Journey (1963)
1h 20m Adventure Family
The story of three pets, a cat and two dogs, who lose their owners when they are all on vacation. Can they find their way home?
explore
Check out more list from our community