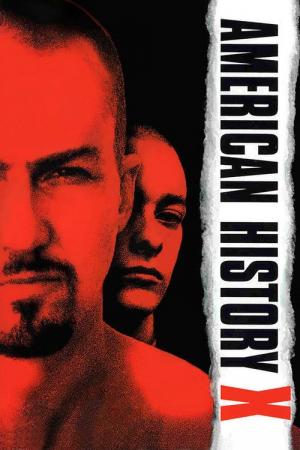 24 Best Movies Like American History X ...
If you liked this movie , you will for sure love these too! In this list we highlight some of the best films that share a very similar mood to '', and are worth checking out.
1h 38m Drama
A hardcore US racist skinhead who, because of his intelligence, leads a gang dedicated to fighting the enemy: the supposed American-Jewish conspiracy for domination. However, he's hiding a secret: he's Jewish-born, a brilliant scholar whose questioning of the tenets of his faith has left him angry and confused, turning against those who he thinks have a tragic history of their own making.
2.
This Is England (2006)
1h 41m Drama Crime
A story about a troubled boy growing up in England, set in 1983. He comes across a few skinheads on his way home from school, after a fight. They become his new best friends, even like family. Based on experiences of director Shane Meadows.
3.
The Shawshank Redemption (1994)
2h 22m Drama Crime
Framed in the 1940s for the double murder of his wife and her lover, upstanding banker Andy Dufresne begins a new life at the Shawshank prison, where he puts his accounting skills to work for an amoral warden. During his long stretch in prison, Dufresne comes to be admired by the other inmates -- including an older prisoner named Red -- for his integrity and unquenchable sense of hope.
1h Crime Drama
The daily lives of prisoners in Emerald City, an experimental unit of the Oswald Maximum Security Prison where ingroups - Muslims, Latinos, Italians, Aryans - stick close to their mutual friends and terrorizes their mutual enemies.
1h 39m Crime Drama
A man is put to prison for 10 years. Coming out of prison he wants to live a normal life and stop with crime but his son has yet followed the criminal path of his father.
2h 19m Drama
A ticking-time-bomb insomniac and a slippery soap salesman channel primal male aggression into a shocking new form of therapy. Their concept catches on, with underground "fight clubs" forming in every town, until an eccentric gets in the way and ignites an out-of-control spiral toward oblivion.
1h 56m Drama
Widower Walt Kowalski is a grumpy, prejudiced, tough-minded, unhappy, old, Korean War veteran who can't get along with either his kids or his neighbours. His prize possession is a 1972 Gran Torino he keeps in mint condition. When his neighbour, Thao—a young Hmong teenager under pressure from his gang member cousin—tries to steal his Gran Torino, Walt sets out to reform the youth and takes steps to protect Thao and his family from the gangs that infest their neighborhood.
8.
Blood In, Blood Out (1993)
3h Action Crime Drama Thriller
Based on the true life experiences of poet Jimmy Santiago Baca, the film focuses on half-brothers Paco and Cruz, and their bi-racial cousin Miklo. It opens in 1972, as the three are members of an East L.A. gang known as the "Vatos Locos", and the story focuses on how a violent crime and the influence of narcotics alter their lives. Miklo is incarcerated and sent to San Quentin, where he makes a "home" for himself. Cruz becomes an exceptional artist, but a heroin addiction overcomes him with tragic results. Paco becomes a cop and an enemy to his "carnal", Miklo.
2h 1m Crime Drama Thriller
A newly-released prison gangster is forced by the leaders of his gang to orchestrate a major crime with a brutal rival gang on the streets of Southern California.
1h 38m Crime Drama TV Movie
This is the hard and shocking story of life in a British Borstal for young offenders. The brutal regime made no attempt to reform or improve the inmates and actively encouraged a power struggle between the 'tough' new inmate and the 'old hands'.
11.
Romper Stomper (1992)
1h 34m Action Drama Thriller
Nazi skinheads in Melbourne take out their anger on local Vietnamese, who are seen as threatening racial purity. Finally the Vietnamese have had enough and confront the skinheads in an all-out confrontation, sending the skinheads running. A woman who is prone to epileptic seizures joins the skins' merry band, and helps them on their run from justice, but is her affliction also a sign of impurity?
12.
Animal Factory (2000)
1h 34m Crime Drama
Suburbanite Ron is spoiled, young and not overly worried about the marijuana charges leveled against him. But, after being made out to be a drug dealer, he faces a five-year jail sentence in San Quentin State Prison. Physically frail and unaccustomed to his rough surroundings, Ron is primed to fall victim to sexual predators and bullying guards – that is, until he's befriended by Earl, a veteran inmate who finds meaning in protecting the vulnerable new kid.
1h 31m Drama
Three juvenile delinquents arrive at a correctional center and are put under the care of an experienced guard.
14.
Higher Learning (1995)
2h 7m Romance Drama Crime
Malik is an African-American student attending on a track scholarship; academics are not his strong suit, and he goes in thinking that his athletic abilities will earn him a free ride through college. Fudge, a "professional student" who has been at Columbus for six years so far, becomes friendly with Malik and challenges his views about race and politics in America.
1h 46m Drama
When David Greene receives a football scholarship to a prestigious prep school in the 1950s, he feels pressure to hide the fact that he is Jewish from his classmates and teachers, fearing that they may be anti-Semitic. He quickly becomes the big man on campus thanks to his football skills, but when his Jewish background is discovered, his worst fears are realized and his friends turn on him with violent threats and public ridicule.
1h 43m Action Crime Drama Mystery
A family man convicted of killing an intruder must cope with life afterward in the violent penal system.
2h 15m Crime Drama
In New York City in the days following the events of 9/11, Monty Brogan is a convicted drug dealer about to start a seven-year prison sentence, and his final hours of freedom are devoted to hanging out with his closest buddies and trying to prepare his girlfriend for his extended absence.
21.
The United States of Leland (2003)
1h 48m Crime Drama
A withdrawn young man, Leland Fitzgerald is imprisoned for the murder of a mentally disabled boy, who also happened to be the brother of his girlfriend, Becky. As the community struggles to deal with the killing, Pearl Madison, a teacher at the prison, decides to write about Leland's case. Meanwhile, others affected by the murder, including Becky and her sister, Julie, must contend with their own problems.
explore
Check out more list from our community