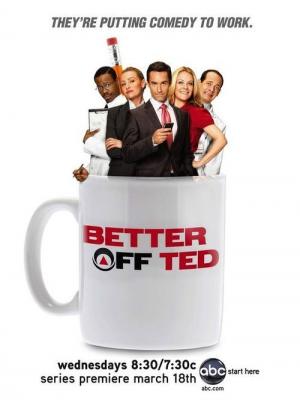 10 Best Shows Like Better Off Ted ...
If you liked this movie , you will definitely love these too! In this collection we highlight some of the best films that share a very similar premise to 'Better Off Ted', and are worth checking out.
21m Comedy
The misadventures of three recent college dropouts, roommates, and co-workers at a telemarketing company and their drug dealer.
22m Comedy Drama
Workaholic Mike Flaherty is the Deputy Mayor of New York City, serving as Mayor Randall Winston's key strategist and much-needed handler. Mike runs the city with the help of his oddball staff: an anxious and insecure press secretary; a sexist, boorish chief of staff; an impeccably groomed gay activist running minority affairs; a sharp and efficient, man-crazy accountant; and an idealistic young speechwriter. Like Mike, they are all professionally capable but personally challenged.
3.
Kevin from Work (2015)
23m Comedy
A workplace comedy centered on Kevin, a young man who declares his unrequited love for his coworker Audrey in a letter, believing he'll never see her again after he accepts a job overseas. But when the opportunity falls through and Kevin is forced to return to his old job, how will he and Audrey continue to work together now that his feelings are no longer secret?
20m Comedy
Brody, a young hot-shot banker at Whitestone Trust, thought he was just having a one-night stand with Jennifer, a beautiful woman he met at a bar. But when he discovers that she works in maintenance for the building where he works, their worlds begin to collide in the most unexpected way. Facing Brody's critical boss, Mr. Mansfield, as well as annoyed colleagues, the pair must find a way to deal with their growing feelings for each other in this modern take on Romeo & Juliet.
30m Comedy
Ben Donovan is a self-involved manager of a second-rate San Diego sports arena who begins to re-evaluate his life on his 40th birthday. Working alongside him is his boss and arena owner, Crystal--attractive, powerful and highly erratic; Alice--the cute, tomboyish marketing director and Ben's friend with benefits; Alonzo--a former basketball player, handsome and unbelievably happy; Ben's assistant, Heather--pretty, sweet, but terrifying because she once lit a boyfriend on fire; Crystal's son, Roman--sweet-faced, clueless and Ben's newest employee; and a hapless operations crew whom Ben refers to collectively as the "Steves."
22m Comedy
Liz Lemon, the head writer for a late-night TV variety show in New York, tries to juggle all the egos around her while chasing her own dream.
30m Comedy Drama
Charming, fast talking Marty Kaan and his crack team of management consultants know how to play the corporate game better than anyone, by using every dirty trick in the book to woo powerful CEOs and close huge deals. In the board rooms, barrooms, and bedrooms of the power elite, corruption is business as usual and everyone's out for themselves first. Nothing is sacred in this scathing, irreverent satire of corporate America today.
30m Comedy
Documentary-style sitcom set in the offices of a Slough paper merchant.
9.
Arrested Development (2003)
22m Comedy
The story of a wealthy family that lost everything, and the one son who had no choice but to keep them all together.
10.
Parks and Recreation (2009)
22m Comedy
Hilarious ensemble comedy that follows Leslie Knope, a mid-level bureaucrat in the Parks and Recreation Department of Pawnee, Indiana, and her tireless efforts to make her quintessentially American town just a little bit more fun.
explore
Check out more list from our community