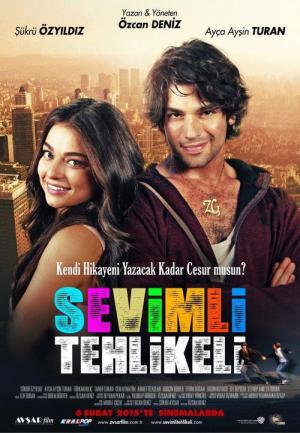 21 Best Cute ...
If you liked this movie , you will probably love these too! In this list we highlight some of the best films that share a very similar mood to '', and are worth checking out.
2h 40m Romance Comedy Drama
John (Arya) and Regina (Nayanthara) are forced into wedlock against their wishes. Both undergo a rough patch initially in their marriage as they are not able to get over their past romances. Prior to their marriage, Regina was in love with Surya (Jai), while John romanced Keerthana (Nazriya). What leads to the Arya-Nayanthara wedding? How they forget their romantic past and finally come together forms the rest of the story.
2.
Shaadi Ke Side Effects (2014)
2h 25m Comedy Romance
An easy-going man ensures that the spark in his marriage stays strong by always apologizing and opting for the path of least conflict in his relationship. When his wife becomes pregnant and wishes to have the baby, he does not offer resistance, but is also not ready to be a father. How will their relationship evolve?
3.
Tell Me About Love (2008)
1h 53m Comedy Romance
Sasha is a boy in his twenties, deeply loving the beautiful Benedetta, who doesn't seem to recognize his existence. Nicole is a French woman in her forties, living in Rome with her husband. They casually meet and start a friendship which becomes a sentimental education foe the boy.
1h 22m Comedy Romance
Robert picked the wrong time to meet his soul mate! After being fired from his own father's company, he feels like his luck has run out - until Morgan enters into his life.
1h 34m Comedy Drama Romance
After false reports of his demise put him and his work on the map, an artist decides to continue the charade by posing as his own brother. Soon, a reporter enters his life and has a profound effect on him.
1h 34m Comedy Romance
A modern day treasure hunt for a mystical relic that turns into a love story for all time.
7.
Cooking with Love (2018)
1h 24m Comedy TV Movie Romance
Optimistic and cheerful TV producer, Kelly, doesn't have time for love. Bad boy celebrity chef, Stephen, doesn't have time for anything besides cooking. Fun with a side of love ensues as Kelly and Stephen are paired on a children's cooking show.
8.
Every Blessed Day (2012)
1h 42m Comedy Romance
Guido and Antonia are a young couple with opposing characters and working schedules: he works a night job as a doorman in a hotel, and she works as an employee for a rental car service. This is the story of what happens to Guido and Antonia when they decide to have a child.
9.
Mato sem Cachorro (2013)
1h 41m Comedy
The day a man almost runs-over a puppy, he meets the love of his life. The couple and their dog live the dream, until she wants out.
1h 43m Comedy Romance
Love Birds is a hilarious charming romantic comedy that tells the story of a regular Kiwi bloke who finds himself on a quest to find true love – all with the help of a native New Zealand Shelduck. Comedian Rhys Darby (Flight of the Conchords, The Boat That Rocked) plays Doug – a road working employee and massive fan of the legendary band Queen, along with Golden-Globe Award winning actress Sally Hawkins (Made In Dagenham) who plays Holly the sassy animal specialist.
1h 48m Comedy Romance
After standing in as best man for his longtime friend Carl Petersen, Randy Dupree loses his job, becomes a barfly and attaches himself to the newlywed couple almost permanently -- as their houseguest. But the longer Dupree camps out on their couch, the closer he gets to Carl's bride, Molly, leaving the frustrated groom wondering when his pal will be moving out.
12.
Shirin in Love (2014)
1h 44m Comedy Romance
Despite being engaged to a successful Iranian plastic surgeon in Beverly Hills, Shirin finds herself falling for a mysterious young man who lives in a lighthouse in northern California.
13.
When Sparks Fly (2014)
1h 24m Comedy Romance TV Movie
A big city journalist is sent back to her small hometown to write a Fourth of July story and discovers the life and love she left behind are exactly what she's been missing.
2h Comedy
Ex is a 2009 film directed and co-written by Fausto Brizzi and interpreted by a rich and large cast of characters. The film, produced by Italian International Film, in co-production with the French company and Mes Films in collaboration with RAI Cinema. It was released February 6, 2009 in Italian cinema and has been recognized as "national cultural interest" by the Directorate General for Cinema of the Ministry of Heritage and Culture.
1h 35m Comedy Romance
Clemence is a brilliant young lawyer who has just settled herself in a comfortable chair. She does not want to be involved in love.
16.
To Hell With The Ugly (2010)
1h 45m Comedy
Eliseo is ugly, lame and single. He hasn't met the woman of his life and has never known love. Nati is ugly, missing a breast and separated. She found the man of her life but, even so, has never experienced true love. Eliseo thinks that the worst of his life is still to come. Nati thinks that the best of her life is still to come. The death of Eliseo's mother reunites them twenty years on in a last chance to find happiness and love. But what happens when the woman of your life is married to your brother
1h 28m Romance Comedy Drama
Carlos is a man who goes to a coffee shop-library to take a cup, where Irene is reading a book. Not a reason for it, Irene close to Carlos and talks with him, starting a friendship with a little rules: no pasts, no birth names, no modern ways to contact between them (as Internet or similar), and finally not falling in love each other. Calling themselves Hada Chalada ('Crazy Fairy') and Duende Chiflado ('Mad Goblin'), both pass the days walking around the city engaged with magic, surrealist and funnies conversations about life, love and themselves, at the same time that Carlos tries to end his new script with his friend Cristóbal, and eccentric writer obsessed with Japan.
1h 22m Comedy Romance
A young man and woman find love in an unlikely place while carrying out a shady deal.
19.
The Wedding Cake (2010)
1h 33m Comedy
The wedding of Vincent and Berenger does not begin well. For starters, the fabulous cake for the reception falls apart as the butler of the château, and one of the caterers is taking down a flight of stairs falls. The cream puffs are carefully picked up from the floor an arranged as though nothing happened. The bride comes from a bourgeois family, presided by Maddie, an old lady with a secret in her heart. The wedding, to be performed at the local church, by father Victor, proves to be not the classic marriage that has been planned...
20.
The Wedding Pact (2014)
1h 31m Comedy Romance
Two best friends in college Mitch and Elizabeth make a pact that if in ten years after graduation they are both not married they will marry each other. Ten years later Mitch (still single) finds out Elizabeth never got married so he decides to travel across the country, find her and follow through on their pact. What he soon realizes is it wont be a simple as he thought.
explore
Check out more list from our community