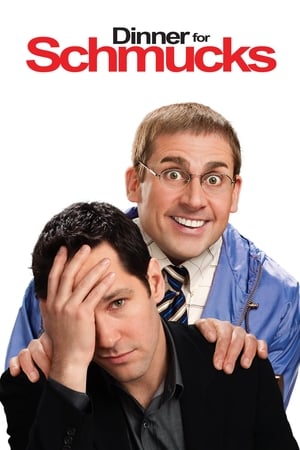 11 Best Movies Like Dinner For Schmucks ...
If you liked this film , you will probably love these too! In this selection we highlight some of the best films that share a very similar premise to 'Dinner for Schmucks', and are worth checking out.
1.
My Boss's Daughter (2003)
1h 23m Comedy Romance
When a young man agrees to housesit for his boss, he thinks it'll be the perfect opportunity to get close to the woman he desperately has a crush on – his boss's daughter. But he doesn't plan on the long line of other houseguests that try to keep him from his mission. And he also has to deal with the daughter's older brother, who's on the run from local drug dealers.
2.
My Man Is a Loser (2014)
1h 35m Comedy
When it comes to women, playboy Mike has all the right moves. So when Mike's buddies ask for advice on how to reconnect with their wives, Mike figures he'll share some secrets and help the guys regain their marriage mojo. But when Mike's lessons start backfiring with hilarious results, it takes a beautiful, no-nonsense friend to show Mike he still has a thing or two to learn about relationships.
1h 38m Comedy
Brennan Huff and Dale Doback might be grown men. But that doesn't stop them from living at home and turning into jealous, competitive stepbrothers when their single parents marry. Brennan's constant competition with Dale strains his mom's marriage to Dale's dad, leaving everyone to wonder whether they'll ever see eye to eye.
4.
Moms' Night Out (2014)
1h 38m Comedy
Yearning for an evening without their kids, some friends plan a night out. But to do this, their husbands need to watch the kids. What can go wrong?
5.
The 41-Year-Old Virgin Who Knocked Up Sarah Marshall and Felt Superbad About It (2010)
1h 22m Comedy
Follows Andy, who needs to hook up with a hottie, pronto, because he hasn't had sex in... well, forever - and his luck isn't the only thing that's hard. His equally horny teenage roommates also need it superbad, and with the help of their nerdy pal, McAnalovin' and his fake I.D., they may tap more than just a keg.
1h 35m Comedy
A reporter's dream of becoming a news anchor is compromised after a one-night stand leaves her stranded in downtown L.A. without a phone, car, ID or money - and only 8 hours to make it to the most important job interview of her life.
8.
The 40-Year-Old Virgin (2005)
1h 56m Comedy Romance
Andy Stitzer has a pleasant life with a nice apartment and a job stamping invoices at an electronics store. But at age 40, there's one thing Andy hasn't done, and it's really bothering his sex-obsessed male co-workers: Andy is still a virgin. Determined to help Andy get laid, the guys make it their mission to de-virginize him. But it all seems hopeless until Andy meets small business owner Trish, a single mom.
9.
Dumb & Dumber (1994)
1h 47m Comedy
Lloyd and Harry are two men whose stupidity is really indescribable. When Mary, a beautiful woman, loses an important suitcase with money before she leaves for Aspen, the two friends (who have found the suitcase) decide to return it to her. After some "adventures" they finally get to Aspen where, using the lost money they live it up and fight for Mary's heart.
10.
The Dinner Game (1998)
1h 20m Comedy
For Pierre Brochant and his friends, Wednesday is "Idiots' Day". The idea is simple: each person has to bring along an idiot. The one who brings the most spectacular idiot wins the prize. Tonight, Brochant is ecstatic. He has found a gem. The ultimate idiot, "A world champion idiot!". What Brochant doesn't know is that Pignon is a real jinx, a past master in the art of bringing on catastrophes...
11.
Couples Retreat (2009)
1h 53m Comedy Romance
Four couples, all friends, descend on a tropical island resort. Though one husband and wife are there to work on their marriage, the others just want to enjoy some fun in the sun. They soon find, however, that paradise comes at a price: Participation in couples therapy sessions is mandatory. What started out as a cut-rate vacation turns into an examination of the common problems many face.
explore
Check out more list from our community