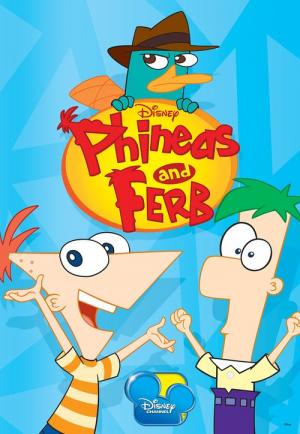 12 Best Cartoons Like Phineas And Ferb ...
If you liked this film , you will for sure love these too! In this selection we highlight some of the best films that share a very similar premise to 'Phineas and Ferb', and are worth checking out.
1.
Phineas and Ferb the Movie: Across the 2nd Dimension (2011)
1h 18m Animation Comedy Family TV Movie Music Mystery Adventure
Perry's worst fear comes true when Phineas and Ferb finds out that he is in fact Secret Agent P, but that soon pales in comparison during a trip to the 2nd dimension where Perry finds out that Dr. Doofenshmirtz is truly evil and successful.
2.
The Venture Bros. (2003)
4.
American Dragon: Jake Long (2005)
22m Animation Comedy Action & Adventure Family
American Dragon is a coming of age comedy-action series about Jake Long, a 13-year-old Asian-American boy who strives to find balance in his life as a skateboard-grinding, New York 'tween while learning to master his mystical powers (in his secret identity) as the American Dragon, the protector and guardian of all magical creatures secretly living amidst the human world.
5.
Leroy & Stitch (2006)
1h 13m Animation Comedy Family
Lilo, Stitch, Jumba and Pleakley have finally caught all of Jumba's genetic experiments and found the one true place where each of them belongs. Stitch, Jumba and Pleakley are offered positions in the Galactic Alliance, turning them down so they can stay on Earth with Lilo. But Lilo realizes her alien friends have places where they belong, and it's finally time to say "aloha."
22m Action & Adventure Animation Comedy Kids
If there's danger or trouble, Kim Possible is there on the double to save the world from villains... and still make it home in time for cheerleading practice! Luckily, Kim has her sidekick Ron Stoppable and his pet naked mole-rat Rufus by her side.
7.
Phineas and Ferb The Movie Candace Against the Universe (2020)
8.
Teen Titans Go! (2013)
22m Animation Comedy Sci-Fi & Fantasy Action & Adventure
Rick is a mentally-unbalanced but scientifically-gifted old man who has recently reconnected with his family. He spends most of his time involving his young grandson Morty in dangerous, outlandish adventures throughout space and alternate universes. Compounded with Morty's already unstable family life, these events cause Morty much distress at home and school.
10.
The Penguins of Madagascar (2008)
1h 30m Animation
The Penguins are back with more episodes of action-packed high jinx and capers. From a buzzing bee invasion, to an escapee elephant, this DVD is full of plans and schemes that will keep everyone busy at the zoo! Episodes included are: What Goes Around, Jungle Law, Mort Unbound, Sting Operation, Misfortune Cookie, Tagged, An Elephant Never Forgets and Otter Things Have Happened.
11.
The Marvelous Misadventures of Flapjack (2008)
22m Sci-Fi & Fantasy Comedy Animation
A young boy who grew up inside a talking whale sets sail for magical Candied Island, accompanied by Capt. K'nuckles, a crusty old pirate.
22m Animation Comedy Mystery Sci-Fi & Fantasy Kids
Twin brother and sister Dipper and Mabel Pines are in for an unexpected adventure when they spend the summer helping their great uncle Stan run a tourist trap in the mysterious town of Gravity Falls, Oregon.
explore
Check out more list from our community