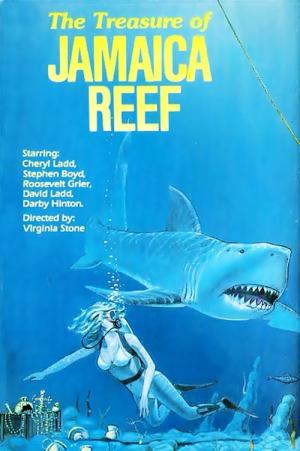 16 Best Bimini Code ...
If you liked this movie , you will probably love these too! In this collection we highlight some of the best films that share a very similar premise to '', and are worth checking out.
1.
Sharks' Treasure (1975)
1h 35m Adventure
Eccentric charter skipper Jim Carnahan and his team of hard-luck dreamers battle sharks, bandits and their own greed to recover sunken treasure
2.
L.E.T.H.A.L. Ladies: Return to Savage Beach (1998)
1h 50m Action Thriller Adventure Crime
When they take some friends on an extreme sport adventure, the last thing Jared and Sam expect to see below the shark-infested waters is a legendary pirate ship rumored to contain millions of dollars in gold. But their good fortune is short-lived, as a ruthless gang of criminals gets word of what they have uncovered.
4.
Into the Blue 2: The Reef (2009)
1h 32m Action
When they're hired to recover the lost treasure of Columbus, married scuba divers Sebastian (Chris Carmack) and Dani (Laura Vandervoort) think they've hit the jackpot. But as they get closer to the fortune, the couple begins to suspect their employers have their own agenda. Hitting upon the real plan, the two come to the chilling realization that they may be expendable and that there's much more than riches at stake.
6.
Indiana Jones and the Last Crusade (1989)
When Dr. Henry Jones Sr. suddenly goes missing while pursuing the Holy Grail, eminent archaeologist Indiana must team up with Marcus Brody, Sallah and Elsa Schneider to follow in his father's footsteps and stop the Nazis from recovering the power of eternal life.
7.
Indiana Jones and the Kingdom of the Crystal Skull (2008)
Set during the Cold War, the Soviets—led by sword-wielding Irina Spalko—are in search of a crystal skull which has supernatural powers related to a mystical Lost City of Gold. Indy is coerced to head to Peru at the behest of a young man whose friend—and Indy's colleague—Professor Oxley has been captured for his knowledge of the skull's whereabouts.
9.
Around the World Under the Sea (1966)
11.
Indiana Jones and the Temple of Doom (1984)
After arriving in India, Indiana Jones is asked by a desperate village to find a mystical stone. He agrees – and stumbles upon a secret cult plotting a terrible plan in the catacombs of an ancient palace.
13.
The Odd Couple (1979)
14.
Amazon Obhijaan (2017)
15.
Lawless Kingdom (2013)
explore
Check out more list from our community