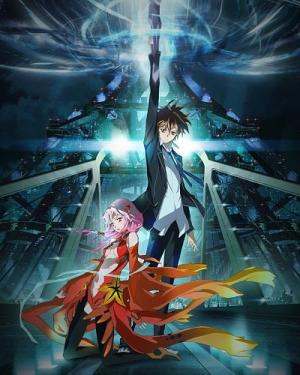 14 Best Anime Like Guilty Crown ...
If you liked this film , you will probably love these too! In this collection we highlight some of the best films that share a very similar mood to '', and are worth checking out.
1.
Code Geass: Lelouch of the Rebellion (2006)
25m Action & Adventure Animation Drama Sci-Fi & Fantasy
Japan has been invaded and conquered by the Britannian Empire. Japan is now known as Area 11 and its citizens known as Elevens. The Britannian Empire takes away Japan's autonomous power and imposes its rule through the use of Knightmares. The Empire's rule has never faltered, but cracks have begun to show...
2.
The Irregular at Magic High School (2014)
24m Action & Adventure Animation Sci-Fi & Fantasy
In a world where magic is not a fairy tale but has existed for one hundred years siblings Tatsuya and Miyuki Shiba prepare to begin their studies at the elite Private Magic University Affiliated High School (Magic High School for short). Entering on different levels of the academic spectrum the two turn the once peaceful campus into a chaotic one.
24m Action & Adventure Animation Mystery Sci-Fi & Fantasy
A near future, where humans have been defeated by the viral parasites named Gastrea. They have been exiled into a small territory and live in despair, side-by-side in terror.In this world trapped in darkness—Rentaro, a boy living near Tokyo and member of the "Civil Security"—an organization specializing in fighting against the Gastrea—is used to accomplishing dangerous tasks. His partner is Enju, a precocious young girl. They fight thanks to their peculiar powers until one day, when they receive a special assignment from the government. This top secret mission is to prevent the destruction of Tokyo...Set in a near future, this thrilling heroic-action story... starts now!
24m Animation Action & Adventure Sci-Fi & Fantasy
In the distant future, mankind has lived quietly and restlessly underground for hundreds of years, subject to earthquakes and cave-ins. Living in one such village are 2 young men: one named Simon who is shy and naïve, and the other named Kamina who believes in the existence of a "surface" world above their heads.
5.
Evangelion: 3.0 You Can (2012)
1h 36m Animation Science Fiction Action Drama
Fourteen years after Third Impact, Shinji Ikari awakens to a world he does not remember. He hasn't aged. Much of Earth is laid in ruins, NERV has been dismantled, and people who he once protected have turned against him. Befriending the enigmatic Kaworu Nagisa, Shinji continues the fight against the angels and realizes the fighting is far from over, even when it could be against his former allies. The characters' struggles continue amidst the battles against the angels and each other, spiraling down to what could inevitably be the end of the world.
6.
Attack on Titan (2013)
25m Sci-Fi & Fantasy Animation Action & Adventure
Several hundred years ago, humans were nearly exterminated by Titans. Titans are typically several stories tall, seem to have no intelligence, devour human beings and, worst of all, seem to do it for the pleasure rather than as a food source. A small percentage of humanity survived by walling themselves in a city protected by extremely high walls, even taller than the biggest Titans. Flash forward to the present and the city has not seen a Titan in over 100 years. Teenage boy Eren and his foster sister Mikasa witness something horrific as the city walls are destroyed by a Colossal Titan that appears out of thin air. As the smaller Titans flood the city, the two kids watch in horror as their mother is eaten alive. Eren vows that he will murder every single Titan and take revenge for all of mankind.
7.
The Future Diary (2011)
24m Action & Adventure Animation Drama Mystery
Reality quickly unravels when antisocial Yukiteru is called into a death match against 11 other mentally scarred individuals. Each player has a prophetic device tuned to their personality, giving them control over their future—and the fate of their foes.
22m Action & Adventure Animation Sci-Fi & Fantasy
Following World War V, a global-scale conflict fought with non-nuclear weapons that almost halved the earth's population, the city-nation of Olympus stands as a beacon of hope in a world of chaos. The utopian metropolis is governed by Gaia, a vast artificial intelligence, and administered by genetically engineered humanoids known as bioroids. Although Olympus seems like a peaceful city on the surface, racial (human vs. bioroids vs. cyborgs), religious, and political conflicts lurk underneath -threatening to overturn the delicately balanced peace of this so-called utopia.
9.
DARLING in the FRANXX (2018)
24m Action & Adventure Animation Sci-Fi & Fantasy
The story is set in the distant future. The land is ruined, and humanity establishes the mobile fort city Plantation. Pilots produced inside Plantation live in Mistilteinn, also know as the "birdcage." Children live there knowing nothing of the outside world or the freedom of the sky. Their lives consist of battling to carry out missions. Their enemies are mysterious giant lifeforms known as Kyouryuu, and the children pilot robots called Franxx to face off against them. For the children, riding the Franxx proves their existence.A boy named Hiro is called Code:016, and he was once known as a prodigy. However, he has fallen behind, and his existence seems unnecessary. Not piloting a Franxx is the same as ceasing to exist. One day, a mysterious girl known as "Zero Two" appears before him. Two horns grow out of her head.
10.
High School DxD (2012)
24m Animation Action & Adventure Comedy Sci-Fi & Fantasy
The story follows Issei Hyōdō, a dim-witted, lecherous second-year high school student who is killed by a girl on his first date ever. Issei is reincarnated as a devil, and from that day forward, he serves as an underling of Riasu, a high-level devil who is also the prettiest girl on Issei's campus.
11.
Mobile Suit Gundam (1979)
25m Animation Sci-Fi & Fantasy Action & Adventure War & Politics
Mobile Suit Gundam is a televised anime series, produced by Sunrise. Created and directed by Yoshiyuki Tomino, it premiered in Japan on Nagoya Broadcasting Network on April 7, 1979, and lasted until January 26, 1980, spanning 43 episodes. It was the very first Gundam series, which has subsequently been adapted into numerous sequels and spin-offs.In 1981, the series was re-edited for theatrical release and split into three movies. The characters were designed by Yoshikazu Yasuhiko, and Kunio Okawara was responsible for the mechanical designs, including the eponymous giant robot, the RX-78-2 Gundam. The first movie was released on February 22, 1981.
12.
UFO Robot Goldorak (1975)
25m Action & Adventure Animation Sci-Fi & Fantasy
The story revolves around Duke Fleed who is a survivor of the Vega Star, raised by Dr. Umon as his adoptive son, and known as Daisuke Umon on Earth. Years after his arrival, he's faced with the threat of King Vega and his army, who want to conquer the Earth. With his friends Koji and Hikaru (and later his kid sister Maria Grace), Duke decides to fight back using his best weapon, the almighty Grendizer.
13.
Evangelion: 2.0 You Can (2009)
1h 52m Animation Science Fiction Action Drama
Under constant attack by monstrous creatures called Angels that seek to eradicate humankind, U.N. Special Agency NERV introduces two new EVA pilots to help defend the city of Tokyo-3: the mysterious Makinami Mari Illustrous and the intense Asuka Langley Shikinami. Meanwhile, Gendo Ikari and SEELE proceed with a secret project that involves both Rei and Shinji.
explore
Check out more list from our community