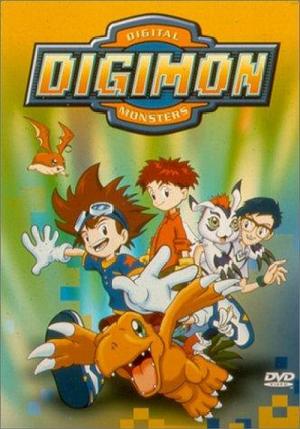 10 Best Shows Like Digimon ...
If you liked this film , you will definitely love these too! In this list we highlight some of the best films that share a very similar premise to 'Digimon: Digital Monsters', and are worth checking out.
1.
Arthur 3: The War of the Two Worlds (2010)
Maltazard, the Evil M, is now 7 feet tall and evolving among the humans, causing terror wherever he goes. His goal is simple: forming an army of giant henchmen and ruling over the universe. Meanwhile, Arthur is still a Minimoy, and thus in a state where he's unable to fend him off. With the help of Selenia and Betameche, he hatches a plan to regain his usual size: all they must do is infiltrate Arthur's house through the pipeworks, catch an electric train from his bedroom to his grandfather's study and find an elixir that will make him grow back to his human size. Sounds simple enough, if it weren't for Darkos, Maltazard's own son, hot on their tails.
1h 41m
Director, Writer: Luc Besson
Writer: Céline Garcia
Animation Adventure Fantasy Family
Ash, Pikachu and his friends try and stop a pair of thieves hiding out in the canals and alleyways of Altomare, the age-old water capital. Joining the adventure are two new legendary Pokémon, a pair of siblings named Latias and Latios, who serve as peacekeepers and protectors of the Soul Dew - a priceless treasure with a mysterious power.
1h 11m
Director: Kunihiko Yuyama
Writer: Hideki Sonoda
Animation Adventure Action Fantasy
3.
Jake and the Never Land Pirates (2011)
A crew of kid pirates - leader Jake and pals Izzy and Cubby - and their Never Land adventures as they work to outwit two infamous characters, the one and only Captain Hook and Smee.
22m
Creator: Roberts Gannaway
Family Animation Action & Adventure
When summer break begins, Haruka is only thinking of hanging out with her friends—until one fateful night she learns that she's the keystone in an interdimensional battle for not only the Earth's future, but the very survival of all existence across the multiverse.
25m
Animation Action & Adventure Sci-Fi & Fantasy
When 10-year-old Ben Tennyson discovers a mysterious device, he gains the power to change into ten different alien heroes, each with uniquely awesome powers. With such abilities at his disposal, Ben realizes a greater responsibility to help others and stop evildoers, but that doesn't mean he's above a little superpowered mischief now and then.
22m
Creator: Joe Kelly
Creator: Duncan Rouleau
Creator: Steven T. Seagle
Creator: Joe Casey
Kids Animation Action & Adventure Comedy
The ice-cold Snow Queen wishes to turn the world into a frozen landscape, with no light, no joy, no happiness, and no free will. A young man, Kai, is rumored to be the son of a man who is the queen's only remaining threat. He is abducted and held captive in the queen's palace, and it's up to his sister, Gerda, to rescue him. Gerda journeys across an icy land, facing difficult obstacles and meeting wonderful new friends that help her in her quest to set Kai free, defeat the Snow Queen, and save the world from eternal frost.
1h 16m
Director, Writer: Vladlen Barbe
Director, Writer: Maksim Sveshnikov
Animation Fantasy Family
7.
Pokemon: Jirachi - Wish Maker (2003)
Ash, May, Brock, and Max come upon the festival of the Wishing Star of Seven Nights. During their enjoyment, the legendary Pokemon--Jirachi, descends from the heavens and befriends Max. Jirachi, with the power to grant any wish, is sought after by many people wanting to claim its power. One man seeks to use its legendary power to revive an ancient Pokemon known as Groudon, unaware of the dangers hidden within Jirachi's powers
1h 21m
Director: Kunihiko Yuyama
Writer: Hideki Sonoda
Action Animation Adventure Family Fantasy Science Fiction
Long ago in the mountains, a fighting master known as Gohan discovered a strange boy whom he named Goku. Gohan raised him and trained Goku in martial arts until he died. The young and very strong boy was on his own, but easily managed. Then one day, Goku met a teenage girl named Bulma, whose search for the mystical Dragon Balls brought her to Goku's home. Together, they set off to find all seven and to grant her wish.
25m
Animation Action & Adventure Sci-Fi & Fantasy
Pretty Cure, known in Japan as Futari wa Pretty Cure, is a Japanese magical girl anime series The theme of the series revolves around Yin and Yang, which explains the relationship between Nagisa and Honoka trying to work together as Pretty Cures.
25m
Animation Action & Adventure Comedy
10.
Yu-Gi-Oh!: The Movie (2004)
After the conclusion of the Battle City Tournament, deep below the sands of Egypt, an ancient evil has awakened. Anubis, who was defeated centuries ago by Yugi's mysterious alter ego – the ancient Pharaoh – has returned for revenge. Wielding the power of the Eighth Millennium Item, Anubis is determined to destroy Yugi and take over the world.
1h 30m
Screenplay, Writer: Michael Pecerlello
Director: Hatsuki Tsuji
Screenplay: Norman J. Grossfeld
Adventure Fantasy Animation Action Comedy Thriller Science Fiction Family
explore
Check out more list from our community