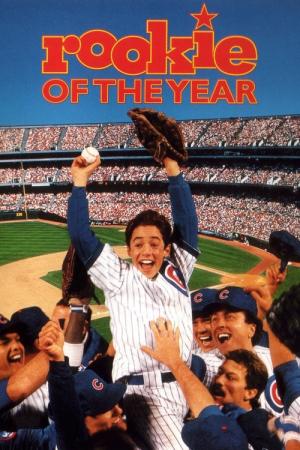 14 Best Movies Like Rookie Of The Year ...
If you liked this film , you will definitely love these too! In this selection we highlight some of the best films that share a very similar premise to 'Rookie of the Year', and are worth checking out.
1h 34m Comedy Family
Jack Cooper (Matt LeBlanc) could be a world-class baseball pitcher if he didn't keep buckling under the pressure. He tries to keep his spirits up after he's traded to a minor league team but loses all hope when he discovers that Ed, one of his teammates, is a chimp. Ed used to be the team mascot, but was promoted to third base when the owners realized he had a talent for baseball. As Jack struggles to get used to his new surroundings, Ed helps him regain his confidence on and off the field.
2.
D2: The Mighty Ducks (1994)
1h 46m Action Comedy Drama Family
After Gordon Bombay's hockey comeback is cut short he is named coach of Team USA Hockey for the Junior Goodwill Games. Bombay reunites the Mighty Ducks and introduces a few new players, however, he finds himself distracted by his newfound fame and must regather if the Ducks are to defeat tournament favourites Iceland.
3.
Major League II (1994)
1h 45m Comedy Family Drama
After losing in the ALCS the year before, the Cleveland Indians are determined to make it into the World Series this time! However, they first have to contend with Rachel Phelps again when she buys back the team.
1h 45m Comedy Drama
Haley is a naturally gifted athlete but, with her social behavior, the teen seems intent on squandering her abilities. After a final brush with the law, a judge sentences her to an elite gymnastics academy run by a legendary, hard-nosed coach. Once there, Haley's rebellious attitude wins her both friends and enemies.
5.
The Bad News Bears Go to Japan (1978)
1h 31m Comedy Family
In this third film version of the Bad News Bears series, Tony Curtis plays a small time promotor/hustler who takes the pint-sized baseball team to Japan for a match against the country's best little league baseball team which sparks off a series of adventures and mishaps the boys come into.
6.
Necessary Roughness (1991)
1h 48m Comedy
When the Texas Southern Armadillos football team is disqualified for cheating and poor grades, the University is forced to pick from a team that actually goes to school. Will they even win a single game?
1h 40m Action Adventure Comedy Family
In a depressed Texas town, British foreign exchange teacher Anna attempts to inject some life into her hopeless kids by introducing them to soccer. They're terrible at first, but Anna and her football-hero assistant whip them into shape. As they work overtime, the pair help kids build their self-esteem and also get involved in solving family squabbles.
9.
Angels in the Outfield (1994)
1h 42m Comedy Drama Family Fantasy
Roger is a foster child whose irresponsible father promises to get his act together when Roger's favourite baseball team, the California Angels, wins the pennant. The problem is that the Angels are in last place, so Roger prays for help to turn the team around. Sure enough, his prayers are answered in the form of angel Al.
10.
Bad News Bears (2005)
1h 53m Comedy
Morris Buttermaker is a burned-out minor league baseball player who loves to drink and can't keep his hands to himself. His long-suffering lawyer arranges for him to manage a local Little League team, and Buttermaker soon finds himself the head of a rag-tag group of misfit players. Through unconventional team-building exercises and his offbeat coaching style, Buttermaker helps his hapless Bears prepare to meet their rivals, the Yankees.
1h 37m Comedy Family
A decade has passed in the small town where the original Sandlot gang banded together during the summer of '62 to play baseball and battle the Beast. Now comes the sequel, a campy romp back to the dugout where nine new kids descend on the diamond only to discover that a descendant of the Beast lives in Mr. Mertle's backyard--a monster of mythical proportions known as "The Great Fear."
1h 25m Drama Comedy Romance
Story revolves around a young boxer, Izzy Daniels, who trains to follow in his father's footsteps by winning the Golden Glove. When his friend, Mary, however, asks him to substitute for a team member in a Double Dutch tournament, the young man discovers a hidden passion for jump roping
2h 7m Drama Family
Jim Morris never made it out of the minor leagues before a shoulder injury ended his pitching career twelve years ago. Now a married-with-children high-school chemistry teacher and baseball coach in Texas, Jim's team makes a deal with him: if they win the district championship, Jim will try out with a major-league organization. The bet proves incentive enough for the team, and they go from worst to first, making it to state for the first time in the history of the school. Jim, forced to live up to his end of the deal, is nearly laughed off the try-out field--until he gets onto the mound, where he confounds the scouts (and himself) by clocking successive 98 mph fastballs, good enough for a minor-league contract with the Tampa Bay Devil Rays. Jim's still got a lot of pitches to throw before he makes it to The Show, but with his big-league dreams revived, there's no telling where he could go.
14.
The Sandlot: Heading Home (2007)
1h 36m Family
A successful professional baseball player gets his ego in check via an unreality check when he travels back in time to his boyhood sandlot ball-playing days.
explore
Check out more list from our community