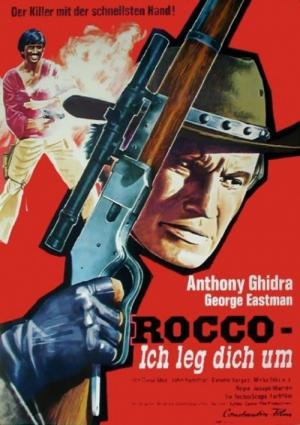 13 Best The Mustachioed Bandit Meets His End ...
If you liked this one , you will probably love these too! In this selection we highlight some of the best films that share a very similar mood to 'Django, The Last Killer', and are worth checking out.
1.
May God Forgive You... But I Won't (1968)
1h 28m Western
While Cjamango is away from his ranch, bandits attack and kill his family. Disrupted by this tragedy, he sets out to take his revenge, helped by a Mexican who has seen the bandits.
1h 20m Western
A young Mormon couple is attacked by a bunch of outlaws. They kill the man and the woman is raped several times and left for dead in the desert. With the last ounce of her strength she gets to the hut of an old hermit who nurses her back to health and teaches her how to shoot. The woman then frees three female criminals and seeks vengeance on the outlaws.
1h 28m Western
Legendary Lawman and Gunslinger Wild Bill Hickok, is tasked with taming the wildest cow-town in the West, while delivering his own brand of frontier Justice and infamous gunfighter's reputation as the fastest draw in the West is put to the test
2h 8m Action Western
Nevada Smith is the young son of an Indian mother and white father. When his father is killed by three men over gold, Nevada sets out to find them and kill them. The boy is taken in by a gun merchant. The gun merchant shows him how to shoot and to shoot on time and correct.
5.
A Man, a Horse, a Gun (1967)
1h 35m Western
The Stranger happens across a murdered postal inspector and a gang of bandits set on a prize of stolen gold which should be transported in a stagecoach. The Stranger, a sharpshooter named En plein and a treacherous postal agent try to get their hands on the gold. Source: SWDB www.spaghetti-western.net
6.
The Last Challenge (1967)
1h 45m Western
An upstart outlaw baits a legendary gunslinger, now a marshal in love with a saloon keeper.
7.
The Outlaw Josey Wales (1976)
2h 15m Western
After avenging his family's brutal murder, Wales is pursued by a pack of soldiers. He prefers to travel alone, but ragtag outcasts are drawn to him - and Wales can't bring himself to leave them unprotected.
8.
Seven Dollars on the Red (1966)
1h 25m Western
A little boy is abducted by ruthless bandit gang leader El Cachal after Cachal and his men butcher the boy's family with the exception of his father. Johnny Ashley, the gunslinger father of the boy, goes searching for his son. Alas, the boy has grown up to be a mean and vicious criminal. Written by Woodyanders
9.
Gang of Roses 2: Next Generation (2012)
1h 24m Action Western
Cassie, the last remaining member of the original Gang of Roses, is sitting in a small Mexican jail holding the written code to a US military safe. It s here that she meets Collette (Eurika Pratts), a young gambler looking for her next con. Kate (Rocsi Diaz) attempts to break her out, and Cassie is killed. Upon their return, Kate and Collette meet up with outlaws Candi (Teyana Taylor) and Mimi (Claudia Jordan). After some lengthy planning, the four women head to the Mexican town of San Juevo and prepare for the robbery, which will take place in the town church. But unbeknownst to them, they are being followed by Lee (Gabriel Casseus) and his posse of bandits, looking to ambush the women before they can make their big score.
10.
Days of Violence (1967)
1h 43m Western
During the last months of the Civil War, Joe's brother is killed unjustly by Clifford, a captain in the Northen army. Joe decides to join a group of Southerners determined to resist till the end. Joe is considered an outlaw and a reward is posted for his capture. When the war ends, Joe returns to the farm where he used to work only to find Christine, the owner's daughter and his sweetheart, engaged to the hated Captain Clifford.
11.
Hour of the Gun (1967)
1h 40m Western
Marshal Wyatt Earp kills a couple of men of the Clanton-gang in a fight. In revenge Clanton's thugs kill the marshal's brother. Thus, Wyatt Earp starts to chase the killers together with his friend Doc Holliday.
12.
Django, a Bullet for You (1966)
1h 27m
Sam Foster, a bounty hunter, is wounded during a shootout and took refuge at the home of Jimmy and Mary, two brothers who live in a small farm. She cared for and healed him, explaining the concern he feels for his brother to the company he keeps. Sam discovers that Jimmy is one of the outlaws pursued and, despite their friendship, goes on his quest to catch a bandit.
1h 30m Action Comedy Western
Karl Westover, an inexperienced farm boy, runs away after unintentionally killing a neighbor, whose family pursues him for vengeance. He meets Barbarosa, a gunman of near-mythical proportions, who is himself in danger from his father-in-law Don Braulio, a wealthy Mexican rancher. Don Braulio wants Barbarosa dead for marrying his daughter against the father's will. Barbarosa reluctantly takes the clumsy Karl on as a partner, as both of them look to survive the forces lining up against them.
explore
Check out more list from our community