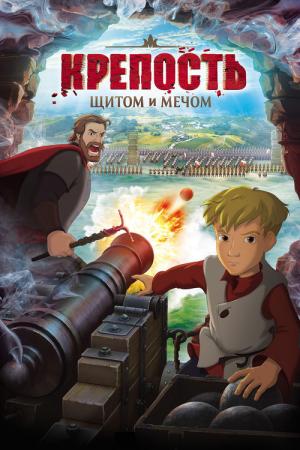 25 Best The Fortress ...
If you liked this movie , you will probably love these too! In this list we highlight some of the best films that share a very similar premise to '', and are worth checking out.
1.
Ilya and the Robber (2007)
2.
Three Heroes and the Princess of Egypt (2017)
3.
Ivan Tsarevich & the Grey Wolf (2011)
4.
The Three Heroes: The Heiress to the Throne (2018)
The Prince of Kiev decided to appoint an heir to the throne, only bad luck - who could it be? A relative, friend of the family or maybe an overseas princess? Without thinking twice, the Prince-Father chooses almost a princess, and most importantly a relative - his niece Zabava. Today, she and her husband, Elisha (do you remember the faithful student of Dobryni Nikitich?), Receive her education in faraway Constantinople, where the treacherous Vasileus rules. In order to return the heiress to her native lands, three heroes are sent in a hurry, and, of course, the main court horse, Julius.
5.
Three Heroes and the Shamakhan Queen (2010)
1h 13m Animation Family Comedy Adventure
A bogatyr is an epic warrior from ancient Kievan Rus. Most are directed in the traditional bylinas, traditional Russian epic poems, as being endowed with enormous strength and cunning, although often not completely immune to human weaknesses. Here, our three heroes gather together once more to rescue the ruler of the land from the attempts of an evil foreign queen. She plans to make him fall in love with her so her youth and beauty can be renewed, but in exchange will destroy his kingdom.
6.
First Squad: The Moment of Truth (2009)
7.
The Barkers: Mind the Cats! (2020)
1h 15m Animation
A new animation film about a cheerful dog family with five kids who go on vacation in a country house. Lovely Little Kid is eager to play with his elder brothers and sisters but they all seem busy with their own hobbies. Kid finds new friends, the Cats. But what if the Cats are not as friendly as they look?
8.
Monkey King: Hero Is Back (2015)
11.
The Dragon Spell (2016)
12.
The Snow Queen (2012)
1h 16m Animation Fantasy Family
The ice-cold Snow Queen wishes to turn the world into a frozen landscape, with no light, no joy, no happiness, and no free will. A young man, Kai, is rumored to be the son of a man who is the queen's only remaining threat. He is abducted and held captive in the queen's palace, and it's up to his sister, Gerda, to rescue him. Gerda journeys across an icy land, facing difficult obstacles and meeting wonderful new friends that help her in her quest to set Kai free, defeat the Snow Queen, and save the world from eternal frost.
13.
Justice League: Throne of Atlantis (2015)
14.
The Angry Birds Movie (2016)
1h 37m Animation Adventure Comedy
An island populated entirely by happy, flightless birds or almost entirely. In this paradise, Red, a bird with a temper problem, speedy Chuck, and the volatile Bomb have always been outsiders. But when the island is visited by mysterious green piggies, it's up to these unlikely outcasts to figure out what the pigs are up to.
15.
Hercules and Xena - The Animated Movie: The Battle for Mount Olympus (1998)
1h 20m Fantasy Adventure Animation
Mighty Zeus brings Hercules' mother, Alcmene, to Mount Olympus, and Hercules, believing she has been kidnapped, leads a rescue mission to save her. Zeus' jealous wife, Hera, decides that it should now be her time to rule the universe. Hera steals the Chronos Stone, source of the God's power, and unleashes the four Titans from their eons of imprisonment. With these angry behemoths on the loose, only the combined forces of Hercules and Xena, together with their trusty sidekicks Iolaus and Gabrielle, can save Mount Olympus.
16.
Digimon: The Movie (2000)
1h 22m Fantasy Animation Science Fiction Family
The first story focused on Tai and Kari Kamiya four years before their adventure in the Digital World. It shows their first encounter with Digimon and what happened to them (as well as the other children). Tai and Kari wake one morning to find a Digi-Egg that came out of their computer the night before and the egg soon hatches, revealing a Botamon. The Digimon then evolves into Koromon and then Agumon (not the same one that became friends with Tai in the series, and yet, somehow, both Koromon and Kari remember each other), who then goes out and unintentionally destroys a good part of the neighborhood with Kari riding on his back. A second Digi-Egg appears in the sky to reveal an evil digimon, Parrotmon. Agumon then Digivolves to Greymon but isn't strong enough to beat Parrotmon and is knocked out. Tai grabs Kari's whistle and wakes up Greymon, who defeats Parrotmon and disappears with him.
17.
The Lego Ninjago Movie (2017)
18.
Pokemon: Power of One (1999)
1h 24m Adventure Fantasy Animation Science Fiction Family
Satoshi must put his skill to the test when he attempts to save the world from destruction. The Greedy Pokemon collector Gelardan throws the universe into chaos after disrupting the balance of nature by capturing one of the Pokemon birds that rule the elements of fire, lightning and ice. Will Satoshi have what it takes to save the world?
19.
Iron Man & Hulk: Heroes United (2013)
2h 10m Action Adventure Science Fiction
When Tony Stark's world is torn apart by a formidable terrorist called the Mandarin, he starts an odyssey of rebuilding and retribution.
20.
Kubo and the Two Strings (2016)
1h 42m Animation Adventure Family
Kubo mesmerizes the people in his village with his magical gift for spinning wild tales with origami. When he accidentally summons an evil spirit seeking vengeance, Kubo is forced to go on a quest to solve the mystery of his fallen samurai father and his mystical weaponry, as well as discover his own magical powers.
21.
Pok?mon the Movie: Volcanion and the Mechanical Marvel (2016)
12 year-­old Adama lives in a remote village in West Africa, sheltered by the Cliffs. Out, beyond, lies "the land of breaths", the kingdom of wicked spirits hungry for war. When Samba, his elder brother, suddenly vanishes from the village, Adama decides to set off in search of him. Accompanied first by Abdou, a tragically lucid griot, then by Maximin, a street urchin who is his own negative twin, he crosses a Europe in the grip of war. We're in 1914. Borne by the energy of desperation and the poetry of childhood, Adama travels to the hell of the frontline in order to free his brother. Ultimately, Adama's love for his brother will open an unexpected way to his initiatory journey.
The nice town of Kellyville is too small to accomodate the world's worst scoundrels, Albert and Egon, who decides to go out in the world.
24.
Legend of Kung Fu Rabbit (2011)
explore
Check out more list from our community