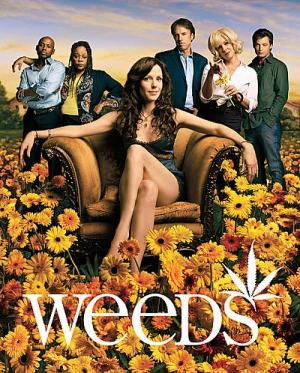 19 Best Shows Like Weeds ...
If you liked this one , you will for sure love these too! In this collection we highlight some of the best films that share a very similar mood to '', and are worth checking out.
57m Drama Comedy
Chicagoan Frank Gallagher is the proud single dad of six smart, industrious, independent kids, who without him would be... perhaps better off. When Frank's not at the bar spending what little money they have, he's passed out on the floor. But the kids have found ways to grow up in spite of him. They may not be like any family you know, but they make no apologies for being exactly who they are.
45m Drama
When Walter White, a New Mexico chemistry teacher, is diagnosed with Stage III cancer and given a prognosis of only two years left to live. He becomes filled with a sense of fearlessness and an unrelenting desire to secure his family's financial future at any cost as he enters the dangerous world of drugs and crime.
42m Crime Drama
Los Angeles. 1983. A storm is coming and it's name is crack. Set against the infancy of the crack cocaine epidemic and its ultimate radical impact on the culture as we know it, the story follows numerous characters on a violent collision course.
4.
Californication (2007)
28m Comedy Drama
A self-loathing, alcoholic writer attempts to repair his damaged relationships with his daughter and her mother while combating sex addiction, a budding drug problem, and the seeming inability to avoid making bad decisions.
28m Comedy
Desperate times call for desperate measures and Ray Drecker's situation couldn't be much tougher. The former high school sports legend turned middle-aged high school basketball coach is divorced and struggling to provide for his kids when his already run-down house catches fire. Looking to take on a second job, Ray decides to exploit his best asset in a last-ditch attempt to change his fortunes.
30m Comedy Drama
Charming, fast talking Marty Kaan and his crack team of management consultants know how to play the corporate game better than anyone, by using every dirty trick in the book to woo powerful CEOs and close huge deals. In the board rooms, barrooms, and bedrooms of the power elite, corruption is business as usual and everyone's out for themselves first. Nothing is sacred in this scathing, irreverent satire of corporate America today.
7.
Better Call Saul (2015)
45m Comedy Crime Drama
Six years before Saul Goodman meets Walter White. We meet him when the man who will become Saul Goodman is known as Jimmy McGill, a small-time lawyer searching for his destiny, and, more immediately, hustling to make ends meet. Working alongside, and, often, against Jimmy, is "fixer" Mike Ehrmantraut. The series tracks Jimmy's transformation into Saul Goodman, the man who puts "criminal" in "criminal lawyer".
8.
Leaves of Grass (2009)
1h 44m Comedy Crime Thriller
An Ivy League professor returns home, where his pot-growing twin brother has concocted a plan to take down a local drug lord.
9.
Desperate Housewives (2004)
1h Mystery Drama Comedy
Looking down on her friends and family isn't a way of life for Mary Alice Young... it's a way of death. One day, in her perfect house, in the loveliest of suburbs, Mary Alice ended it all. Now she's taking us into the lives of her family, friends and neighbors, commenting from her elevated P.O.V.
1h Drama
The story of New Jersey-based Italian-American mobster Tony Soprano and the difficulties he faces as he tries to balance the conflicting requirements of his home life and the criminal organization he heads. Those difficulties are often highlighted through his ongoing professional relationship with psychiatrist Jennifer Melfi. The show features Tony's family members and Mafia associates in prominent roles and story arcs, most notably his wife Carmela and his cousin and protégé Christopher Moltisanti.
50m Drama
Set in the sprawling mecca of the rich and famous, Ray Donovan does the dirty work for LA's top power players, and makes their problems disappear. His father's unexpected release from prison sets off a chain of events that shakes the Donovan family to its core.
1h 27m Crime Comedy
Paulette lives alone in a housing project in the Paris suburbs. With her meager pension, she can no longer make ends meet.
30m Comedy Drama
An LA family with serious boundary issues have their past and future unravel when a dramatic admission causes everyone's secrets to spill out.
43m Drama
The trials and tribulations of the very large, colorful and imperfect Braverman family.
15.
Arrested Development (2003)
22m Comedy
The story of a wealthy family that lost everything, and the one son who had no choice but to keep them all together.
16.
The Chumscrubber (2005)
1h 48m Comedy Drama
The Chumscrubber is a dark comedy about the lives of people who live in upper-class suburbia. It all begins when Dean Stiffle finds the body of his friend, Troy. He doesn't bother telling any of the adults because he knows they won't care. Everyone in town is too self consumed to worry about anything else than themselves. And everybody is on some form of drug just to get through their days.
17.
Stuart Saves His Family (1995)
1h 35m Comedy Drama
Stuart Smalley, the Saturday Night Live character, comes to the big screen. Stuart, the disciple of the 12 step program, is challenged by lifes injustices.
18.
We're the Millers (2013)
1h 45m Drama Horror Thriller
The Parkers, reclusive people who cling to ancient customs, find their secret lives threatened when a torrential downpour and the death of the family matriarch forces daughters Iris and Rose to assume special responsibilities.
explore
Check out more list from our community