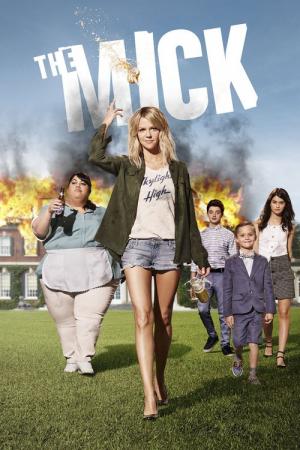 16 Best Shows Like The Mick ...
If you liked this movie , you will for sure love these too! In this list we highlight some of the best films that share a very similar premise to '', and are worth checking out.
1.
American Housewife (2016)
21m Comedy
A family comedy narrated by Katie, a strong-willed mother, raising her flawed family in a wealthy town filled with perfect wives and their perfect offspring.
23m Comedy
A family man struggles to gain a sense of cultural identity while raising his kids in a predominantly white, upper-middle-class neighborhood.
23m Comedy
Comedy about one big happy family and their sometimes awkward, often hilarious and ultimately beautiful milestone moments as told by its various members. Of the three siblings, middle child Matt may have just found his true love, his co-worker, Colleen; his coddled youngest brother, Greg, and his wife, Jen, are overwhelmed by the birth of their first child; and the eldest, Heather, and her husband, Tim, are dreading their impending empty nest so much, they're considering having another baby. Their parents are Joan the family's adoring matriarch who would do anything for her kids - as long as she agrees with it - and John, the gregarious patriarch who's searching for ways to soften the blow of turning 70. As the family's lives unfold in four short stories each week, they try to savor these little pieces of time that flash by but stay with you forever, because these moments add up to what life's all about.
4.
Grace and Frankie (2015)
32m Comedy Drama
Elegant, proper Grace and freewheeling, eccentric Frankie are a pair of frenemies whose lives are turned upside down - and permanently intertwined - when their husbands leave them for each other. Together, they must face starting over in their 70s in a 21st century world.
22m Comedy
The early life of child genius Sheldon Cooper, later seen in The Big Bang Theory.
30m Comedy Drama
Three Latinx cousins navigate their differences as they work to keep their grandfather's taco shop afloat in their rapidly gentrifying L.A. neighborhood.
30m Comedy
Middle school as it really happened. Maya Erskine and Anna Konkle star in this adult comedy, playing versions of themselves as thirteen-year-old outcasts in the year 2000, surrounded by actual thirteen-year-olds, where the best day of your life can turn into your worst with the stroke of a gel pen.
8.
The Jim Gaffigan Show (2015)
23m Comedy
Comedy about a husband and wife trying to raise their five kids in a New York two-bedroom apartment.
21m Comedy
Television lawyer Dean Sanderson moves back to his small home town after his hit series, "The Grinder," is canceled thinking his time on TV qualifies him to run his family's law firm.
10.
Man with a Plan (2016)
22m Comedy
A dad finds out that parenting is harder than he thought after his wife goes back to work and he's left at home to take care of the kids.
11.
Your Family or Mine (2015)
30m Comedy
Oliver and Kelli are living proof of the old saying, "When you marry someone, you don't just marry them, you marry their whole family."
12.
Me, Myself & I (2017)
22m Comedy
A comedy examines one man's life over a 50-year span. It explores three distinct periods in his life - as a 14-year-old in 1991, a 40-year-old in present day and a 65-year-old in 2042.
13.
Better With You (2010)
22m Comedy
Maddie and Ben have been dating for nine years and they know each other inside and out. Maddie's younger sister, Mia, has been dating Casey for seven weeks. With a shared c'est la vie attitude, Mia and Casey announce they're getting married and having a baby. It's news that throws Maddie for a loop. Surprisingly, the girls' parents, who have recently adopted a carpe diem sort of philosophy, couldn't be more pleased.
14.
The Odd Couple (2015)
22m Comedy
Oscar's life seems almost perfect...sure he's divorced and his apartment is a mess, but he's the host of a well-known sports show, and is enjoying his bachelor lifestyle in New York City. That is until his college friend, Felix, shows up at Oscar's apartment having just been dumped by his wife. Oscar does his best to console his old buddy and get him back on the dating horse, but his attempts uncover just how unresolved his own feelings are about his ex.
22m Comedy
Rob is an American comedy television series that premiered on CBS on January 12, 2012, at 8:30 pm as a midseason replacement for Rules of Engagement, and ended on March 1, 2012. The series stars Rob Schneider alongside Cheech Marin, Claudia Bassols, Diana Maria Riva, Eugenio Derbez, Ricky Rico, and Lupe Ontiveros. The show was produced by Two and a Half Men's The Tannenbaum Company and CBS Television Studios. On May 13, 2012, CBS canceled the series.
explore
Check out more list from our community