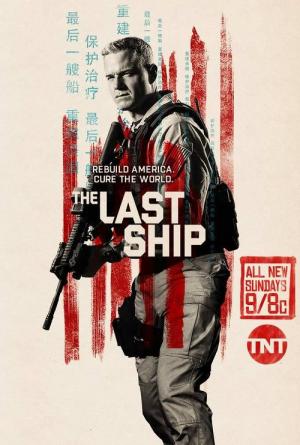 27 Best Shows Like The Last Ship ...
If you liked this movie , you will definitely love these too! In this list we highlight some of the best films that share a very similar mood to '', and are worth checking out.
43m Sci-Fi & Fantasy Drama Action & Adventure
100 years in the future, when the Earth has been abandoned due to radioactivity, the last surviving humans live on an ark orbiting the planet — but the ark won't last forever. So the repressive regime picks 100 expendable juvenile delinquents to send down to Earth to see if the planet is still habitable.
1h Action & Adventure Drama Mystery
Jericho is an American action/drama series that centers on the residents of the fictional town of Jericho, Kansas, in the aftermath of nuclear attacks on 23 major cities in the contiguous United States.
1h Action & Adventure Sci-Fi & Fantasy
Falling Skies opens in the chaotic aftermath of an alien attack that has left most of the world completely incapacitated. In the six months since the initial invasion, the few survivors have banded together outside major cities to begin the difficult task of fighting back. Each day is a test of survival as citizen soldiers work to protect the people in their care while also engaging in an insurgency campaign against the occupying alien force.
44m Science Fiction Drama Mystery
A high concept thriller that tells the story of Dr. Ephraim Goodweather, the head of the Center for Disease Control Canary Team in New York City. He and his team are called upon to investigate a mysterious viral outbreak with hallmarks of an ancient and evil strain of vampirism. As the strain spreads, Eph, his team, and an assembly of everyday New Yorkers, wage war for the fate of humanity itself.
1h Sci-Fi & Fantasy Drama
Survivors was a British science fiction television series produced by the BBC. It depicts the lives of a group of people who survived a virulent unknown strain of influenza which has wiped out most of the human species. According to the producers, the series is not a remake of the 1970s BBC television series Survivors, created by Terry Nation, but is loosely based on the novel of the same name that Nation wrote following the first series of the 1970s series. Two series were produced of the new series. Series 1 ran on BBC One and BBC HD in November–December 2008, and series 2 ran in January–February 2010, ending with a cliffhanger. The BBC announced on 13 April 2010 that, due to poor viewing figures and other considerations, Survivors had been cancelled.The series had its premiere in South Africa on BBC Entertainment in September 2009, in France on DTTV channel NRJ 12 on 12 January 2010, and on BBC America in the United States on 13 February 2010. The series' Australian premiere was on Channel Nine, on 21 March 2010.
45m Drama Sci-Fi & Fantasy
Helix is an intense thriller about a team of scientists from the Centers for Disease Control who travel to a high-tech research facility in the Arctic to investigate a possible disease outbreak, only to find themselves pulled into a terrifying life-and-death struggle that holds the key to mankind's salvation...or total annihilation.
1h 56m Action Drama Horror Science Fiction Thriller
Life for former United Nations investigator Gerry Lane and his family seems content. Suddenly, the world is plagued by a mysterious infection turning whole human populations into rampaging mindless zombies. After barely escaping the chaos, Lane is persuaded to go on a mission to investigate this disease. What follows is a perilous trek around the world where Lane must brave horrific dangers and long odds to find answers before human civilization falls.
2h 11m Thriller Action Adventure Science Fiction
When mankind beams a radio signal into space, a reply comes from 'Planet G', in the form of several alien crafts that splash down in the waters off Hawaii. Lieutenant Alex Hopper is a weapons officer assigned to the USS John Paul Jones, part of an international naval coalition which becomes the world's last hope for survival as they engage the hostile alien force of unimaginable strength. While taking on the invaders, Hopper must also try to live up to the potential that his brother, and his fiancée's father—an Admiral—expect of him.
1h 41m Drama Science Fiction Thriller
Robert Neville is a scientist who was unable to stop the spread of the terrible virus that was incurable and man-made. Immune, Neville is now the last human survivor in what is left of New York City and perhaps the world. For three years, Neville has faithfully sent out daily radio messages, desperate to find any other survivors who might be out there. But he is not alone.
10.
Under the Dome (2013)
42m Drama Mystery Sci-Fi & Fantasy
A small town is suddenly and inexplicably sealed off from the rest of the world by an enormous transparent dome. While military forces, the government and the media positioned outside of this surrounding barrier attempt to break it down, a small group of people inside attempt to figure out what the dome is, where it came from, and when (and if) it will go away.
42m Sci-Fi & Fantasy Drama
One day, electricity just stopped working and the world was suddenly thrust back into the dark ages. Now, 15 years later, a young woman's life is dramatically changed when a local militia arrives and kills her father, who mysteriously—and unbeknownst to her—had something to do with the blackout. An unlikely group sets out off on a daring journey to find answers about the past in the hopes of reclaiming the future.
43m Action & Adventure Drama War & Politics
The lives of the elite Navy Seals as they train, plan and execute the most dangerous, high-stakes missions our country can ask.
43m War & Politics Drama Crime Action & Adventure
Action drama series inspired by the real missions of Navy SEAL Team Six.
41m Sci-Fi & Fantasy Drama Action & Adventure
Threshold was a science fiction drama television series that first aired on CBS in September 2005. Produced by Brannon Braga, David S. Goyer and David Heyman, the series focuses on a secret government project investigating the first contact with an extraterrestrial species.
15.
The Walking Dead (2010)
42m Action & Adventure Drama Sci-Fi & Fantasy
Sheriff's deputy Rick Grimes awakens from a coma to find a post-apocalyptic world dominated by flesh-eating zombies. He sets out to find his family and encounters many other survivors along the way.
45m Sci-Fi & Fantasy Drama
After a brutal virus wipes out most of the population, two young siblings embark on a perilous search for safety. A Scandinavian thriller series.
45m Action & Adventure Drama Crime
Based on a true story, Scorpion is a high-octane drama about eccentric genius Walter O'Brien and his team of brilliant misfits who comprise the last line of defense against complex, high-tech threats of the modern age. As Homeland Security's new think tank, O'Brien's "Scorpion" team includes Toby Curtis, an expert behaviorist who can read anyone; Happy Quinn, a mechanical prodigy; and Sylvester Dodd, a statistics guru.
44m Sci-Fi & Fantasy Drama
Between is the story of a town under siege from a mysterious disease that has wiped out everybody except those 21 years old and under. The series explores the power vacuum that results when a government has quarantined a 10-mile diameter area and left the inhabitants to fend for themselves.
43m Drama Science Fiction
The provocative story of Cole, a time traveler from a decimated future in a high-stakes race against the clock. Utilizing a dangerous and untested method of time travel, he journeys from 2043 to the present day on a mission to locate and eradicate the source of a deadly plague that will all but annihilate the human race.
48m Sci-Fi & Fantasy Drama
Facing the end of civilization when a terrifying plague strikes, a group risks their lives, loves — and humanity — in a brutal struggle to survive.
1h 46m Drama Thriller Science Fiction
As an epidemic of a lethal airborne virus - that kills within days - rapidly grows, the worldwide medical community races to find a cure and control the panic that spreads faster than the virus itself.
42m Sci-Fi & Fantasy Drama
An astronaut returns home from a year long solo mission in space. She tries to reconnect with her husband and son in their everyday life. Her experiences in space and home lead to events that ultimately will change the course of human history.
23.
The Andromeda Strain (2008)
2h Sci-Fi & Fantasy Drama Action & Adventure
A U.S. satellite crash-lands near a small town in Utah, unleashing a deadly plague that kills virtually everyone except two survivors, who may provide clues to immunizing the population. As the military attempts to quarantine the area, a team of highly specialized scientists is assembled to find a cure and stop the spread of the alien pathogen, code-named Andromeda.
1h 8m Drama
The bird flu virus spreads through Los Angeles as a doctor from the CDC races to find a vaccine.
25.
10.5: Apocalypse (2006)
explore
Check out more list from our community