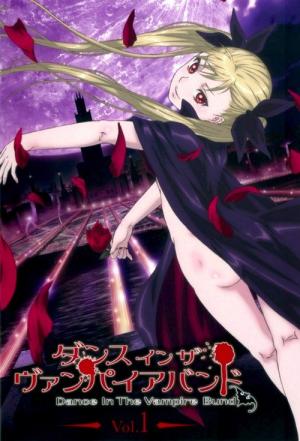 15 Best Anime Like Dance In The Vampire Bund ...
If you liked this movie , you will probably love these too! In this selection we highlight some of the best films that share a very similar mood to '', and are worth checking out.
1.
Beyond the Boundary (2013)
24m Action & Adventure Animation Comedy Sci-Fi & Fantasy
The dark fantasy follows a high school sophomore named Akihito Kanbara. Although the boy appears human, he is half Youmu and invulnerable to wounds because he can heal quickly. One day, Akihito meets freshman Mirai Kuriyama when it seems she is about to jump from the school rooftop. Mirai is isolated because of her ability to manipulate blood, which is considered heresy among members of the spirit world. Disturbing events begin to unfold after Akihito saves Mirai.
Genji Monogatari Sennenki: Genji is a Japanese anime adaptation of The Tale of Genji. Originally, it was meant to be an anime adaptation of Waki Yamato's The Tale of Genji manga, but the director decided to make it a direct adaptation of the original tale. The anime is directed by Osamu Dezaki. The series premiered on Fuji TV on January 15, 2009.
3.
Blood: The Last Vampire (2000)
48m Fantasy Animation Horror Comedy Thriller Science Fiction
In Japan, the vampire-hunter Saya, who is a powerful original, is sent by her liaison with the government, David, posed as a teenage student to the Yokota High School on the eve of Halloween to hunt down vampires. Saya asks David to give a new katana to her. Soon she saves the school nurse Makiho Amano from two vampires disguised of classmates and Makiho witnesses her fight against the powerful demon.
4.
High School DxD (2012)
24m Animation Action & Adventure Comedy Sci-Fi & Fantasy
The story follows Issei Hyōdō, a dim-witted, lecherous second-year high school student who is killed by a girl on his first date ever. Issei is reincarnated as a devil, and from that day forward, he serves as an underling of Riasu, a high-level devil who is also the prettiest girl on Issei's campus.
1h 31m Romance Animation Fantasy
A long time ago, a winged maiden was held prisoner in a castle - cursed never to experience love, lest she die. Centuries later, in a sleepy coastal town, a young girl relives this agony.
23m Action & Adventure Animation Mystery
Vampires exist. It is the duty of Hellsing, an organization sponsored by the British government, to hide that frightening fact and protect the blissfully unaware populace. Along with its own personal army, Hellsing also has a few secret weapons. Alucard, an incredibly powerful vampire, has been controlled by Hellsing for years. Although he dislikes being a servant to the Hellsing family, he certainly enjoys his job as Hellsing's vampire exterminator. Seras is a fledgling vampire and a former police woman. Although reluctant to embrace her new self, she is still a valuable member of the organization. Integra Hellsing, the current leader, is usually fully capable of fulfilling her duty, but lately, vampire activity has been on the rise. Unfortunately, the cause is more alarming than anything she could have imagined...
25m Action & Adventure Animation Sci-Fi & Fantasy
Satsuki Kakeru lost his sister by suicide and has been living a dull life ever since then. One day, he is transported into a bizarre world "Red Night" along with his friend Minase Yuka. In order to survive and escape from Red Night, he fights against Dark Spirits (Ralva) and Black Nights.
24m Action & Adventure Animation Drama Mystery
Ken Kaneki is a bookworm college student who meets a girl names Rize at a cafe he frequents. They're the same age and have the same interests, so they quickly become close. Little does Kaneki know that Rize is a ghoul - a kind of monster that lives by hunting and devouring human flesh. When part of her special organ - "the red child" - is transplanted into Kaneki, he becomes a ghoul himself, trapped in a warped world where humans are not the top of the food chain.
24m Animation Comedy Sci-Fi & Fantasy Mystery
Humans live in the world of Assiah, demons in Gehenna. The two dimensions are not meant to interfere with each other, but demons still possess creatures in Assiah in spite of this. The humans who can fight these demons are known as exorcists. Rin Okumura is a boy who bears the curse of being Satan's illegitimate son. His foster father sacrificed himself to save him from demons. To avenge his foster father's death as well as to prove himself, Rin decides to follow the path of an exorcist and defeat his own father, Satan. To hone his raw skills, Rin enters True Cross Academy to train with other exorcist candidates.
24m Animation Sci-Fi & Fantasy Action & Adventure
The story revolves around Shu Ouma, a high school boy who inadvertently obtains an ability called "The Power of the Kings" that enables him to draw out items called "Voids" from other people. He is then thrown into the conflict between a resistance group called Funeral Parlor which aims to restore Japan's independence from a quasi-governmental organization known as the GHQ. In the process, Shu has to deal with the burden his ability puts on his shoulders and the horrific mystery of his past.
11.
Diabolik Lovers (2013)
Based on a visual novel of the same name by Rejet and Otomate, for the female market.Komori Yui is a positive-thinking girl who nevertheless is troubled by seeing spirits and experiencing poltergeist phenomena. In her second year in high school, she transfers to a new school — a night school for entertainers and celebrities — due to her father's work. There are rumours that vampires exist among the student body, and Yui ends up living with the six sadistic Sakamaki vampire brothers.
24m Animation Action & Adventure
A samurai lord has bartered away his newborn son's organs to forty-eight demons in exchange for dominance on the battlefield. Yet, the abandoned infant survives thanks to a medicine man who equips him with primitive prosthetics—lethal ones with which the wronged son will use to hunt down the multitude of demons to reclaim his body one piece at a time, before confronting his father. On his journeys the young hero encounters an orphan who claims to be the greatest thief in Japan.
13.
The Book of Bantorra (2009)
24m Animation Sci-Fi & Fantasy Action & Adventure
In a world where dead people turn into books and are stored in the Bantorra Library where anyone who reads a book can learn their past. Bantorra Library is maintained by Armed Librarians who wield psychic powers and their enemy is a religious society known as Sindeki Kyōdan.
24m Action & Adventure Animation Mystery Sci-Fi & Fantasy
A near future, where humans have been defeated by the viral parasites named Gastrea. They have been exiled into a small territory and live in despair, side-by-side in terror.In this world trapped in darkness—Rentaro, a boy living near Tokyo and member of the "Civil Security"—an organization specializing in fighting against the Gastrea—is used to accomplishing dangerous tasks. His partner is Enju, a precocious young girl. They fight thanks to their peculiar powers until one day, when they receive a special assignment from the government. This top secret mission is to prevent the destruction of Tokyo...Set in a near future, this thrilling heroic-action story... starts now!
explore
Check out more list from our community