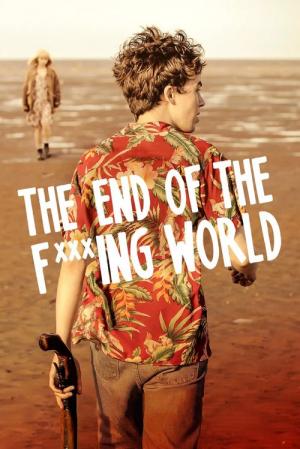 21 Best Shows Like The End Of The F World ...
If you liked this movie , you will probably love these too! In this collection we highlight some of the best films that share a very similar premise to '', and are worth checking out.
45m Comedy Drama
Inexperienced Otis channels his sex therapist mom when he teams up with rebellious Maeve to set up an underground sex therapy clinic at school.
42m Comedy
A pitch-black comedy anthology set in the present day, as our heroine Veronica Sawyer deals with a very different but equally vicious group of Heathers. Based on the 1988 cult classic film.
3.
How to Sell Drugs Online (Fast) (2019)
30m Comedy Crime Drama
How do you win back your girlfriend from the school drug dealer? For Moritz, the answer is clear: sell better drugs. Out of his teenage bedroom, he joins forces with his best friend Lenny to launch what turns into an unexpectedly successful online drug market. Soon, as accidental drug dealers, they're faced with standard drug empire problems: meeting demand, quality control, and, most importantly: not getting caught.
1h 49m Mystery Drama Romance
Quentin Jacobsen has spent a lifetime loving the magnificently adventurous Margo Roth Spiegelman from afar. So when she cracks open a window and climbs back into his life-dressed like a ninja and summoning him for an ingenious campaign of revenge-he follows. After their all-nighter ends and a new day breaks, Q arrives at school to discover that Margo, always an enigma, has now become a mystery. But Q soon learns that there are clues-and they're for him. Urged down a disconnected path, the closer he gets, the less Q sees of the girl he thought he knew.
30m Comedy Drama
Victor is a new student at Creekwood High School on his own journey of self-discovery, facing challenges at home, adjusting to a new city, and struggling with his sexual orientation. When it all seems too much, he reaches out to Simon to help him navigate the ups and downs of high school.
1h 36m Comedy Romance Drama
A couple who have known each other since 8 are destined to be together until death do them apart.
45m Drama Comedy
A bullied teenager turns to beauty pageants as a way to exact her revenge, with the help of a disgraced coach who soon realizes he's in over his head.
9.
Two Weeks to Live (2020)
30m Comedy Action & Adventure Crime
When strange young misfit Kim Noakes was just a little girl, her father died in murky circumstances and her mother Tina whisked her away to a remote rural life of seclusion and bizarre survival techniques. Now all grown up, Kim sets out into the real world for the first time to begin a secret mission of honouring her father's memory.
33m Drama Comedy
Sam, an 18-year-old on the autism spectrum, takes a funny, yet painful, journey of self-discovery for love and independence and upends his family.
11.
Everything Sucks! (2018)
22m Drama Comedy
It's 1996 in a town called Boring, Oregon, where high school misfits in the AV and drama clubs brave the ups and downs of teenage emotions in the VHS era.
30m Drama Crime
On the surface Kitty, Margot, Bree and Olivia appear to have nothing in common - but there's one passion which unites them: to expose injustice. They form their own secret society, DGM - they Don't Get Mad, they Get Even - playing anonymous pranks to expose bullies.
1h 40m Crime Thriller Drama
Two young lovers rob their way across the southland, posting their exploits to social media, and gaining fame and followers as a result.
14.
My Mad Fat Diary (2013)
45m Comedy Drama
Set in 1996 in Lincolnshire, the show tells the tragic and humorous story of a very troubled young girl Rae, who has just left a psychiatric hospital, where she has spent four months after attempting suicide, begins to reconnect with her best friend Chloe and her group, who are unaware of Rae's mental health and body image problems, believing she was in France for the past four months.
15.
Boys Over Flowers (2009)
1h 5m Comedy Drama
A working class girl winds up at an exclusive prep school. Unassuming high school girl Jan Di stands up to -- and eventually falls for -- a spoiled rich kid who belongs to the school's most powerful clique.
16.
Defending Jacob (2020)
45m Drama Mystery Crime
A family's lives are irreparably disrupted when the 14-year-old son is accused of murdering a fellow classmate.
22m Comedy Drama
An irreverent look at the conflict, chaos and humor that defines teenage life through the eyes of 15-year-old Jenna Hamilton whose life begins to change when a simple accident becomes an epic misunderstanding and is blown way out of proportion. Narration in the first-person voice of Jenna's blog posts captures the humor within the struggles and experiences everyone can relate to from their formative years.
1h 28m Adventure Comedy Crime Horror
Chris wants to show girlfriend Tina his world, but events soon conspire against the couple and their dream caravan holiday takes a very wrong turn.
1h 43m Crime Drama Comedy
Malcolm is carefully surviving life in a tough neighborhood in Los Angeles while juggling college applications, academic interviews, and the SAT. A chance invitation to an underground party leads him into an adventure that could allow him to go from being a geek, to being dope, to ultimately being himself.
30m Comedy Crime
A hit man from the Midwest moves to Los Angeles and gets caught up in the city's theatre arts scene.
explore
Check out more list from our community