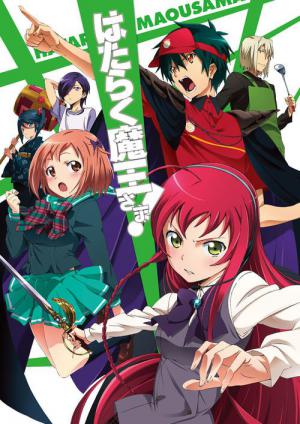 14 Best Shows Like The Devil Is A Part Timer ...
If you liked this one , you will probably love these too! In this collection we highlight some of the best films that share a very similar mood to '', and are worth checking out.
1.
No Game, No Life (2014)
23m Action & Adventure Animation Comedy Sci-Fi & Fantasy
This is a surreal comedy that follows Sora and Shiro, shut-in NEET siblings and the online gamer duo behind the legendary username "Kuuhaku." They view the real world as just another lousy game; however, a strange e-mail challenging them to a chess match changes everything—the brother and sister are plunged into an otherworldly realm where they meet Tet, the God of Games.The mysterious god welcomes the two to Disboard, a world where all forms of conflict are settled through high-stake games. This system works thanks to a fundamental rule wherein each party must wager something they deem to be of equal value to the other party's wager. In this strange land where the very idea of humanity is reduced to child's play, the indifferent genius gamer duo of Sora and Shiro have finally found a real reason to keep playing games: to unite the sixteen races of Disboard, defeat Tet, and become the gods of this new, gaming-is-everything world.
24m Animation Comedy Sci-Fi & Fantasy Mystery
Humans live in the world of Assiah, demons in Gehenna. The two dimensions are not meant to interfere with each other, but demons still possess creatures in Assiah in spite of this. The humans who can fight these demons are known as exorcists. Rin Okumura is a boy who bears the curse of being Satan's illegitimate son. His foster father sacrificed himself to save him from demons. To avenge his foster father's death as well as to prove himself, Rin decides to follow the path of an exorcist and defeat his own father, Satan. To hone his raw skills, Rin enters True Cross Academy to train with other exorcist candidates.
3.
That Time I Got Reincarnated as a Slime (2018)
24m Action & Adventure Animation Sci-Fi & Fantasy Comedy
37-year-old corporate worker Mikami Satoru is stabbed by a random killer, and is reborn to an alternate world. But he turns out to be reborn a slime! Thrown into this new world with the name Rimuru Tempest, he begins his quest to create a world that's welcoming to all races. Broken free from ordinary, stale past life, his fresh adventure in a fantasy world as a slime monster with unique abilities begins.
4.
In Another World With My Smartphone (2017)
24m Action & Adventure Animation Comedy Sci-Fi & Fantasy
Touya Mochizuki was accidentally killed, and as an apology, God allows him to be reborn in a fantasy world and will grant him any one wish he desires. And so, Touya chooses to keep his smartphone in the next world. In his second chance at life, he befriends many important figures and comes across the world's secret. He inherits the legacy of an ancient civilization and travels around nonchalantly while possessing powers that rival this world's kings.
5.
Wise Man's Grandchild (2019)
24m Animation Comedy Action & Adventure Sci-Fi & Fantasy
In the modern world, a lonely man dies and reincarnates in another world. Rescued as a baby from a tragedy by a brilliant sage named Merlin, the baby is raised as "Shin Walford," and undergoes training in both magic and martial arts to kill the monsters that ravage the land. At 15 years old, Shin has become shockingly powerful. But his grandfather Merlin has forgotten to teach him the common sense of this world.As a result, Shin enrolls in the kingdom's Magic Academy to hone his skills and mature among other teenagers. However, living a normal life is impossible, as he is established as a local celebrity almost as soon as he arrives.This story follows Shin Walford's high school life in the capital as he makes new friends, learns about the world, and fights off the various forces of evil surrounding him and his city.
6.
High School DxD (2012)
24m Animation Action & Adventure Comedy Sci-Fi & Fantasy
The story follows Issei Hyōdō, a dim-witted, lecherous second-year high school student who is killed by a girl on his first date ever. Issei is reincarnated as a devil, and from that day forward, he serves as an underling of Riasu, a high-level devil who is also the prettiest girl on Issei's campus.
7.
Stigma of the Wind (2007)
25m Action & Adventure Animation Sci-Fi & Fantasy
Four years ago, Kazuma Kannagi was defeated by his cousin Ayano Kannagi for the right to be the successor of Enraiha, a sword passed down in the Kannagi family. His defeat, along with his lack of talent for En-Jutsu, the fire arts, the Kannagis' specialty, resulted in his banishment from the family. Now, Kazuma returns as Kazuma Yagami, a skilled master of Fū-Jutsu, the wind arts.
24m Animation Action & Adventure Sci-Fi & Fantasy
In another world, ninja are the ultimate power, and in the Village Hidden in the Leaves live the stealthiest ninja in the land. Twelve years earlier, the fearsome Nine-Tailed Fox terrorized the village and claimed many lives before it was subdued and its spirit sealed within the body of a baby boy. That boy, Naruto Uzumaki, has grown up to become a ninja-in-training who's more interested in pranks than in studying ninjutsu.. but Naruto is determined to become the greatest ninja ever!
10.
So, I Can't Play H! (2012)
24m Action & Adventure Animation Comedy
Kaga Ryousuke, a helplessly romantic teenager, was walking in the rain when he sees a beautiful girl with red eyes drenched in the rain. Everyone was avoiding her, but Ryousuke was taught to treasure women so he offered his help by letting her dry off at his home. Ryousuke can't imagine that this mysterious girl would stab him in the chest and leave him to die… Or did she? Who is this pretty girl and what does she want with him?
11.
Karas: The Revelation (2007)
1h 25m Animation Fantasy Action
Karas: The Revelation is about the battle between supernatural forces on the streets of modern-day Japan. The Revelation covers the true identity of newly-minted Karas (spiritual protector of humanity from demonic forces) Otaha, who returns to his hometown to rescue a friend from gangsters. Meanwhile, evil Karas Eko continues his campaign of terror against mankind with the aid of a multi-headed dragon summoned by the powers of rogue demon Nue.
25m Animation Action & Adventure Comedy
Pretty Cure, known in Japan as Futari wa Pretty Cure, is a Japanese magical girl anime series The theme of the series revolves around Yin and Yang, which explains the relationship between Nagisa and Honoka trying to work together as Pretty Cures.
explore
Check out more list from our community