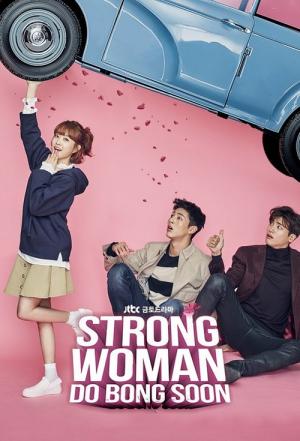 13 Best Shows Like Strong Girl Bong Soon ...
If you liked this film , you will definitely love these too! In this list we highlight some of the best films that share a very similar premise to 'Strong Woman Do Bong Soon', and are worth checking out.
1.
To All the Boys: P.S. I Still Love You (2020)
1h 42m Romance Comedy
Lara Jean and Peter have just taken their romance from pretend to officially real when another recipient of one of her love letters enters the picture.
1h Drama Sci-Fi & Fantasy Comedy
Han Hyo-joo plays a surgeon whose father is a famous comic book creator. One day Dad goes missing and she rushes to his workshop to look for him, and instead finds a strange man bathed in blood. She gets kidnapped by the bloody man, which is where their story begins. The drama takes place in 2016 Seoul, but in different dimensions that exist in parallel with one another. It's described as a suspense romance melodrama about "a man and a woman who are living in the same time, but different worlds."
3.
Romance is a Bonus Book (2019)
1h 5m Comedy Drama
A gifted writer who's the youngest editor-in-chief ever at his publishing company gets enmeshed in the life of a former copywriter desperate for a job.
42m Action & Adventure Crime Drama Sci-Fi & Fantasy
Toby Logan is a highly skilled paramedic with a secret – he can read minds. Toby never really knew his parents and grew up in foster care, this coupled with his secret, which he shares with no one, has made him a bit of a loner. Until now, Toby has kept his ability hidden, exploring its possibilities only with his long time mentor and confidante Dr. Ray Mercer.
5.
Boys Over Flowers (2009)
1h 5m Comedy Drama
A working class girl winds up at an exclusive prep school. Unassuming high school girl Jan Di stands up to -- and eventually falls for -- a spoiled rich kid who belongs to the school's most powerful clique.
6.
A Korean Odyssey (2017)
1h 15m Comedy Mystery
A self-serving mythical creature's bid for invincibility backfires when he finds himself at the mercy of a woman who can see otherworldly beings.
1h Comedy Drama
Kim Young Ho is a personal trainer for Hollywood stars. Even though he comes from a wealthy family background, he suffered a devastating injury during his childhood days. Now, he overcomes his problems with patience and stubbornness. Meanwhile, Kang Joo Eun is 33-years-old lawyer. She has struggled to support her family. Now, she is overweight and challenge her-selves for a diet.
8.
My Girlfriend Is an Alien (2019)
45m Comedy Sci-Fi & Fantasy
The alien girl Chai Xiaoqi tells the story of Fang Xiaoqi, the overbearing president of the alien girl who died from the "Cape Town Planet", who was suffering from the "rainy weather heterosexual amnesia". A high-energy hilarious and romantic cross-star love story. The female host Chai Xiaoqi is not only an alien, but also a true-handed witch. Once she inhales the hormones emitted by the males in the earth, she will fall into the "flowery state" and suffer from various diseases. The fun and ridiculously ridiculous romance will restore the singularity of the girl in the perfection of the girl. In order to survive on the human earth, Chai Xiaoqi will use his various super powers to solve one accident after another, like a roller coaster. The ups and downs will make the audience hooked. The male lord is cold and is an alternative overbearing president. When it rains, he will forget the opposite sex that appears around him. For this reason, he and the female host will launch various "fighting and fighting" laughter dramas. The experience of high sweetness and romance is expected to be Strongly slammed the girl's heart when it was broadcast.
9.
Cinderella and Four Knights (2016)
1h Comedy Drama Family
Eun Ha-Won is a college student. She is a bright girl who wants to be a veterinarian, but at home she is lonely. She is isolated from her family members. Eun Ha-Won lives with father, step-mother and step-sister after her mother died in a car accident. One day, she helps a mysterious old man. The old man suggests to her to live in a mansion and pursue her dream of becoming a veterinarian. Since than, she moves into the mansion and lives with three cousins Kang Ji-Woon, Kang Hyun-Min, Kang Seo-Woo and their bodyguard Lee Yoon-Sung.
10.
Suspicious Partner (2017)
35m Comedy Crime Drama
Noh Ji Wook is a prosecutor in the Central District Prosecutors' Office who ends up switching professions to a private attorney. He harbors a trauma stemming from an event in his childhood involving his parents and his first love. Eun Bong Hee, a Taekwondo athlete in her youth, is a prosecutor trainee who has become a murder suspect. Eun Bong Hee and Noh Ji Wook both find themselves being the focus of a killer.
11.
Because This Is My First Life (2017)
1h Comedy Drama
Nam Se-Hee is a single man in his early 30's. He has chosen to not marry. He owns his home, but he owes a lot on his mortgage. Yoon Ji-Ho is a single woman in her early 30's. She does not own a home and envies those that do. She has given up on dating due to her financial struggles. Yoon Ji-Ho begins to live at Nam Se-Hee's house. They become housemates.
12.
The Bride of the Water God (2017)
1h 5m Drama
Yoon So Ah is a pragmatic neuropsychiatrist who carries a tremendous financial burden to run her own practice. Her family has been tasked with serving Ha Baek, a reincarnated water god, for many generations, and So Ah is forced to do the same. Ha Baek starts to develop feelings for So Ah, but he has competition for her heart from Hoo Ye, the CEO of a resort company, who clashes with So Ah over a piece of land but then falls in love with her. Can a relationship between a mortal female and a god have a future?
13.
The Legend of the Blue Sea (2016)
1h Comedy Drama Sci-Fi & Fantasy
How can a mermaid from the Joseon era survive in modern-day Seoul? Shim Chung is a mermaid who finds herself transplanted to modern times. She is caught by Heo Joon Jae, a charming but cold con artist who is the doppelgänger for Kim Moon, the son of a nobleman from the Joseon Dynasty. But in the present time, Joon Jae works with Jo Nam Doo, a skilled conman who guides Joon Jae to become a genius scammer. But Joon Jae's friend, Cha Shi Ah, who works as a researcher at KAIST, may be Chung's only hope for surviving in her strange new world.
explore
Check out more list from our community