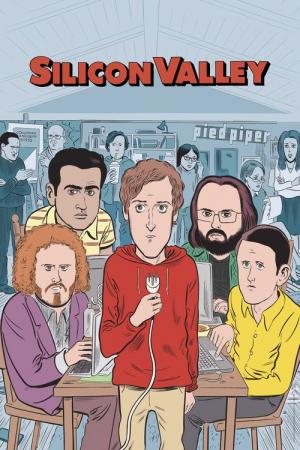 15 Best Shows Like Silicon Valley ...
If you liked this one , you will definitely love these too! In this collection we highlight some of the best films that share a very similar premise to '', and are worth checking out.
1.
Halt and Catch Fire (2014)
44m Drama
Set in the early 1980s, and about a fictional visionary, an engineer and a prodigy whose innovations confronts the corporate behemoths of the time. Their personal and professional partnership will be challenged by greed and ego while charting the changing culture in Texas' Silicon Prairie.
22m Comedy
UK Comedy series about two I.T. nerds and their clueless female manager, who work in the basement of a very successful company. When they are called on for help, they are never treated with any respect at all.
1h 59m Comedy
Two recently laid-off men in their 40s try to make it as interns at a successful Internet company where their managers are in their 20s.
4.
The Big Bang Theory (2007)
22m Comedy
The sitcom is centered on five characters living in Pasadena, California: roommates Leonard Hofstadter and Sheldon Cooper; Penny, a waitress and aspiring actress who lives across the hall; and Leonard and Sheldon's equally geeky and socially awkward friends and co-workers, mechanical engineer Howard Wolowitz and astrophysicist Raj Koothrappali. The geekiness and intellect of the four guys is contrasted for comic effect with Penny's social skills and common sense.
5.
The First $20 Million Is Always the Hardest (2002)
1h 45m Comedy
Andy, a successful marketing guy quits his job, gets a new job at a research facility, makes a powerful enemy who makes him volunteer for a nearly impossible project: The $99 PC. The only available guys at the lab, three sociopaths, together they compile a revolutionary PC for $99, then they become the victims of a venture capitalist and Andy's old foe, can he find a way to overcome the problems?
6.
The Thick of It (2005)
30m Comedy
Set in the corridors of power and spin, the Minister for Social Affairs is continually harassed by Number 10's policy enforcer and dependent on his not-so-reliable team of civil servants.
7.
It's Always Sunny in Philadelphia (2005)
30m Comedy
Set in the corridors of power and spin, the Minister for Social Affairs is continually harassed by Number 10's policy enforcer and dependent on his not-so-reliable team of civil servants.
22m Comedy
Liz Lemon, the head writer for a late-night TV variety show in New York, tries to juggle all the egos around her while chasing her own dream.
Black Books centres around the foul tempered and wildly eccentric bookshop owner Bernard Black. Bernard's devotion to the twin pleasures of drunkenness and wilful antagonism deepens and enriches both his life and that of Manny, his assistant. Bearded, sweet and good, Manny is everything that Bernard isn't and is punished by Bernard relentlessly just for the crime of existing. They depend on each other for meaning as Fran, their oldest friend, depends on them for distraction.Black Books is a haven of books, wine and conversation, the only threat to the group's peace and prosperity is their own limitless stupidity.
25m Comedy
Comedy about the unlikely friendship that develops between two very different young women who meet waitressing at a diner in trendy Williamsburg, Brooklyn, and form a bond over one day owning their own successful cupcake business. Only one thing stands in their way – they're broke.
30m Comedy
Jim Jefferies, an edgy, foul-mouthed stand-up comedian from Australia, in his mid-30s and living in LA, is endeavoring to make his life and career more "legit," only to find it a difficult, uncomfortable uphill struggle every step of the way. Jim is encouraged in his quest by Steve, his neurotic best friend and roommate, a cyber-law library salesman who struggles to stay on his feet in the wake of a divorce, and Steve's brother Billy, who suffers from advanced staged Muscular Dystrophy and is confined to a wheelchair.
1h 37m Comedy
A calamity at Dante and Randall's shops sends them looking for new horizons - but they ultimately settle at Mooby's, a fictional Disney-McDonald's-style fast-food empire.
22m Comedy
Two unrepentant guy's guys who, unable to find work, dress as women to get jobs as pharmaceutical reps. Not only do they pull it off, but they might just learn to be better men in the process.
Film star Vince Chase navigates the vapid terrain of Los Angeles with a close circle of friends and his trusty agent.
explore
Check out more list from our community