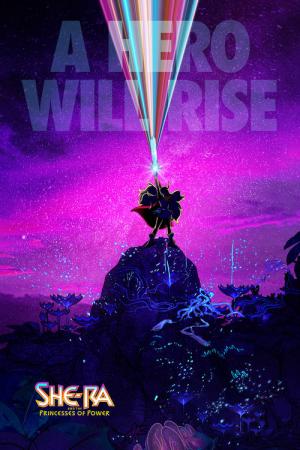 20 Best Shows Like She Ra ...
If you liked this one , you will definitely love these too! In this selection we highlight some of the best films that share a very similar mood to '', and are worth checking out.
1.
The Legend of Korra (2012)
23m Action & Adventure Animation Drama Family Sci-Fi & Fantasy
Avatar Korra, a headstrong, rebellious, feisty young woman who continually challenges and breaks with tradition, is on her quest to become a fully realized Avatar. In this story, the Avatar struggles to find balance within herself.
2.
Star vs. the Forces of Evil (2015)
11m Action & Adventure Animation Comedy Sci-Fi & Fantasy
Intergalactic warrior Star Butterfly arrives on Earth to live with the Diaz family. She continues to battle villains throughout the universe and high school, mainly to protect her extremely powerful wand, an object that still confuses her.
23m Animation Action & Adventure
In a magical universe, witches, warriors begin fighting in the name of good .vs. evil! At a magic school, five teenage girls are selected to defend the universe with their magic.
22m Animation Sci-Fi & Fantasy Comedy Action & Adventure
An animated fantasy-comedy series that follows Luz, a self-assured teenage girl who accidentally stumbles upon a portal to a magical world where she befriends a rebellious witch, Eda, and an adorably tiny warrior, King. Despite not having magical abilities, Luz pursues her dream of becoming a witch by serving as Eda's apprentice at the Owl House and ultimately finds a new family in an unlikely setting.
5.
Voltron: Legendary Defender (2016)
24m Action & Adventure Animation Sci-Fi & Fantasy
Five unlikely teenage heroes and their flying robot lions unite to form the megapowerful Voltron and defend the universe from evil.
30m Animation Sci-Fi & Fantasy Comedy
W.I.T.C.H. is a European animated magical girl television series based on the Italian comic book series of the same name created by Gary Tomlin and Elisabetta Gnone. The series was produced by SIP Animation in association with and participation from Jetix Europe, The Walt Disney Company, France 3 and Super RTL. Like the comic, the show follows five girls: Will, Irma, Taranee, Cornelia and Hay Lin who have magical powers which they use to fulfill their duties as "Guardians of the Veil". The names of these five characters form the titular acronym, despite the characters not actually being witches. The series is set in the fictional city of Heatherfield and various mythical planets, namely Meridian and Zamballa. W.I.T.C.H. premiered on 18 December 2004 on ABC Family and concluded on 23 December 2006.
11m Animation Comedy Sci-Fi & Fantasy
Hook up with Finn and Jake as they travel the Land of Ooo searching for adventure. But remember, adventure isn't always easy. Sometimes you've got to battle fire gnomes that torture old ladies, save a smelly hot dog princess from the Ice King, and thaw out a bunch of frozen businessmen. What the cabbage?!
1h 14m Action Adventure Animation Fantasy Science Fiction
On the mystical island of Themyscira, a proud and fierce warrior race of Amazons have raised a daughter of untold beauty, grace and strength: Princess Diana. When an Army fighter pilot, Steve Trevor, crash-lands on the island, the rebellious and headstrong Diana defies Amazonian law by accompanying Trevor back to civilization.
9.
My Little Pony: Friendship Is Magic (2010)
22m Animation Comedy Sci-Fi & Fantasy Kids
"Get your muzzle out of those books and make some friends!" That's what Princess Celestia tells Twilight Sparkle. She may be the smartest unicorn in Equestria, but Twilight Sparkle gets an "incomplete" in friendship. There's more to life than learning magic, after all -- so she goes to Ponyville on a mission to make friends. There she meets five special ponies who take her on exciting adventures and teach her the most powerful magic of all ... the magic of friendship!
10.
Kipo and the Age of Wonderbeasts (2020)
24m Animation Kids Action & Adventure
A sheltered girl gets a crash course in survival when a mutant attack sends her to the surface, far from the safety of her underground home.
25m Family Animation Action & Adventure Comedy Sci-Fi & Fantasy
After uncovering a mysterious amulet, an average teen assumes an unlikely destiny and sets out to save two worlds.
25m Animation Action & Adventure Comedy
Pretty Cure, known in Japan as Futari wa Pretty Cure, is a Japanese magical girl anime series The theme of the series revolves around Yin and Yang, which explains the relationship between Nagisa and Honoka trying to work together as Pretty Cures.
13.
The Dragon Prince (2018)
27m Action & Adventure Sci-Fi & Fantasy Animation Family
An extraordinary discovery inspires two human princes and an elven assassin to team up on an epic quest to bring peace to their warring lands.
14.
Marvel's Guardians of the Galaxy (2015)
52m Crime Drama Action & Adventure
Lawyer-by-day Matt Murdock uses his heightened senses from being blinded as a young boy to fight crime at night on the streets of Hell's Kitchen as Daredevil.
15.
DC Super Hero Girls (2019)
11m Animation Family Sci-Fi & Fantasy Kids
The world may know them as Wonder Woman, Supergirl and Batgirl, but not-so-typical teenagers Diana, Kara and Barbara, alongside their Super Hero friends have much more to deal with than just protecting Metropolis from some of the most sinister school-aged Super-Villains. After all, being teens is tough enough, what with school, friends, family and the chaos that comes with managing a social life. But add super powers and a secret identity to the mix, and things can get a lot more complicated.
16.
TRON: Uprising (2012)
22m Action & Adventure Animation Sci-Fi & Fantasy
Taking place some time between 'Tron' and 'Tron: Legacy', 'Tron: Uprising' tells the story of Beck, a young program who becomes the skillful leader of a revolution inside the computer world of The Grid.
24m Animation Action & Adventure Sci-Fi & Fantasy
In another world, ninja are the ultimate power, and in the Village Hidden in the Leaves live the stealthiest ninja in the land. Twelve years earlier, the fearsome Nine-Tailed Fox terrorized the village and claimed many lives before it was subdued and its spirit sealed within the body of a baby boy. That boy, Naruto Uzumaki, has grown up to become a ninja-in-training who's more interested in pranks than in studying ninjutsu.. but Naruto is determined to become the greatest ninja ever!
18.
Niko and the Sword of Light (2015)
25m Action & Adventure Animation Comedy Sci-Fi & Fantasy Mystery
Lucy is a 17-year-old girl, who wants to be a full-fledged mage. One day when visiting Harujion Town, she meets Natsu, a young man who gets sick easily by any type of transportation. But Natsu isn't just any ordinary kid, he's a member of one of the world's most infamous mage guilds: Fairy Tail.
explore
Check out more list from our community