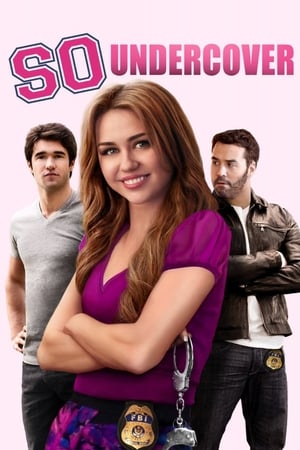 29 Best Movies Similar To So Undercover ...
If you liked this film , you will for sure love these too! In this selection we highlight some of the best films that share a very similar premise to '', and are worth checking out.
1h 36m Adventure Comedy Action Romance
A 16-year-old international assassin yearning for a "normal" adolescence fakes her own death and enrolls as a senior in a suburban high school. She quickly learns that being popular can be more painful than getting water-boarded.
2.
Miss Congeniality (2000)
1h 51m Comedy Crime Action
When the local FBI office receives a letter from a terrorist known only as 'The Citizen', it's quickly determined that he's planning his next act at the Miss America beauty pageant. Because tough-as-nails Gracie Hart is the only female Agent at the office, she's chosen to go undercover as the contestant from New Jersey.
4.
Miss Congeniality 2: Armed and Fabulous (2005)
1h 55m Action Comedy
After her triumph at the Miss United States pageant, FBI agent Gracie Hart becomes an overnight sensation -- and the new "face of the FBI". But it's time to spring into action again when the pageant's winner, Cheryl, and emcee, Stan, are abducted.
5.
Big Mommas: Like Father, Like Son (2011)
1h 47m Crime Comedy Action
FBI agent Malcolm Turner and his 17-year-old son, Trent, go undercover at an all-girls performing arts school after Trent witnesses a murder. Posing as Big Momma and Charmaine, they must find the murderer before he finds them.
6.
Big Momma's House (2000)
1h 38m Crime Comedy
When a street-smart FBI agent is sent to Georgia to protect a beautiful single mother and her son from an escaped convict, he is forced to impersonate a crass Southern granny known as Big Momma in order to remain incognito.
1h 45m Comedy Drama Family Romance
Samantha MacKenzie, the daughter of the president of the United States, arrives at college with a group of Secret Service agents. Samantha, however, resents their presence and decides she wants to attend school just like a normal student. Her father agrees to recall the agents but secretly assigns James, an undercover agent, to pose as a student. They fall in love, but their romance is jeopardized when Samantha learns James' true identity.
1h 52m Comedy Music Romance
College student Beca knows she does not want to be part of a clique, but that's exactly where she finds herself after arriving at her new school. Thrust in among mean gals, nice gals and just plain weird gals, Beca finds that the only thing they have in common is how well they sing together. She takes the women of the group out of their comfort zone of traditional arrangements and into a world of amazing harmonic combinations in a fight to the top of college music competitions.
1h 33m Comedy
After being falsely accused of stealing the budget for their annual cocktail cruise, three very different fraternity brothers are kicked out of their dorm. In order to clear their name and to secure their future careers, the three dress up in drag and pledge the sorority next door where they learn a few valuable - and hilarious - lessons about themselves and the female species.
10.
The Spy Next Door (2010)
1h 34m Action Comedy Family
Former CIA spy Bob Ho takes on his toughest assignment to date: looking after his girlfriend's three kids, who haven't exactly warmed to their mom's beau. And when one of the youngsters accidentally downloads a top-secret formula, Bob's longtime nemesis, a Russian terrorist, pays a visit to the family.
11.
Crimes of Fashion (2004)
1h 37m Drama Comedy Romance
In a world connected by YouTube, iTunes, and Facebook, Lola and her friends navigate the peer pressures of high school romance and friendship while dodging their sometimes overbearing and confused parents. When Lola's mom, Anne, "accidentally" reads her teenage daughter's racy journal, she realizes just how wide their communication gap has grown.
13.
Big Momma's House 2 (2006)
1h 39m Comedy Crime
FBI agent Malcolm Turner goes back undercover as Big Momma, a slick-talking, slam-dunking Southern granny with attitude to spare! Now this granny must play nanny to three dysfunctional upper class kids in order to spy on their computer hacked dad.
14.
The House Bunny (2008)
1h 37m Romance Comedy
Shelley is living a carefree life until a rival gets her tossed out of the Playboy Mansion. With nowhere to go, fate delivers her to the sorority girls from Zeta Alpha Zeta. Unless they can sign a new pledge class, the seven socially clueless women will lose their house to the scheming girls of Phi Iota Mu. In order to accomplish their goal, they need Shelley to teach them the ways of makeup and men; at the same time, Shelley needs some of what the Zetas have - a sense of individuality. The combination leads all the girls to learn how to stop pretending and start being themselves.
1h 25m Comedy
Felix (Cameron Dallas) is a legendary prankster who gets expelled from his high school and, with his friend's help, stops at nothing to hide it from his parents.
16.
22 Jump Street (2014)
1h 52m Crime Comedy Action
After making their way through high school (twice), big changes are in store for officers Schmidt and Jenko when they go deep undercover at a local college. But when Jenko meets a kindred spirit on the football team, and Schmidt infiltrates the bohemian art major scene, they begin to question their partnership. Now they don't have to just crack the case - they have to figure out if they can have a mature relationship. If these two overgrown adolescents can grow from freshmen into real men, college might be the best thing that ever happened to them.
1h 36m Comedy
The Plastics are back in the long awaited follow-up to the smash-hit Mean Girls and now the clique is more fashionable, funny and ferocious than ever! Confident senior Jo (Meaghan Martin) begins the new school year by breaking her own cardinal rule: don't get involved in girl drama. But when she sees timid Abby (Jennifer Stone) preyed upon by Queen Bee Mandi (Maiara Walsh) and her minions, she takes sides in a viciously funny girl-world-war that turns the whole school upside down.
18.
Code Name: The Cleaner (2007)
1h 24m Action Comedy Crime
Cedric the Entertainer plays Jake, a seemingly regular guy who has no idea who he is after being hit over the head by mysterious assailants. When he finds himself entangled in a government conspiracy, Jake and his pursuers become convinced that he is an undercover agent.
19.
A Low Down Dirty Shame (1994)
1h 40m Comedy Crime
A black detective becomes embroiled in a web of danger while searching for a fortune in missing drug money. During the course of his investigation, he encounters various old connections, ultimately confronting the criminal responsible for Shame's expulsion from the force. He must also deal with two women, Angela, a beautiful old flame, and Peaches, his energetic but annoying sidekick.
1h 26m Action Comedy Crime
Corky Romano is a bumbling, simpleton, veterinarian and the youngest, outcast son of an aging gangster, named Pops Romano, who calls upon Corky to infiltrate the local FBI and retrieve and destroy evidence being used to incriminate Pops for racketeering charges.
1h 23m Action Comedy Crime
A case of mistaken identity forces a Federal agent and a dental supply salesman to team up as they speed through the streets of Detroit to pull off a sting operation and solve the murder of the agent's former partner.
22.
Where's the Party Yaar? (2003)
1h 26m Drama Family
Set in the Ozark Mountains during the Great Depression, Billy Coleman works hard and saves his earnings for 2 years to achieve his dream of buying two coonhound pups. He develops a new trust in God as he faces overwhelming challenges in adventure and tragedy roaming the river bottoms of Cherokee country with "Old Dan" and "Little Ann."
23.
Fraternity House (2008)
1h 22m Comedy
Fraternity House is a 24 hour look inside fraternity life. Set on the last day of the school year graduating seniors Jake and Evan have one day to figure out how to stay on campus for a fifth year. With the help of 8th year senior and fraternity legend Greg "Fossil" Karanowski they constantly get themselves into more and more trouble.
1h 48m Comedy
A modern retelling of Snow White set against students in their freshman year of college in the greek system.
25.
Undercover Brother (2002)
1h 26m Action Comedy
An Afro-American organization, the B.R.O.T.H.E.R.H.O.O.D., is in permanent fight against a white organization "The Man" defending the values of the black people in North America. When the Afro-American candidate Gen. Warren Boutwell behaves strangely in his presidential campaign, Undercover Brother is hired to work undercover for "The Man" and find what happened with the potential candidate.
26.
The Substitute: Failure Is Not an Option (2001)
1h 49m Comedy Crime
Two FBI agent brothers, Marcus and Kevin Copeland, accidentally foil a drug bust. As punishment, they are forced to escort a pair of socialites to the Hamptons, where they're going to be used as bait for a kidnapper. But when the girls realize the FBI's plan, they refuse to go. Left without options, Marcus and Kevin decide to pose as the sisters, transforming themselves from African-American men into a pair of blonde, white women.
1h 33m Comedy
A high school slacker who's rejected by every school he applies to opts to create his own institution of higher learning, the South Harmon Institute of Technology, on a rundown piece of property near his hometown.
explore
Check out more list from our community